Gags
Gags are used to muffle speech. No gag completely blocks the ability to make sound. A simple gag is made by tying a scarf around the head so that it is partly inside the mouth. Do not stuff cloth into the mouth, because the cloth will expand with saliva and can choke a sissy to death. The most common gags are ball gags, which have a rubber ball on a leather strap or metal chain. If there is paint on the ball gag, make sure that it is not flaking or loose. There are gags that have a horse's bit. These can be used for pony girl play or as a gag that allows a sissy to bite down hard (a bit gag might be used in combination with spanking, paddling, or whipping). There are gags that include a penis head, usually made of leather. Most gags have a single chain or leather strap that fastens at the back of the head. There are gags that are designed to be locked into place, as well as gags withmutliple straps. Some masks have built in gags. Make sure that the gag used does not completely fill up the mouth, as this is a choking hazard. A gag will cause saliva to flow. Make sure that the sissy can either swallow the saliva or that the saliva can freely flow down the face. Otherwise, the sissy might choke on his own saliva.


tape gags
The most basic gag is tape over the mouth. The tape gag can be combined with other gags.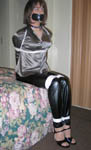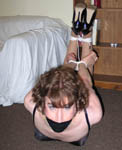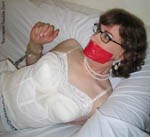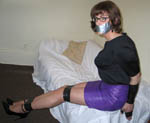 courtesy Trannies in Trouble

cleave gags
A cleave gag is when a scarf, bandana, handkerchief, or other cloth is wrapped around the head, with the cloth cleaving the lips of the mouth.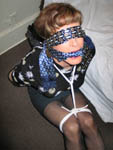 courtesy Trannies in Trouble

pantyhose gags
A pantyhose gag is special case of the cleave gag using pantyhose.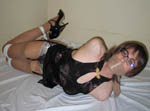 courtesy Trannies in Trouble

ball gags
A ball gag is a gag featuring a ball that holds the mouth in an open position while partially blocking the ability to speak. The ball gag is usually attached with a leather strap, but sometimes a metal chain is used.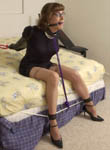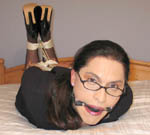 courtesy Trannies in Trouble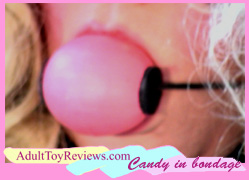 source for head harness with full blindfold and ball gag



picture from the internet

penis gags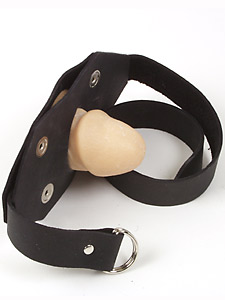 A penis gag is a gag featuring a dildo inside the mouth. The two basic variations are a single didlo inside the mouth or a double dildo with one inside the mouth and one outside the mouth. From the outside, the single dildo penis gag appears to be just a plain leather gag. The double dildo penis gag forces the sissy to suck on a cock while the mistress rides the sissy's face. The length of the dildo inside the mouth must be kept short to prevent suffication.

ring gags
A ring gag is a variation where the moutth is kept wide open with a rubber (or other material) ring. This is used when the sissy will be forced to suck on cock, preventing the sissy from closing the mouth or otherwise refusing to suck cock.


courtesy Michael's Forced Femme

bit gag
A bit gag is similar to the bit used for a horse This is a common item in pony girl play.


bit gag used for pony girl play
picture courtesy JulieSimone.com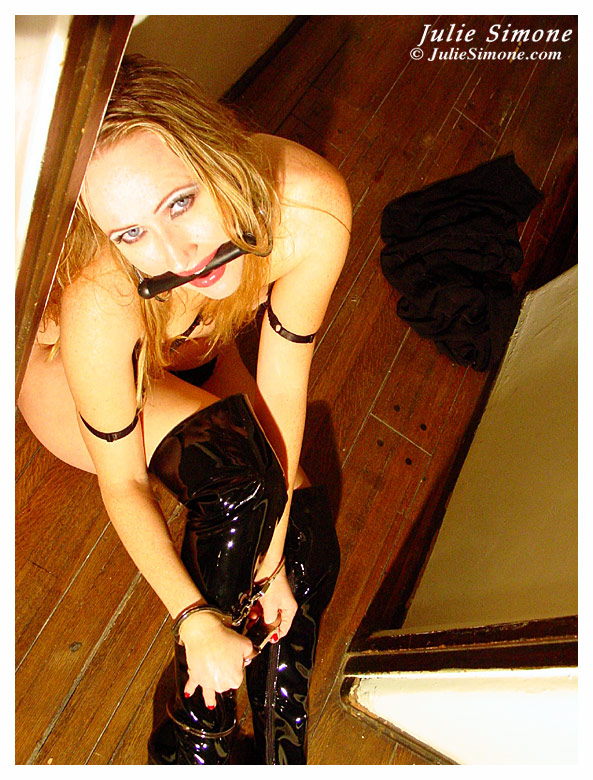 handcuffs, thumbcuffs, and (pony) bit gag
(genuine girl)
courtesy JulieSimone.com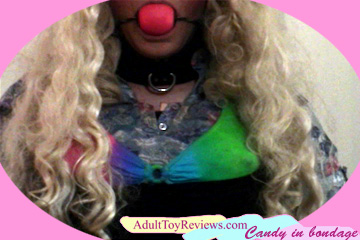 Ball gags: Ball Gag Paint Free, Head Harness with Full Blindfold and Mouth Gag, Slave Mask with Removable Blind and Gag
Penis gags: Penis Gag

blue bondage
picture courtesy JulieSimone.com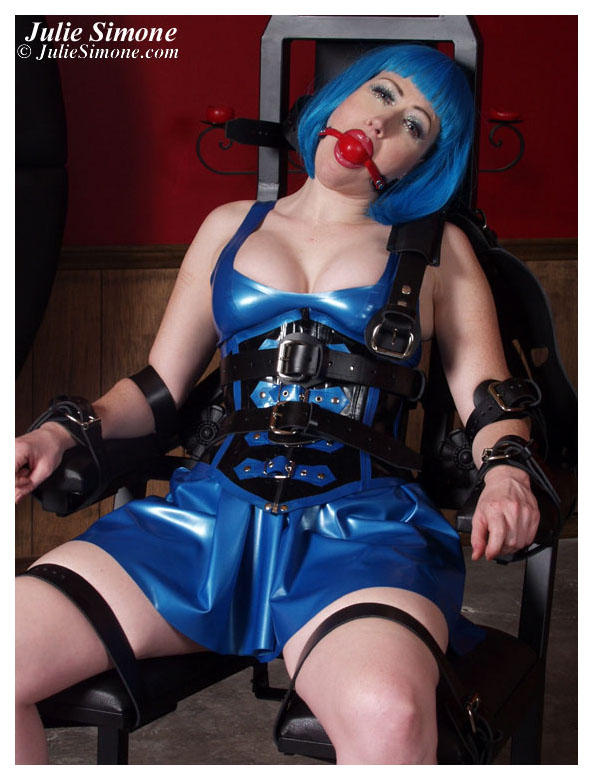 blue bondage
(genuine girl)
courtesy JulieSimone.com

gag experiences
Additionally, whenever I am at home I must wear a cock gag, and She has even made me devise an entirely internal cock gag from the end of a dildo which I must keep in my mouth whenever possible, even out in public, even at work, so that often when I encounter people from my straight life, I am confronted with the humiliation of looking them right in the face knowing that my sissy ass is plugged with a huge artificial cock and my mouth is stuffed with a little toy penis to remind me of who and what I am; a filthy, nasty, dirty-minded little sissy faggot cockwhore and cumslut. —sissy slut crystal community.webtv.net/cockadoodledoer/Crystal
Share your sissy gag experiences and suggestions at contact00@RealSissySchool.com

gag bondage pictures
Please learn more about bondage safety before actually engaging in bondage.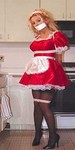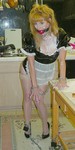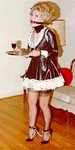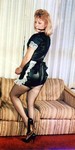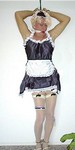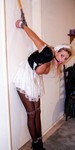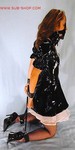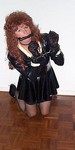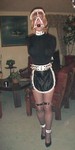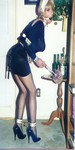 courtesy Shemade Shemale
(see notes below)


Sandra starts out cuffed and ball-gagged, then adds a leather blindfold. Her mouth gets so filled with spit that she uncontrollably drools onto her panty-hosed leg! —courtesy Trannies in Trouble

Her captor told her to stand perfectly still in the corner for her daily posture training but finally she just couldn't take anymore. "Maybe we'll just add some ropes and a ball-gag to help out…" —courtesy Trannies in Trouble

She was posing for glamour shots when the photographer suggested something different: pantyhose tied with a tight over-the-mouth gag." —courtesy Trannies in Trouble

She never thought that her new secrretarial job would lead to such a predicament — tightly bound, a handkerchief shoved in her mouth and a cleave gag to hold it in place. —courtesy Trannies in Trouble

Naughty librarian Sandra finds herself cleave gagged and tied with a tight crotchrope hiking up her skirt. —courtesy Trannies in Trouble

Sandra's abductor had planned everything for just this moment. Tightly bound, a handkerchief shoved in her mouth, an ace bandage over that, and electrical tape wrapped around it all just to be sure." —courtesy Trannies in Trouble

She thought he was just playing around when he started talking about trying out a kidnapping scenario. Now Sandra finds herself tightly bound and gagged and wonders what she's gotten herself into." —courtesy Trannies in Trouble

The tightly strapped-in ball-gag left office girl Sandra in her humiliating predicament — drool dripping from her lips while the intruder rifled through her office." —courtesy Trannies in Trouble

A cruel intruder ties Sandra up and gags her with red tape. Then before leaving her, he lifts her up onto a chair to teeter precariously on her high heels!" —courtesy Trannies in Trouble

Sandra loses the dare and must complete a new self-bondage adventure. Cuffed and ball-gagged, waiting for her release — the key hanging just out of reach, suspended from a slowly melting ice cube (or so she thinks…)." —courtesy Trannies in Trouble

Sandra was just chatting with her date in the bedroom, when suddenly the evening took a turn for the worse — bound, her mouth stuffed and then tightly cleave gagged. —courtesy Trannies in Trouble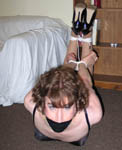 Sandra lounges in her corset and heels when she's attacked and subdued. First she's cleave gagged and tied, then later her abductor wraps black tape over her mouth, finally putting her in a hogtie to struggle helplessly. —courtesy Trannies in Trouble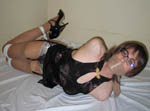 Sandra gets bound in her short Frederick's dress, stockings, and heels. First cleave gagged and left to struggle on the floor, later she gets hogtied and has a pair of pantyhose added to her gag to keep her extra quiet. —courtesy Trannies in Trouble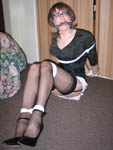 Sandra was trying on her new stockings when she was surprised by an intruder. Bound and gagged, first she endures a tight cleave gag and then her abductor adds a blue ace bandage over that to fully stifle her. —courtesy Trannies in Trouble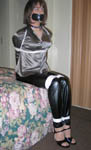 Sandra dressed in her silk blouse and shiny disco pants gets tied and tape gagged. To heighten her fear and helplessness, she's finally blindfolded with sticky tape over her eyes. —courtesy Trannies in Trouble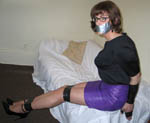 Sandra taped up in her tight leather skirt. First she's forced to tape gag herself, then she has her wrists and elbows taped up, also her thumbs and fingers for good measure! —courtesy Trannies in Trouble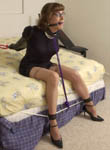 Sandra endures an evening tightly ballgagged while strapped into the arm binder and ankle spreader. Her friend KKY adds a collar and neck rope to make her ordeal even more uncomfortable. —courtesy Trannies in Trouble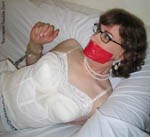 With her new longline bra, Sandra rushes home for some self bondage with ankle and handcuffs, securely connecting them with a length of chain and another piece secured around her waist. Then she settles in to wait for that key to drop… —courtesy Trannies in Trouble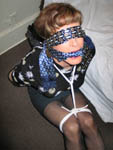 Sandra endures an evening with the Ol' Sarge. First it's a shoulder-aching wrist tie, then serious scarf gagging and blindfolding, and finally a scarf hood over that for further isolation in her bondage.—courtesy Trannies in Trouble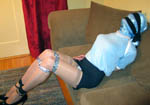 Scarved! Delilah was shooting pictures and brought out the scarves. Little did Sandra know that she was about to be fully hooded, bound, gagged, and blindfolded in silk and rayon. —courtesy Trannies in Trouble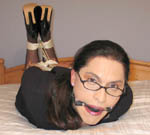 Delilah's Back in Bondage! Recently she found herself tied and helpless in the guestroom: placed in a tight hogtie, her mouth stuffed with an unforgiving ballgag and left to struggle in vain against the ropes.—courtesy Trannies in Trouble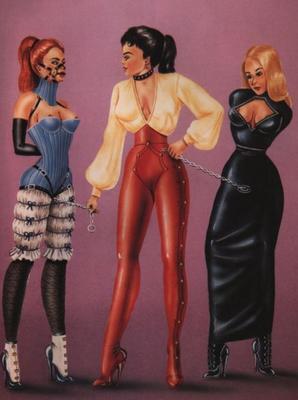 picture courtesy of femminilizzazioneforzata

Share gag suggestions at contact00@RealSissySchool.com

message to wealthy business person
You have an interest in sissies. You are wealthy. You are good at business.
I am creative (very creative). I am good at generating web traffic. You have found this website because with literally no money, I have made this one of the top sissy websites in the world. Entirely legally. No stolen material.
Anything sex or fetish related is a highly competitive field. Businesses spend millions of dollars a year in this field without achieving the results I have.
I need to team up with a competent business person (male or female) who has an interest in sissies and can fund good work and can run a business so that it makes plenty of money. Not looking for a boyfriend or girlfriend, but someone who sees the potential here and has a plan and the funds to make a profit ethically. No pop-up ads. None of the things that are annoying. Good, decent, ethical business.
If you think you can help achieve these goals, send a real letter to Candy, PO Box 5237, Balboa Island, California 92662, USA.


complete table of contents listing all dolls

Gay and Lesbian Marriages in California

some of the sources on the web:

transvestite sites

premium sites

specialty sites

discount sites

general sites

Shopping through these links may result in a small percentage of your purchase helping keep this site on the web.
(Some of the sites have tricky rules, so we don't always get a percentage, but it can't hurt to try.).
[ home ] [ toy info ] [ sorted by color ] [ sorted by material ] [ rabbits ] [ butterflies ] [ remote control ] [ strap-on harnesses ] [ dildoes ] [ double dildoes ] [ glass dildoes ] [ hands and fists ] [ vibrators ] [ massagers ] [ sleeves ] [ eggs and bullets ] [ clitoral stimulators ] [ waterproof vibrators ] [ anal probes and butt plugs ] [ beads ] [ breast pumps and nipple exciters ] [ balls ] [ erotic jewelry ] [ cock rings ] [ bondage ] [ lubricants, oils, and creams ] [ barriers ] [ hygiene ] [ erotic clothing ] [ transvestite items ] [ kits ] [ artificial vaginas ] [ male masturbators ] [ dolls ] [ penis pumps ] [ novelties ] [ DVDs ] [ videos ] [ books ] [ words ]

other

Notes regarding Shemade Shemale pictures: Access strictly forbidden to minors — © Carpe Diem — All rights reserved — All images presented on this are conform to French legislation : no images of anyone under the age of 18 are present on this access. Proof of age and majority as well as the running rights for the videos and photos are available at Carpe Diem's head office.
Copyright © 1999, 2000, 2001, 2002, 2003, 2004, 2005, 2006, 2012 RealSissySchool.com
Last Updated: October 25, 2012
Created: April 28, 2004
Based on material previously at AdultToyReviews.com
Author of this sissy lesson page: contact00@RealSissySchool.com
If you write, please label your message as "Sissy" to help separate it from SPAM (which gets tossed unread).

[ home ] [ toy info ] [ sorted by color ] [ sorted by material ] [ rabbits ] [ butterflies ] [ remote control ] [ strap-on harnesses ] [ dildoes ] [ double dildoes ] [ glass dildoes ] [ hands and fists ] [ vibrators ] [ massagers ] [ sleeves ] [ eggs and bullets ] [ clitoral stimulators ] [ waterproof vibrators ] [ anal probes and butt plugs ] [ beads ] [ breast pumps and nipple exciters ] [ balls ] [ erotic jewelry ] [ cock rings ] [ bondage ] [ lubricants, oils, and creams ] [ barriers ] [ hygiene ] [ erotic clothing ] [ transvestite items ] [ kits ] [ artificial vaginas ] [ male masturbators ] [ dolls ] [ penis pumps ] [ novelties ] [ DVDs ] [ videos ] [ books ] [ words ]