Vacuuming
A common chore for sissy maids is vacuuming.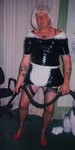 A sissy should vacuum all high traffic areas daily, and low traffic areas once or twice a week. Move the vacuum slowly on carpet, using parallel rows, going over the carpet slowly several times. High traffic areas typically need seven passes, while three or four passes should be sufficient for low traffic areas.
A canister vacuum is more versatile than an upright vacuum, allowing better access to places like stairways and corners.
A sissy should know the uses of the various attachments for a canister vacuum. The wall and floor brush attachment is used for bare walls and bare floors (such as wooden or tile floors). The crevice tool attachment is for getting dust out of drawers, cleaning heating and air-conditioning vents, and vacuuming under large appliances. The upholstery attachment is for vacuuming matresses, fabric-covered furniture, curtains, and car interiors. The dusting brush attachment is for removing dust from blinds, lampshades, and moldings.
Adjust the height of the nozzle depending on the depth of your carpet. The lowest setting is appropriate for low-pile carpet, with higher settigns for thicker plush carpets. When you have adjusted the nozzle correctly, you will need to push your vacuum with moderate effort.
Extra care should be used when vacuuming an Oriental rug. Oriental rugs are often very fragile, but also need to be kept clean to stay in peak condition. Turn off the agitator brush on an upright vacuum to help protect the delicate rug. When you near the fringe, slightly tip the front of an upright vacuum and gently push off the end of the carpet to prevent the fringe from getting caught in the rotating agitator brush. With a canister vacuum, use the bare floor brush for the main area of the carpet and the upholstery attachment for the fringe. Once a week (or less often for Oriental rugs in low traffic areas), turn the rug over and vacuum the underside.
Make sure to keep the vacuum clean for best cleaning efficiency. Check the dirt level in the bag before each use. Changes bags before they are three quarters full. Filters should be changed when they start to show signs of wear or if excessively dirty or torn. HEPA filters (which remove the most dirt particles) should be changed after six months or after the sixth bag change, whichever comes first.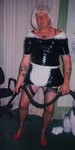 Pictures of sissies in bondage courtesy of Shemade Shemale: Access strictly forbidden to minors — © Carpe Diem — All rights reserved — All images presented on this are conform to French legislation : no images of anyone under the age of 18 are present on this access. Proof of age and majority as well as the running rights for the videos and photos are available at Carpe Diem's head office.

sissy vacuuming suggestions
Share vacuuming suggestions at contact00@RealSissySchool.com
first experiences
"Mistress owns a five bedroom house, it used to be mine until she made me her sissy maid. Every Friday I must begin to vacuum the entire house starting with mistress upstairs bedroom. Mistress has me use a pull along type with 8 attachments all of which I will use in the course of my work . The whole house usually takes me 9 hours to finish and is the minimum time required by mistress to do a good job. As I dress in the morning I must wear satin panties, bra , garter belt and nylons. This is all I am allowed to wear even if mistress decides to bring home company which she has done. It is so humiliating to be seen by others dressed in this fashion while they converse and socialize. I have begged mistress not to expose me in such a fashion but to no avail. Most often however I am left alone to do my work while mistress goes out for the day. I work very hard and do my best to please mistress because I love her very much and her happiness is paramount. If I have done a good job mistress allows me to sleep in her bed with her when she comes home at night . If the job is sub-standard I must do it over the next day after sound punishment and then I must prepare her overnight bag so she can stay over with a male friend. I try very hard to avoid this as I do not like being a cuckold but mistress says I really do need this to become her perfect sissy."—Jmt173v; e-mail
Share your first vacuuming experience at contact00@RealSissySchool.com

vacuuming experiences
"I am a busy surgeon and my life is much easier ever since I turned my wimpy husband into my real life housemaid. He was such a drag on my life as a guy. He spent my money, goofed off, and freeloaded, but demanded sex and expected me to keep the house! Well, no more! Now during the day she keeps my house spotless while wearing a frilly maid uniform, ruffled panties, baby doll socks, and high heels. When I get home my dinner is ready. If the house is not clean to my high standards she is disciplined and bound up for the night.
"After dinner she rubs and massages my tired feet. Busy wives should think about making their husbands more obedient by making them wear sissy type clothes. It makes them much more docile and very easy to handle."—Mistress Joan; e-mail
Share your sissy vacuuming experiences and suggestions at contact00@RealSissySchool.com

message to wealthy business person
You have an interest in sissies. You are wealthy. You are good at business.
I am creative (very creative). I am good at generating web traffic. You have found this website because with literally no money, I have made this one of the top sissy websites in the world. Entirely legally. No stolen material.
Anything sex or fetish related is a highly competitive field. Businesses spend millions of dollars a year in this field without achieving the results I have.
I need to team up with a competent business person (male or female) who has an interest in sissies and can fund good work and can run a business so that it makes plenty of money. Not looking for a boyfriend or girlfriend, but someone who sees the potential here and has a plan and the funds to make a profit ethically. No pop-up ads. None of the things that are annoying. Good, decent, ethical business.
If you think you can help achieve these goals, send a real letter to Candy, PO Box 5237, Balboa Island, California 92662, USA.


complete table of contents listing all dolls

Gay and Lesbian Marriages in California

some of the sources on the web:

transvestite sites

premium sites

specialty sites

discount sites

general sites

Shopping through these links may result in a small percentage of your purchase helping keep this site on the web.
(Some of the sites have tricky rules, so we don't always get a percentage, but it can't hurt to try.).
[ home ] [ toy info ] [ sorted by color ] [ sorted by material ] [ rabbits ] [ butterflies ] [ remote control ] [ strap-on harnesses ] [ dildoes ] [ double dildoes ] [ glass dildoes ] [ hands and fists ] [ vibrators ] [ massagers ] [ sleeves ] [ eggs and bullets ] [ clitoral stimulators ] [ waterproof vibrators ] [ anal probes and butt plugs ] [ beads ] [ breast pumps and nipple exciters ] [ balls ] [ erotic jewelry ] [ cock rings ] [ bondage ] [ lubricants, oils, and creams ] [ barriers ] [ hygiene ] [ erotic clothing ] [ transvestite items ] [ kits ] [ artificial vaginas ] [ male masturbators ] [ dolls ] [ penis pumps ] [ novelties ] [ DVDs ] [ videos ] [ books ] [ words ]

other

Copyright © 2005, 2006 RealSissySchool.com
Last Updated: October 1, 2006
Created: April 16, 2005
Based on material previously at AdultToyReviews.com
Author of this sissy lesson page: contact00@RealSissySchool.com
If you write, please label your message as "Sissy" to help separate it from SPAM (which gets tossed unread).

[ home ] [ toy info ] [ sorted by color ] [ sorted by material ] [ rabbits ] [ butterflies ] [ remote control ] [ strap-on harnesses ] [ dildoes ] [ double dildoes ] [ glass dildoes ] [ hands and fists ] [ vibrators ] [ massagers ] [ sleeves ] [ eggs and bullets ] [ clitoral stimulators ] [ waterproof vibrators ] [ anal probes and butt plugs ] [ beads ] [ breast pumps and nipple exciters ] [ balls ] [ erotic jewelry ] [ cock rings ] [ bondage ] [ lubricants, oils, and creams ] [ barriers ] [ hygiene ] [ erotic clothing ] [ transvestite items ] [ kits ] [ artificial vaginas ] [ male masturbators ] [ dolls ] [ penis pumps ] [ novelties ] [ DVDs ] [ videos ] [ books ] [ words ]