Butt Plugs
Butt plugs are used to prepare a sissy's ass for anal sex. Some sissies get off just from the stimulation of a butt plug.
Butt plugs are designed for use in the anus. These come in a wide variety of shapes, colors, and materials, as well as with and without vibrators.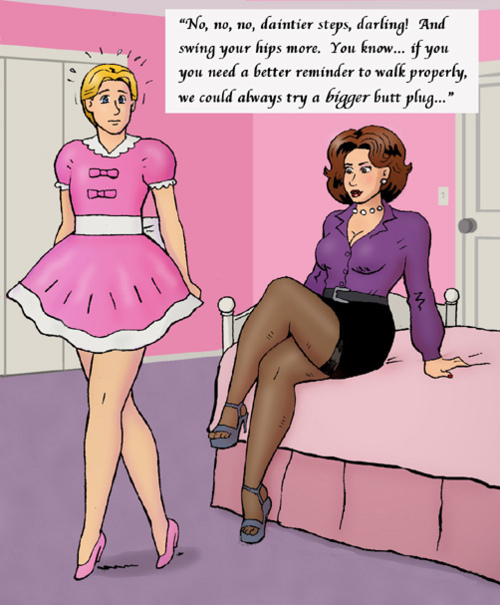 picture appears to be in the public domain
status unknown
Everlicking I'm sure you would of learnt after that session with my big strap-on yesterday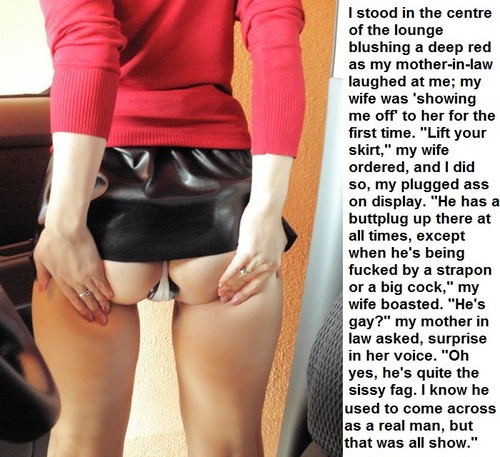 picture appears to be in the public domain
status unknown
I stood in the centre of the lounge blushing a deep red as my mother-in-law laughed at me; my wife was 'showing me off' to her for the first time. "Lift your skirt," my wife ordered , and I did so, my plugged ass on display. "He has a buttplug up there at all times, except when he's being fucked by a strapon or a big cock," my wife boasted. "He's gay?" my mother in law asked, surprise in her voice. "Oh yes, he's quite the sissy fag. I know he used to come across as a real man, bu that was all show."Sieur d'Eon September 9, 2013
Websissy added, "It was bad enough my wife feminizing me, shaving me smooth, teaching me to use make up, growing out my own hair, dressing me in very provocative ways. Now she is showing off her handiwork to her mother. I couldn't believe when she told me to pull up my skirt and show her mother the butt plug deep in my ass. I blushed deeply as I hear her tell her mother about taking me with her strap on, and calling me a sissy fag. Unfortunately, my cock hardens in my panties as I listen. I know it will not be long before she points that out to hermother as proof that I am not a real man but just a sissy fag who loves having his tight ass filled."

chastised maid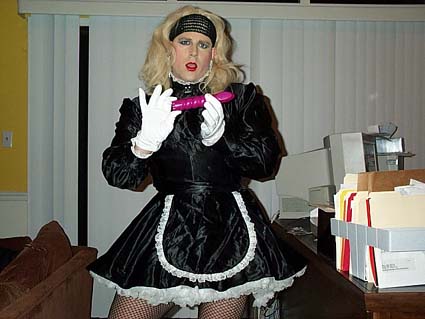 a prepared maid
maid lexis
courtesy chastitylifestyle.com — they sell chastitites
butt plug experiences
"Never been fucked by a real dick, just a nice big dildo that I take balls deep. Drives me insane."—tv in midwest; e-mail

Story by Jean's sissy blog:
My First Sissygasm

I'll never forget my first sissy orgasm.

It was the first day I moved out my parent's house. I was 19 and up until then I had only come close to achieving a full on sissy anal orgasm. Even though I had been playing with dildos and butt plugs for a year I just hadn't been able to reach that point of sissy bliss. Now however, I was alone. COMPLETELY alone.

I still hadn't unpacked everything from the move but I knew exactly which box had all my panties, toys, and lubes. I opened it up and dug through the contents pulling out my favorite pink thong with matching bra and a bottle of KY Jelly, as well as my 6 inch dildo and of course my butt plug.

I undressed, and slipped into my lingerie feeling giddy and girlie smiling the whole time. I was so excited that I was talking to myself in my high pitched sissy voice. I remember talking to my dildo, telling it that we were all alone now and nothing was going to stop us from getting to that special place of an anal orgasm.

I kissed my dildo, licked it, sucked on it. Thinking of how good it was going to feel to finally let lose, to go the distance and fuck myself like the filthy little whore I'd always wanted to be. I remember my clitty dripping as I sucked and licked my dildo. I remember how wet and sticky my panties were. I remember looking into my mirror and seeing how my stiff clitty looked in my panties. What I'll never forget though, was how slutty I looked back at myself.

I took a deep breath and relaxed myself enough to put the dildo down and lubed up my butt plug. I wanted to make it last as long as possible. I slid my thong strap to the side and slid the the cool slippery plug up inside me. I felt it pop in as my sissy pussie wrapped it's lips around the tapered curve, then put my thing back between my cheeks helping it stay in place.

I can still feel just how fem i felt walking around my apartment. The way I walked with my ass stuffed was different. I took light girly steps and arched my back so my butt stuck out. I knew it was time for a cigarette.

I found my pack after some digging a round and walked to the window to open it and lit up. I smoked very differently that day, my lips were puckered out and sucking down the warm smoke filled me with a rush of endorphins that gaze me goose bumps all over my freshly shaved body. I held the cig with a limp wrist and made my motions of smoking as women-like as possible. I was loving every moment of it. without the fear of anyone seeing me. I leaned on the window ledge I was on the third floor so i could look out and down my open window and bent at the waist sticking my ass out with my elbows resting. I was free.

After finishing my smoke, I knew that it was time to get to business. I opened up some sissy hypno vids on my computer and set a playlist on repeat. I turned the volume up and loved the sound of sex filling my room. It was so nice not to have to use headphones.

I got down onto the floor and lied on my side to slip my butt plug out and slide my panties down to my ankles. I grabbed the dildo and started sucking again desperately as if I was trying to get a mouth full of cum. After getting it wet with a nice sloppy blowjob that left my chin wet and dripping I stood the dildo upright on the floor and mounted it.

I lowered myself slowly onto it feel all 6 inches penetrate me. I felt it push into me and I gladly welcomed it in balls deep. I then sat there on it. My clitty stiff and leaking while i was stuffed and on my knees. I let out a long and loud girlish moan knowing no one would hear me. I was in heaven.

It wasn't long before i started slowly riding the rubber cock. I remember pretending to be a sissy hooker in a whore house, and my dildo was a client that had paid me to pleasure him. Or that I was stripper in the back of club giving a man a good time. I was going through fantasy after fantasy, and I was picking up the pace as well.

Soon I was bouncing on the dick. Breathing as if this was work out, panting like slut, moaning out loud and begging for more. I was calling myself every dirty name in the book. Slut, sissy bitch, anal whore, cum guzzler, cock magnet. I grabbed my ankles for leverage and started slamming myself onto the cock ramming it hard and fast inside me.

With each thrust my clitty twitched and leaked more stings of sissy pre cum onto the floor. My ass cheeks pressed into the floor each time I went down and I could feel a wet sloppy mess beneath me. Again and again I fucked that cock. Over and over I cried out in pleasure, pushing myself further and further as I felt orgasm in the distance.

I knew I had to keep going, I told myself not to stop. I had to beg out loud to please donŐt stop, please let me cum, keep going please. My mind had gone to a place i didnŐt know existed. I was fucking myself mindless and raw. I was sweating and gasping for breath, my muscles ached and my sissy cunt was sore, but I forced myself to keep going. I forced myself to accept that I could cum from this. I told myself I had no other choice and that this was a sissieŐs destiny.

Then I felt it. It started small at first like tiny little ping in my ass and behind my balls. I had untapped something deep inside me. I knew I was close and as much as I wanted to stop and have another smoke I wanted to cum even more. I fucked that cock as hard as I could slamming myself onto it like a desperate bitch in heat. I needed it.

Then The feeling inside my cunt grew stronger and I felt my whole body start to shudder and my knees went weak. It took every bit of strength i had to keep riding that cock as I felt a shock wave blast through me. My ass hole tightened and I fought its clenching to keep riding through the orgasm. I cried actual tears that ran down my cheeks as I cried out that I was cumming.

My body felt like it was being pumped full of electricity with each pump of the full length of that cock. I grunted, moaned and my body trembled in response. All I could do was grit my teeth between gasps of breath and begging for more while my eyes were clenched shut. I could only focus on the intensity of pleasure I was feeling in my ass.

It was in the moment I realized I had gotten there. I had achieved the sissygasm, and I will never forget how good it was. I fell to the floor after it was done. Panting, sweaty, and spent. The cock was still buried in my ass and I didn't yet have the strength to reach down and pull it out.

I did however notice the globs of cum on the floor that I must have released during the orgasm. I hadn't even realized. lol.
Share butt plug suggestions at contact00@RealSissySchool.com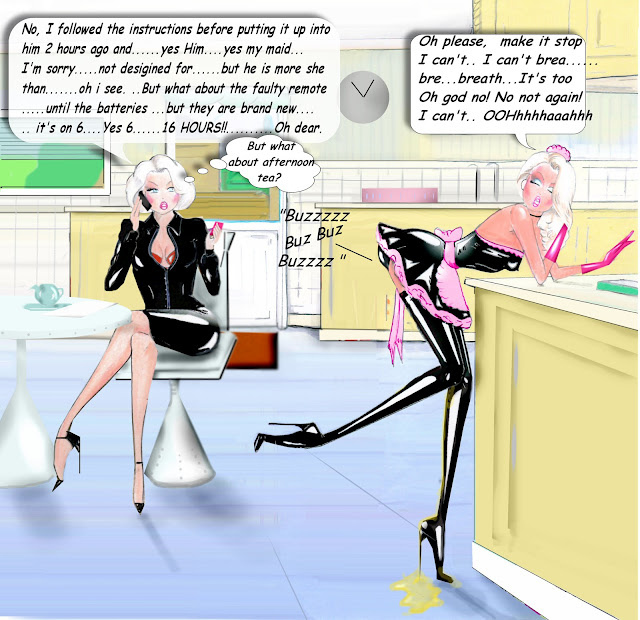 picture appears to be in the public domain
status unknown

message to wealthy business person
You have an interest in sissies. You are wealthy. You are good at business.
I am creative (very creative). I am good at generating web traffic. You have found this website because with literally no money, I have made this one of the top sissy websites in the world. Entirely legally. No stolen material.
Anything sex or fetish related is a highly competitive field. Businesses spend millions of dollars a year in this field without achieving the results I have.
I need to team up with a competent business person (male or female) who has an interest in sissies and can fund good work and can run a business so that it makes plenty of money. Not looking for a boyfriend or girlfriend, but someone who sees the potential here and has a plan and the funds to make a profit ethically. No pop-up ads. None of the things that are annoying. Good, decent, ethical business.
If you think you can help achieve these goals, send a real letter to Candy, PO Box 5237, Balboa Island, California 92662, USA.


complete table of contents listing all dolls

some of the sources on the web:

transvestite sites

premium sites

specialty sites

discount sites

general sites

Shopping through these links may result in a small percentage of your purchase helping keep this site on the web.
(Some of the sites have tricky rules, so we don't always get a percentage, but it can't hurt to try.).
[ home ] [ toy info ] [ sorted by color ] [ sorted by material ] [ rabbits ] [ butterflies ] [ remote control ] [ strap-on harnesses ] [ dildoes ] [ double dildoes ] [ glass dildoes ] [ hands and fists ] [ vibrators ] [ massagers ] [ sleeves ] [ eggs and bullets ] [ clitoral stimulators ] [ waterproof vibrators ] [ anal probes and butt plugs ] [ beads ] [ breast pumps and nipple exciters ] [ balls ] [ erotic jewelry ] [ cock rings ] [ bondage ] [ lubricants, oils, and creams ] [ barriers ] [ hygiene ] [ erotic clothing ] [ transvestite items ] [ kits ] [ artificial vaginas ] [ male masturbators ] [ dolls ] [ penis pumps ] [ novelties ] [ DVDs ] [ videos ] [ books ] [ words ]

other
Copyright © 2012, 2013, 2016 RealSissySchool.com
Last Updated: April 16, 2016
Created: October 17, 2012
Based on material previously at AdultToyReviews.com
Author of this sissy lesson page: contact00@RealSissySchool.com
If you write, please label your message as "Sissy" to help separate it from SPAM (which gets tossed unread).