High Heels
High heels are common, especially with extreme heel heights. sometimes bondage and/or platform heels. Ballet shoes, especially with extreme high heels, are a popular option, especially with show sissy or ballerina fantasies. Stockings and garter belts are popular, but many sissies start with pantyhose. Fishnet patterns and ribbon bows are common.
The major effect of high heels is to draw attention to the legs and ass. The higher the heels, the longer the legs look and the higher the ass is raised. Often high heels make sissies' asses and legs more classically feminine erotic than they do for women!
The taller the person, the higher the heels needed to achieve the same effect. As sissies are on average taller than genuine girls (GGs), sissies typically need higher heels than women do. Some sissies go beyond, taking high heels to a fetish extreme.
Three to five inch heels give the average sissy the same lift as two to thre inch heels give to the average genuine girl. Anything higher than six inches is a fetish item. Many sissy maids wear extrreme high heels of five, six, or seven inches. Ballet fetsihists often wear heels so extreme as to make the toes and feet point straight down in ballet position. Many sissy slut and sissy whore costumes include extreme high heels. Some show sissies, drama queens, and sissy sluts/whores also add extreme platforms as well.

shoes
Courtesy of Doug Adams' Dressing the Floozy:
Heels, heels, heels, heels. Did you get that? High heels are a crucial, fundamental, non-negotiable part of the training. She absolutely has to learn how to walk in heels. Unless she already has a wide selection of suitable shoes you will have a problem on your hands because most girls who haven't been trained to use them from early teens will hate them. You have to be extremely firm here and may need to apply discipline to bring her on-side. She will have to be trained to wear 3" to 4" heels at all times, whether at work, at play, going shopping, or travelling. Learning to walk well in heels is a slow process and you need to watch out for unsatisfactory developments. Keep close tabs on what she is doing and work hard to correct any errors in how she walks. When she meets you she will need to move up to 5" or 6" heels (boots are fine too of course). The worst possible error is if she adapts to the heels but develops the clunking 'power woman' walk often found in career girls with short legs; that can be seen in almost any financial district of any town in the world, though in my experience the worst examples are found in Tokyo and Sydney. Elegant, restrained and sexual is what we are looking for. Do not accept compromise.
Heels lengthen the legs, signposting where the pussy lies and lifting her buttocks. Good heels and an appropriate walk (small steps, plenty of wiggling for the bimbo or more sensuous waving for the slut) are completely and totally essential. Spend as much time on this as it needs, because patience will eventually be rewarded.
Courtesy of Doug Adams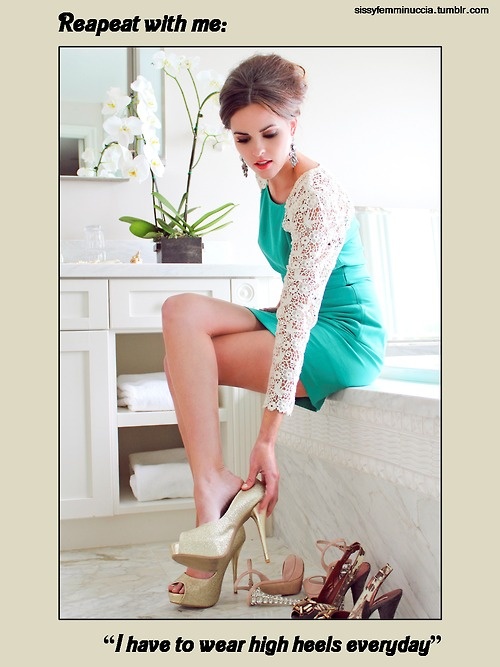 picture appears to be in the public domain
status unknown
Everlicking Don't forget to practice in them each day too

conversion chart
Footwear Conversion Chart
U.S. LADIES
U.S. MEN'S
EURO LADIES
EURO MEN'S
U.K. LADIES
Centimeter
JAPAN
5
3
35
3
21
23.5
5-1/2
3-1/2
35-1/2
3-1/2
21.5
24
6
4
36
4
22
24.5
6-1/2
4-1/2
36-1/2
4-1/2
22.5
25
7
5
37
5
23
25.5
7-1/2
5-1/2
37-1/2
5-1/2
23.5
26
8
6
38
6
24
26.5
8-1/2
6-1/2
38-1/2
6-1/2
24.5
27
9
7
39
7
25
27.5
9-1/2
7-1/2
39-1/2
7-1/2
25.5
28
10
8
40
41
8
26
28.5
11
9
42
9
27
29
12
10
43
10
28
13
11
44
11
29
14
12
45
12
30
15
13
46
13
31
"Saw your size equivalency chart and thought that you should know that in the UK many or perhaps most of our fashion shoes carry European sizes now and a size 38 (my size) is regarded as a UK women's size 5 not a 6! But then we do not wear our shoes as tight as you Americans; could this be why we don't have the same number of foot problems? American women are often complaining about their feet and seem obsessed with making their feet seem as small as possible; no one in the UK seems to worry about that old wives tale about the size connection of feet and a certain other part of the anatomy anymore. Hence the continuing and almost universal popularity in the UK of the long pointed toe box among all age groups and similar popularity of platform shoes a few years back. I occasionally buy shoes from the US and have to order an 8 because although the length is correct, they are far too tight; I do not have the same problem with size 5 UK made shoes."—Shirley; e-mail; 24 July 2006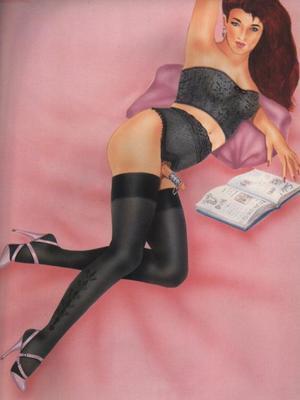 picture courtesy of femminilizzazioneforzata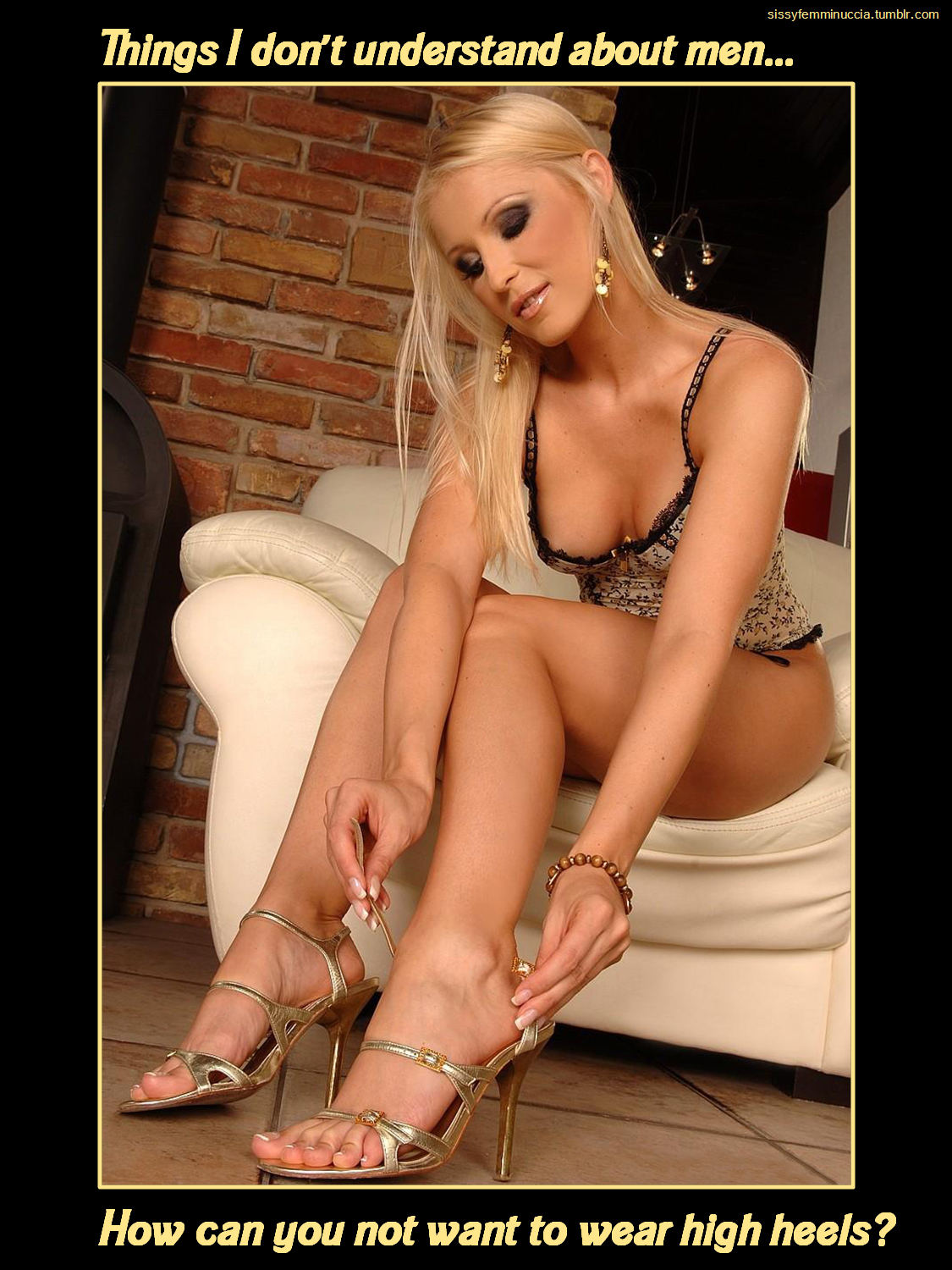 picture appears to be in the public domain
status unknown
Everlicking Legs look so much longer and shapely in a gorgeous pair of heels ;)
Mikka Swenson Most Guys have no idea that they are missing!

heel straps
Heel straps are designed to lock high heels or high heeled boots onto the sissy's feet.
Heel straps: Spike Chain Boot Strap

locking high heels
Some high heels are designed to be locked onto a sissy's feet.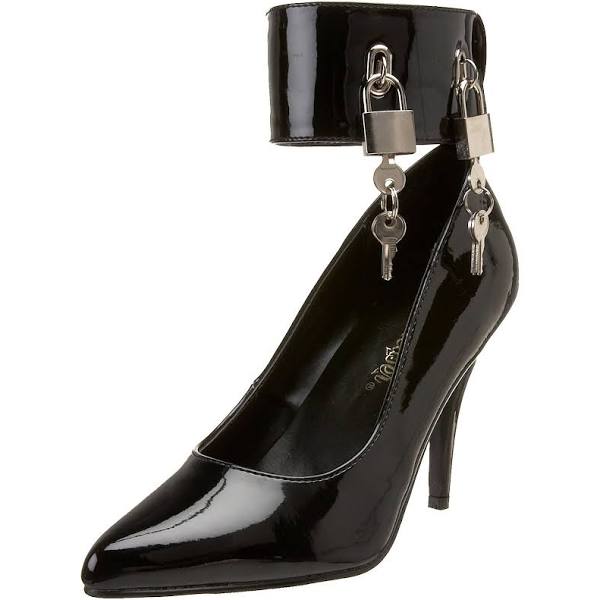 Masquerade Express
Pleaser - Vanity-434 15 / Black Patent Heel Height: Approx. 4'' Tall. Pointed toe. Features -1 This 4 inch pump with a locking ankle cuff and padlocks adds a new twist to a classic shoe that goes with any outfit you have. 100% Synthetic.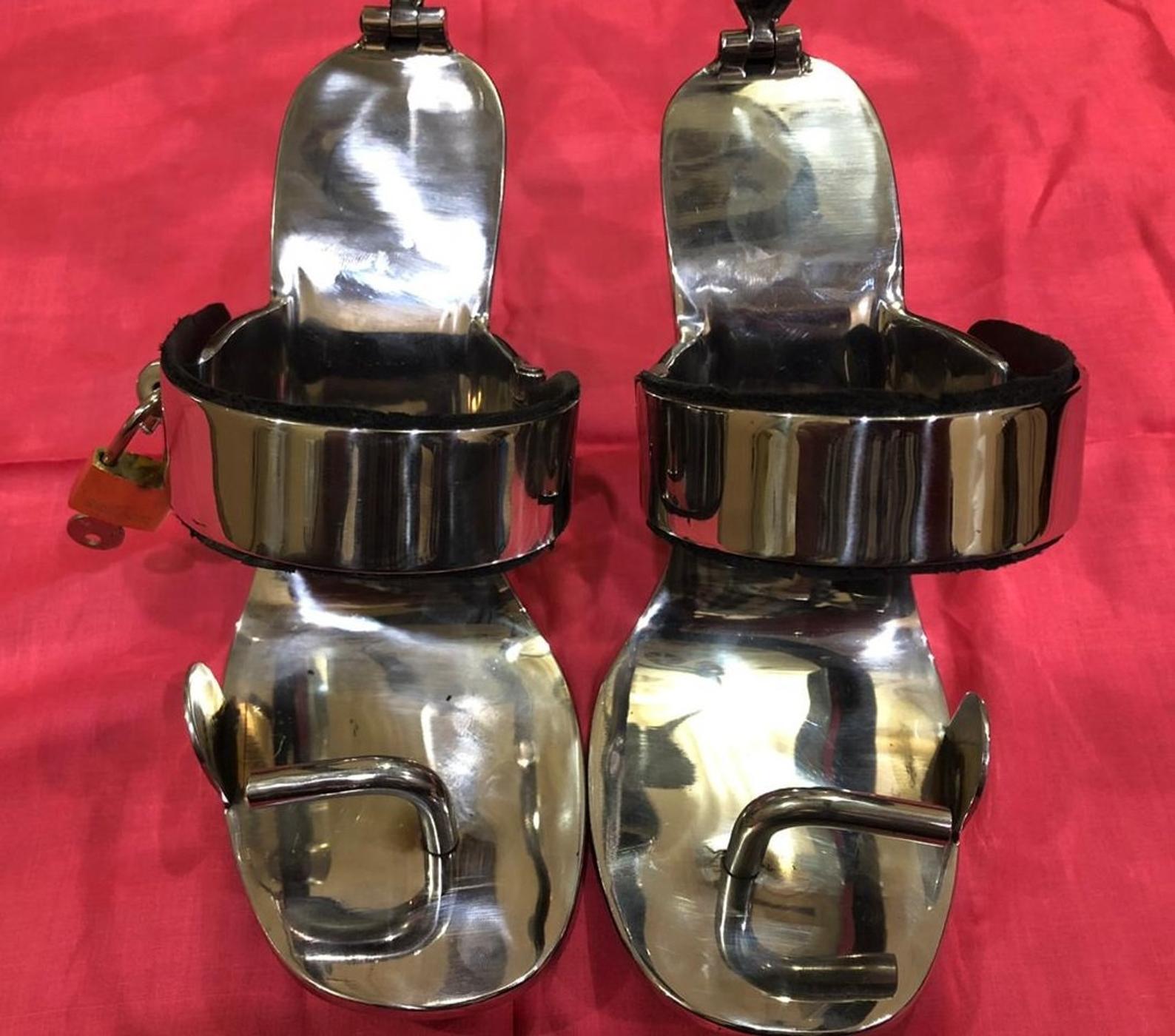 dottyaftermid
Full stainless steel locking high heels shoes with 4 inch heel with padlocks Full stainless steel locking shoes with 4 inch heel. These are exclusive to Dotty After Midnight, they are made totally of high polished stainless steel. They are custom made for you so if you have any requirements for measurements you can add that to the notes and we can make sure thats done for you. All Padlocks are included. These Shoes are designed to be escape proof once your locked in your not getting out without the key. They come with a inside lining that helps prevent chafing when they are worn.

first experiences
Share your first high heels experience at contact00@RealSissySchool.com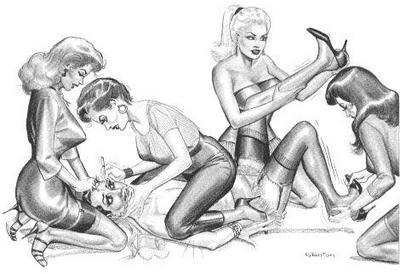 picture courtesy of femminilizzazioneforzata

high heels experiences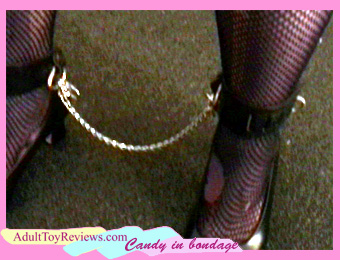 "I dressed my husband up in a sexy dress and high heels for the first time. I told him if he wanted to dress up like a girl, he'd have to dress in the frilliest sissy outfits."—Mistress Linda; e-mail
"The way I break in a new pair of CFM heels is to get laid in them."—hi-heeled tv; e-mail
"I am a busy surgeon and my life is much easier ever since I turned my wimpy husband into my real life housemaid. He was such a drag on my life as a guy. He spent my money, goofed off, and freeloaded, but demanded sex and expected me to keep the house! Well, no more! Now during the day she keeps my house spotless while wearing a frilly maid uniform, ruffled panties, baby doll socks, and high heels. Busy wives should think about making their husbands more obedient by making them wear sissy type clothes. It makes them much more docile and very easy to handle."—Mistress Joan; e-mail
"When home alone i dress myself every day,wearing high heels ,sometimes make up and i look on the internet for boys,with big cock.so actually i think i am a little sissy slut." —Jana, 4 June 2020
Share your high heels experience at contact00@RealSissySchool.com

high heel bondage

Girl-next-door Sandra surprised at home. She comes home too early and walks in on an unexpected visitor! Finally she loses her shoes in her struggles. —courtesy Trannies in Trouble

A cruel intruder ties Sandra up and gags her with red tape. Then before leaving her, he lifts her up onto a chair to teeter precariously on her high heels!" —courtesy Trannies in Trouble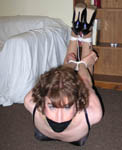 Sandra lounges in her corset and heels when she's attacked and subdued. First she's cleave gagged and tied, then later her abductor wraps black tape over her mouth, finally putting her in a hogtie to struggle helplessly. —courtesy Trannies in Trouble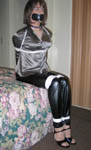 Sandra dressed in her silk blouse and shiny disco pants gets tied and tape gagged. To heighten her fear and helplessness, she's finally blindfolded with sticky tape over her eyes. —courtesy Trannies in Trouble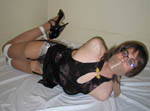 Sandra gets bound in her short Frederick's dress, stockings, and heels. First cleave gagged and left to struggle on the floor, later she gets hogtied and has a pair of pantyhose added to her gag to keep her extra quiet. —courtesy Trannies in Trouble

Lenny Kravitz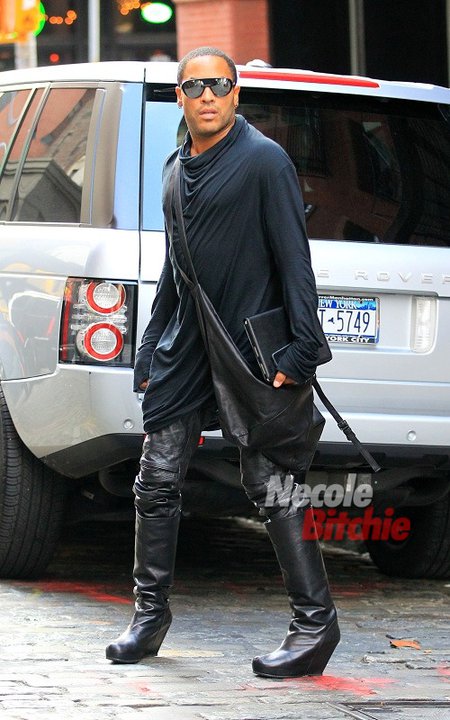 Taking the leap from skinny jeans to full-on leather pants is a bold move for any man, but Lenny Kravitz took it one step further on Thursday, tucking his leather pants into knee-high wedge boots! Proving that fashion truly has no gender, the rocker was snapped leaving his N.Y.C. hotel confidently donning the wedge leather boots with a drapey cowl-neck pullover and a cross-body man purse! — from Style News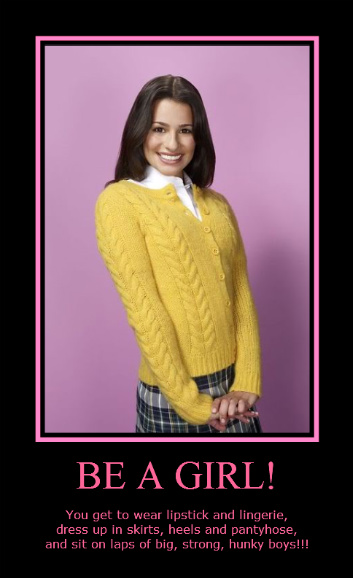 picture appears to be in the public domain
status unknown
Everlicking Don't forget about the girl that dressed you up to look so cute. She may want to pull your hem up and sit on your lap ... giggle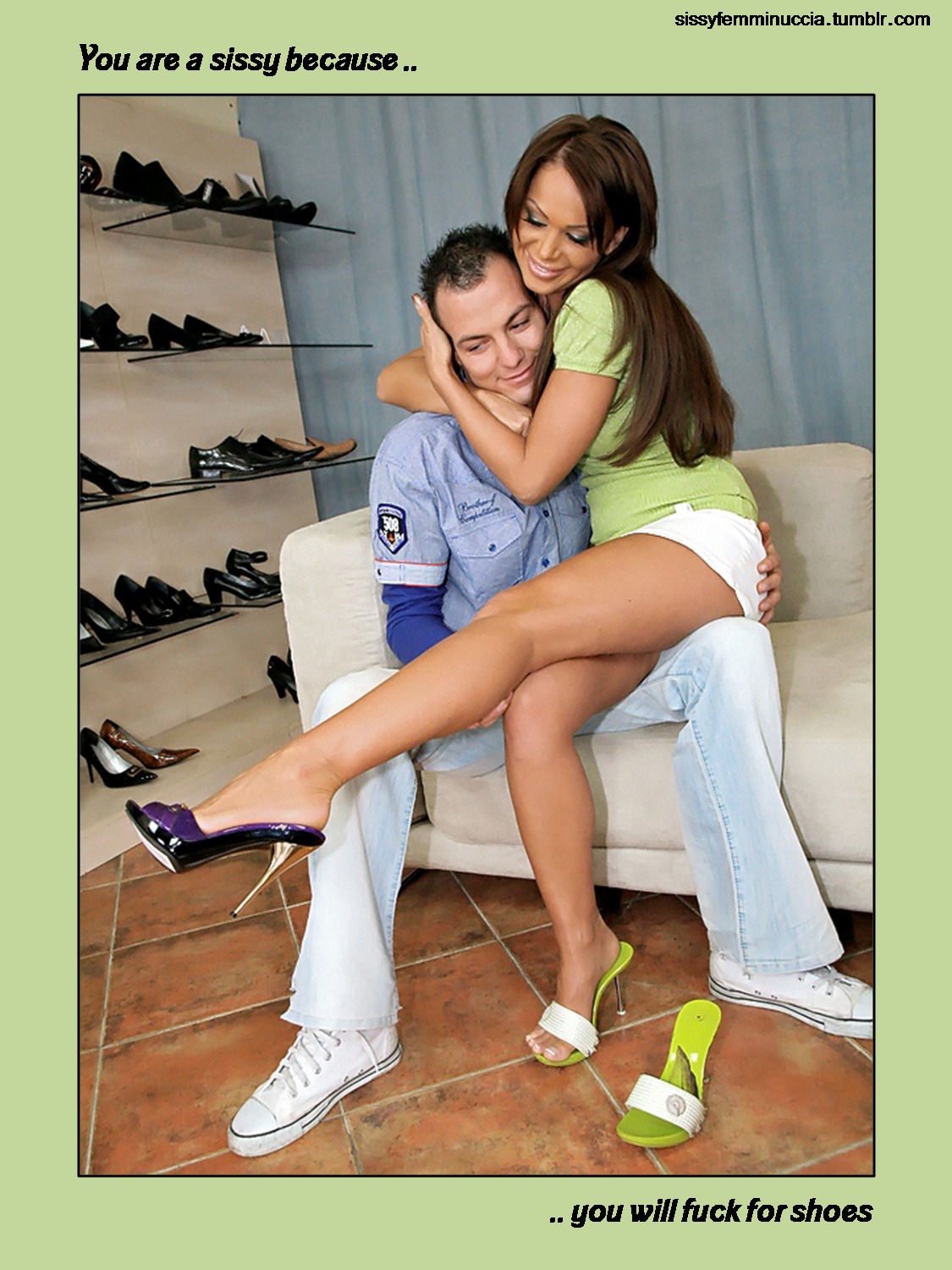 picture appears to be in the public domain
status unknown
Everlicking You could hold out for at least a whole ensamble and a weekend away. If their hot for you, guys can be so easy to play ;)

Share high heels suggestions at contact00@RealSissySchool.com

pictures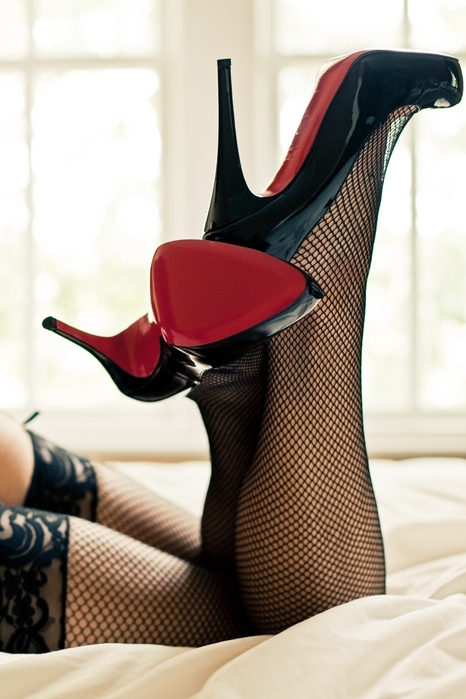 picture appears to be in the public domain
status unknown

other
Copyright © 1999, 2000, 2001, 2002, 2003, 2004, 2005, 2006, 2011, 2013, 2016, 2020 RealSissySchool.com
Last Updated: June 6, 2020
Created: June 21, 2013
Author of this sissy lesson page: contact00@RealSissySchool.com
If you write, please label your message as "Sissy" to help separate it from SPAM (which gets tossed unread).