Pantyhose
Pantyhose is a combination of stockings and panties in a single garment. Pantyhose has the advantage of staying up without stockings or garters, but (for most people) isn't as sexy. Gennuine girls wear pantyhose for the convenience. Pantyhose is often a fetish item. Pantyhose can also be used for bondage.
See also: stockings

Clothes tips
Courtesy of Doug Adam's Bimbo Training: "My friend and muse Lyndie Likemore [pictured right] is a bimbo of renown in her circles. Limited intelligence and inch-long nails make typing hard for her but she has risked even wrinkles by furrowing her brow and concentrating hard to give us her thoughts on the making of a good bimbo. Some slight editorial changes have been made so that the spelling or punctuation isn't distracting, but otherwise these are all her own words. Read on and enjoy her air-head wisdom or just enjoy her picture on the right.
"Skirts should always be very short, either tight lycra or light and flippy, a pleated skirt or mini kilt are good as when you walk it can flip up and give people a glimse of what is under that skirt. Under the skirt you should have NO knickers as they will stop people from seeing your cunt, you can have bare legs with your skirt if you hope to look more of a whore than a bimbo, bimbos should always have legs which look like they should be touched; to get this either very sheer and shiny stockings or pantyhose, if wearing pantyhose make sure that they are sheer to waist and that the gusset is clear you will be wanting like I do to have your pussy visible and the nylon to show how wet you are, even let it trickle down the side of your hose coved legs."
Courtesy of Doug Adam's Bimbo Training

pantyhose





pantyhose bondage
courtesy JulieSimone.com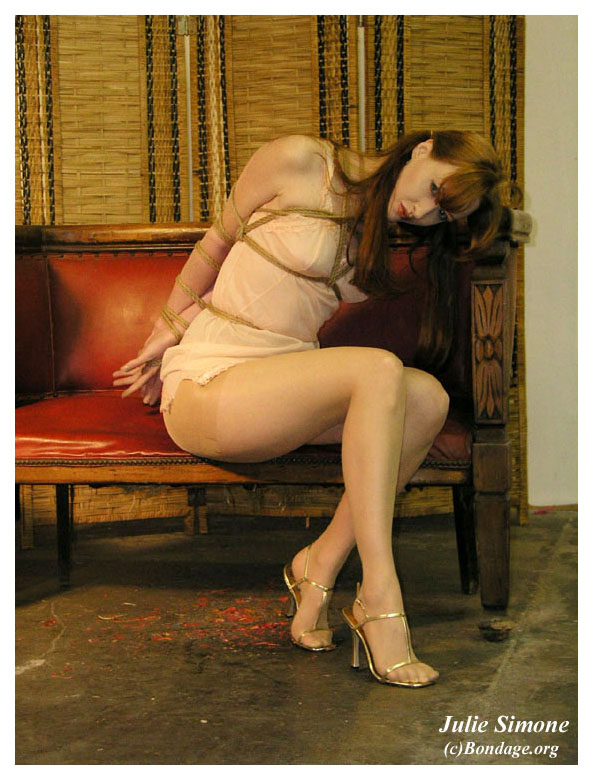 pantyhose bondage
(genuine girl)
courtesy JulieSimone.com


Sandra starts out cuffed and ball-gagged, then adds a leather blindfold. Her mouth gets so filled with spit that she uncontrollably drools onto her panty-hosed leg! —courtesy Trannies in Trouble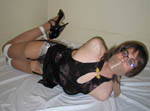 Sandra gets bound in her short Frederick's dress, stockings, and heels. First cleave gagged and left to struggle on the floor, later she gets hogtied and has a pair of pantyhose added to her gag to keep her extra quiet. —courtesy Trannies in Trouble

first experiences
Share your first pantyhose experience at contact00@RealSissySchool.com
Share pantyhose suggestions at contact00@RealSissySchool.com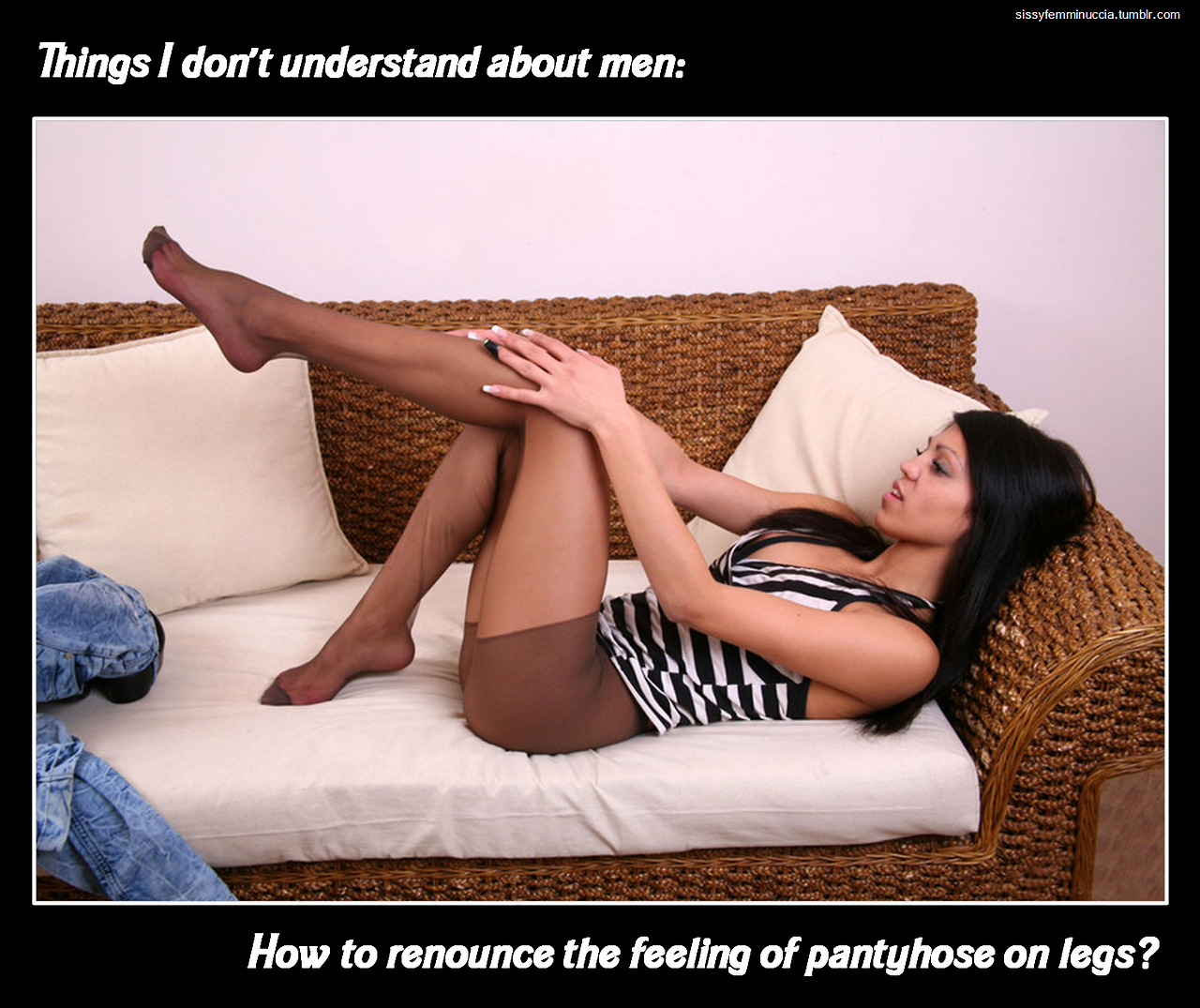 picture appears to be in the public domain
status unknown
Everlicking After all most have loved the feel of their hands gliding up a girl's leg. Just imagine how much better it feels to be wearing them. Even better stockings and a garter belt... Mmmmmmmm
Mikka Swenson Such a delightful feeling, I have enjoyed since my early teens!
Sherry Allen me too :-P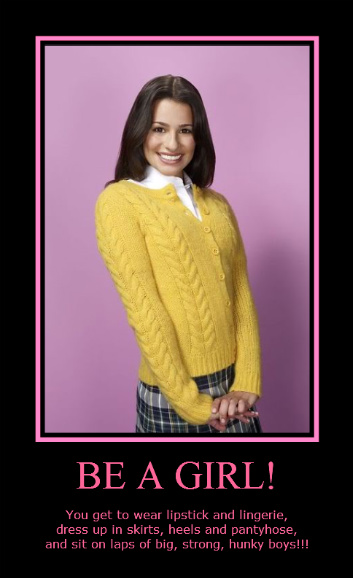 picture appears to be in the public domain
status unknown
Everlicking Don't forget about the girl that dressed you up to look so cute. She may want to pull your hem up and sit on your lap ... giggle

message to wealthy business person
You have an interest in sissies. You are wealthy. You are good at business.
I am creative (very creative). I am good at generating web traffic. You have found this website because with literally no money, I have made this one of the top sissy websites in the world. Entirely legally. No stolen material.
Anything sex or fetish related is a highly competitive field. Businesses spend millions of dollars a year in this field without achieving the results I have.
I need to team up with a competent business person (male or female) who has an interest in sissies and can fund good work and can run a business so that it makes plenty of money. Not looking for a boyfriend or girlfriend, but someone who sees the potential here and has a plan and the funds to make a profit ethically. No pop-up ads. None of the things that are annoying. Good, decent, ethical business.
If you think you can help achieve these goals, send a real letter to Candy, PO Box 5237, Balboa Island, California 92662, USA.


complete table of contents listing all dolls

some of the sources on the web:

transvestite sites

premium sites

specialty sites

discount sites

general sites

Shopping through these links may result in a small percentage of your purchase helping keep this site on the web.
(Some of the sites have tricky rules, so we don't always get a percentage, but it can't hurt to try.).
[ home ] [ toy info ] [ sorted by color ] [ sorted by material ] [ rabbits ] [ butterflies ] [ remote control ] [ strap-on harnesses ] [ dildoes ] [ double dildoes ] [ glass dildoes ] [ hands and fists ] [ vibrators ] [ massagers ] [ sleeves ] [ eggs and bullets ] [ clitoral stimulators ] [ waterproof vibrators ] [ anal probes and butt plugs ] [ beads ] [ breast pumps and nipple exciters ] [ balls ] [ erotic jewelry ] [ cock rings ] [ bondage ] [ lubricants, oils, and creams ] [ barriers ] [ hygiene ] [ erotic clothing ] [ transvestite items ] [ kits ] [ artificial vaginas ] [ male masturbators ] [ dolls ] [ penis pumps ] [ novelties ] [ DVDs ] [ videos ] [ books ] [ words ]

other
Copyright © 1999, 2000, 2001, 2002, 2003, 2004, 2005, 2013 RealSissySchool.com
Last Updated: May 30, 2013
Created: June 26, 2004
Based on material previously at AdultToyReviews.com
Author of this sissy lesson page: contact00@RealSissySchool.com
If you write, please label your message as "Sissy" to help separate it from SPAM (which gets tossed unread).