Secretaries
Secretary fanstasies usually involve some form of playing secretary. Variations include recpetionist, office worker, or other clerical job. Bondage is often added.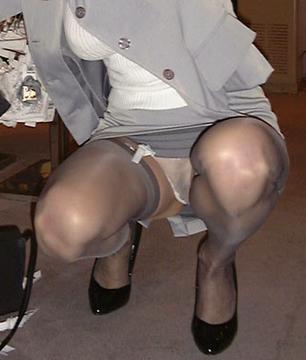 picture courtesy of Michael's LIngerie


Office girl in bondage, with clear tape over her lips, and then finally an ace bandage over that! —courtesy Trannies in Trouble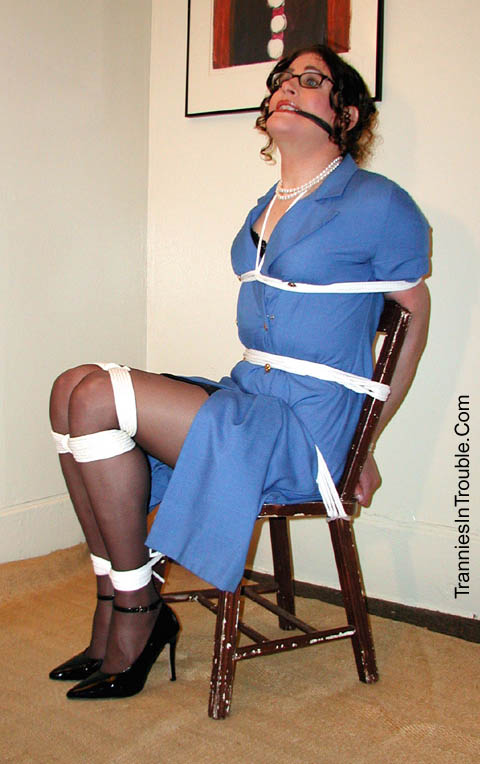 He overcame her so quickly that she hardly knew what was happening. But once the wrist tie was cinched down, all hope was lost for poor office girl Sandra. —courtesy Trannies in Trouble

Sandra as an office girl bound in a blue dress with a tight and effective over-the-mouth gag. She sadly looks at her own reflection in the mirror. —courtesy Trannies in Trouble

She never thought that her new secrretarial job would lead to such a predicament — tightly bound, a handkerchief shoved in her mouth and a cleave gag to hold it in place. —courtesy Trannies in Trouble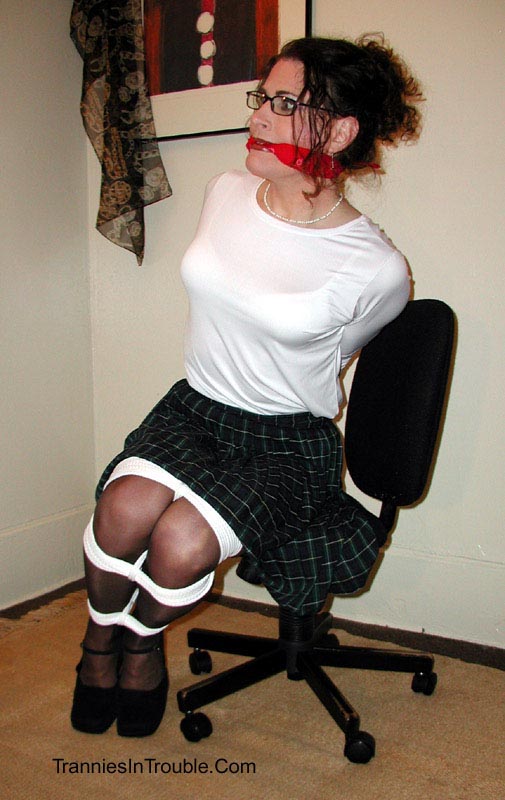 The tightly strapped-in ball gag left office girl Sandra in her humiliating predicament — drool dripping from her lips while the intruder rifled through her office. —courtesy Trannies in Trouble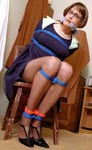 Cleave gagged and bound with blue rope, office secrretary Sandra awaits her rescue, almost dreading her eventual humiliating discovery. —courtesy Trannies in Trouble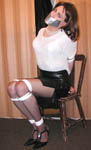 Office receptionist Sandra gets grabbed and taken away. Tightly bound and securely gagged, she helplessly mmmpphs and ponders her sad fate. —courtesy Trannies in Trouble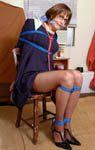 Overpowered at the office, Sandra 's mouth is stuffed with a handkerchief and held in place with a painfully tight cleave gag. She struggles helplessly in her chair, defeated, abandoned, with no hope for escape. —courtesy Trannies in Trouble

experiences
I was a REAL secretary for about 5 years. I worked in a real estate and insurance office that was almost entirely women. My interview and my first few days in the office were a bit nerving for me as I had to fully admit to everyone that, yes, I was a sissy. Of course the women quizzed me a lot about everything and asked the usual questions. And they were certainly curious about any outfits I wore to work (I almost always wore a skirt or dress).
But after about two weeks, when they concluded that I was not any kind of perverted threat to them, and as their initial amusement wore off, they simply accepted me into their sorority of secretaries and business women. Soon, I found myself like any other working woman—every morning having to put on makeup, primp my hair, put on panties, bra, garterbelt or girdle, stockings, slip, dress, shoes—and then grab my purse and coat and head for the office downtown—and simply living from paycheck to paycheck as most secretaries have to do. Pretty soon, a sissy will find herself spending 8-10 hour days in panties, stockings and skirts, exhibiting feminine mannerisms, and hardly thinking about it. Just like any woman.
But it is such a wonderful and free feeling to be able to wear a pretty dress or skirt to work everyday and feel the sunshine on one's nylons and the city breezes fluttering one's skirts and hearing one's own high heels clicking on the sidewalk. It's a feeling that any sissy will never become complacent to—kind of a little constant reminder that she is a weak, infibulated,helpless feminine sissy and wearing a dress or skirt in broad daylight in public where everyone can see. Being a secretary is a wonderful experience and billet for any sissy and quite a good asset to have for any working woman office manager or boss. —sissynancy
Share secretary suggestions and experiences at contact00@RealSissySchool.com



a sissy forced to wear feminine office wear

pictures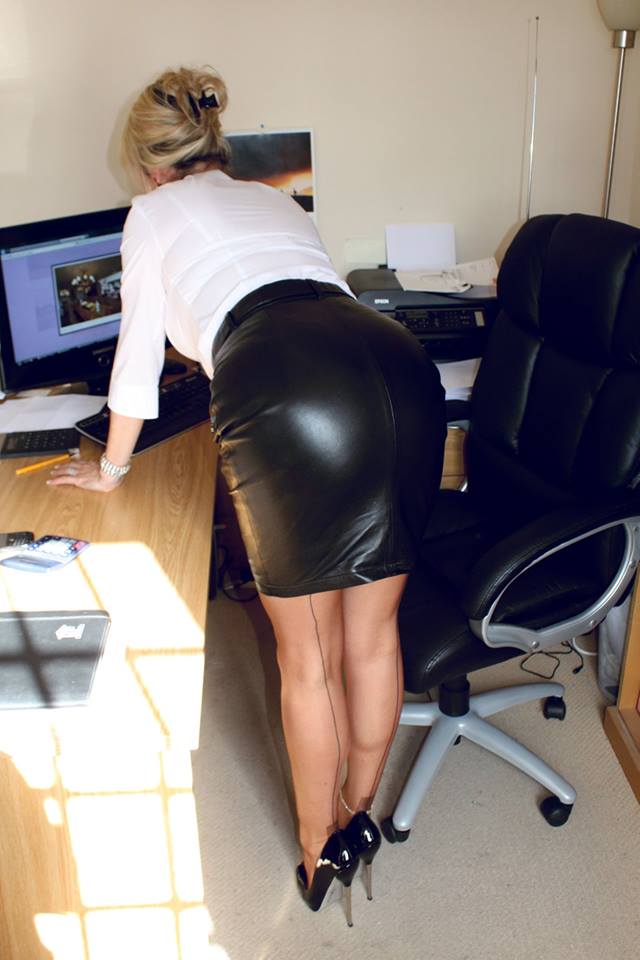 CD leather paula

message to wealthy business person
You have an interest in sissies. You are wealthy. You are good at business.
I am creative (very creative). I am good at generating web traffic. You have found this website because with literally no money, I have made this one of the top sissy websites in the world. Entirely legally. No stolen material.
Anything sex or fetish related is a highly competitive field. Businesses spend millions of dollars a year in this field without achieving the results I have.
I need to team up with a competent business person (male or female) who has an interest in sissies and can fund good work and can run a business so that it makes plenty of money. Not looking for a boyfriend or girlfriend, but someone who sees the potential here and has a plan and the funds to make a profit ethically. No pop-up ads. None of the things that are annoying. Good, decent, ethical business.
If you think you can help achieve these goals, send a real letter to Candy, PO Box 5237, Balboa Island, California 92662, USA.


complete table of contents listing all dolls


some of the sources on the web:

transvestite sites

premium sites

specialty sites

discount sites

general sites

Shopping through these links may result in a small percentage of your purchase helping keep this site on the web.
(Some of the sites have tricky rules, so we don't always get a percentage, but it can't hurt to try.).
[ home ] [ toy info ] [ sorted by color ] [ sorted by material ] [ rabbits ] [ butterflies ] [ remote control ] [ strap-on harnesses ] [ dildoes ] [ double dildoes ] [ glass dildoes ] [ hands and fists ] [ vibrators ] [ massagers ] [ sleeves ] [ eggs and bullets ] [ clitoral stimulators ] [ waterproof vibrators ] [ anal probes and butt plugs ] [ beads ] [ breast pumps and nipple exciters ] [ balls ] [ erotic jewelry ] [ cock rings ] [ bondage ] [ lubricants, oils, and creams ] [ barriers ] [ hygiene ] [ erotic clothing ] [ transvestite items ] [ kits ] [ artificial vaginas ] [ male masturbators ] [ dolls ] [ penis pumps ] [ novelties ] [ DVDs ] [ videos ] [ books ] [ words ]

other
Copyright © 1999, 2000, 2001, 2002, 2003, 2004, 2005, 2012 RealSissySchool.com
Last Updated: October 25, 2012
Created: May 21, 2004
Based on material previously at AdultToyReviews.com
Author of this sissy lesson page: contact00@RealSissySchool.com
If you write, please label your message as "Sissy" to help separate it from SPAM (which gets tossed unread).