Walk, Sit, Curtsey

Sissy Maid Timmy
Posted by sissymaidtimmy.

training sissy maid timmy to walk, sit and curtsey
Sissy Maid Timmy curtseys twice.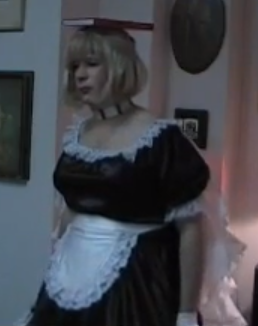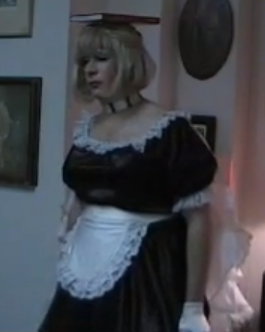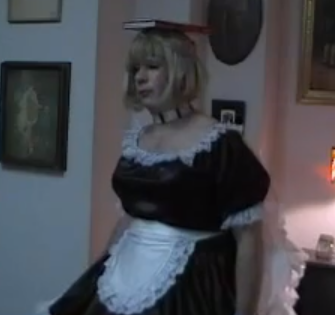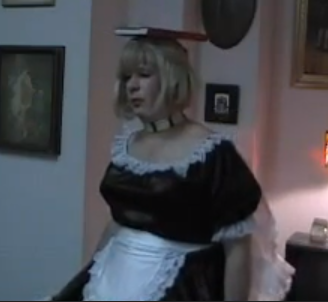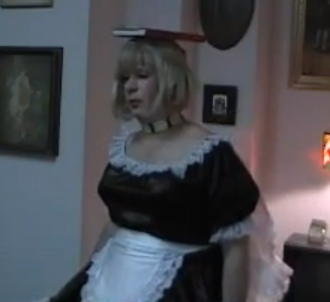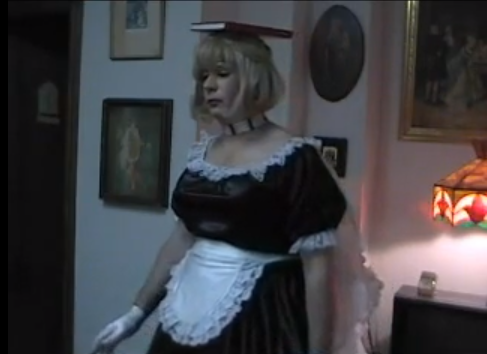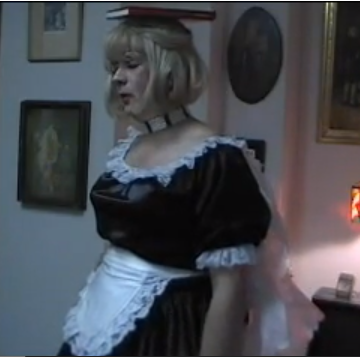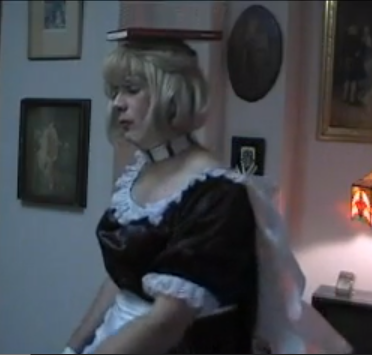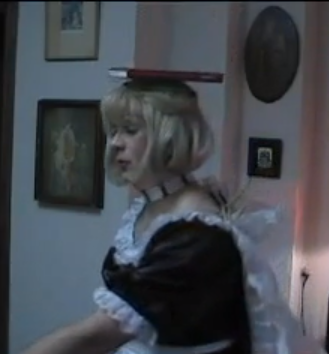 Mistress: Take your book.
Comment: I want to be trained like this! —Jake Sanger
Mistress: Is your apron centered?
Mistress: Yes. OK.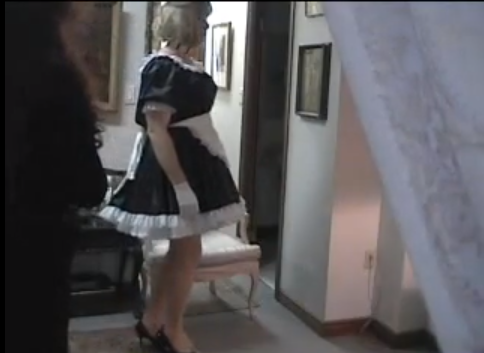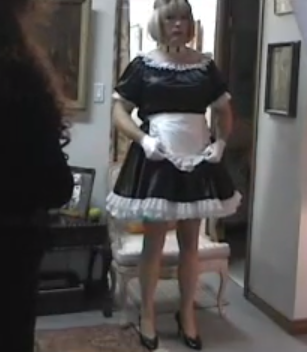 Mistress: Now, close your legs.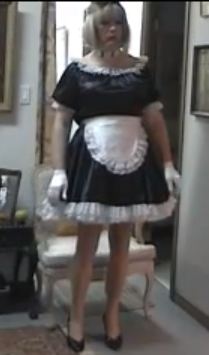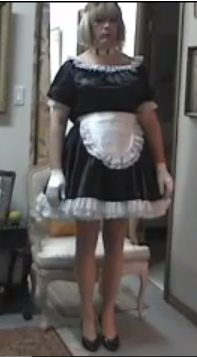 Mistress: Stand up straight.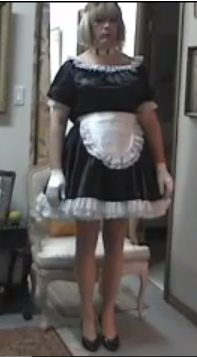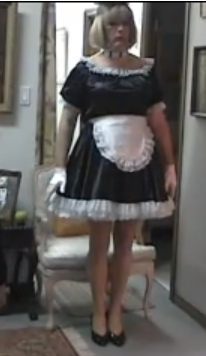 Sissy Maid Timmy practices sitting down in a lady-like manner.
Mistress: Bring your arms behind you so that you smooth out your dress.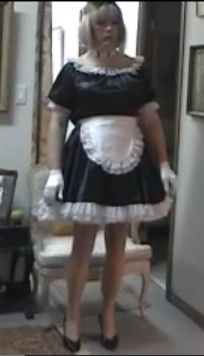 Mistress: And pull it [sissy maid dress] to the side.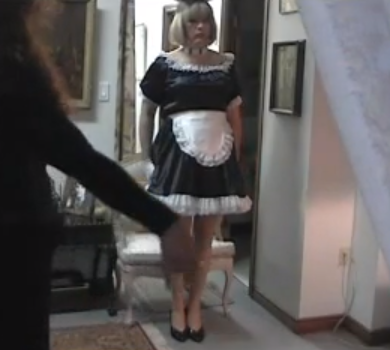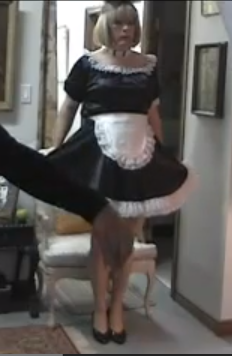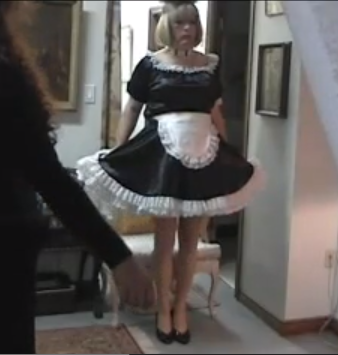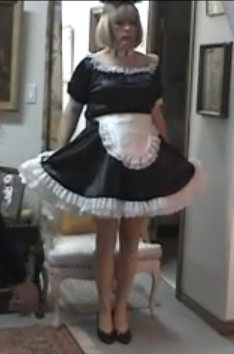 Mistress: Sit on the edge of the chair only.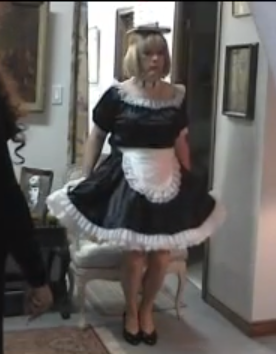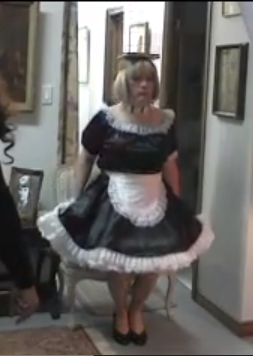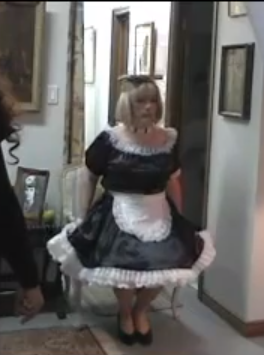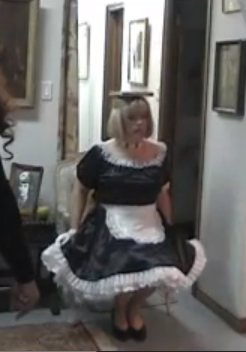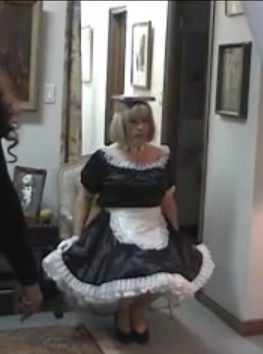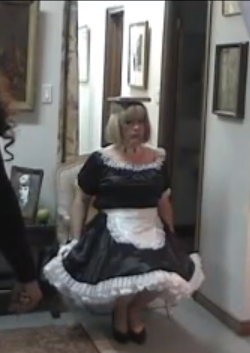 Mistress: Keep a dime between those knees.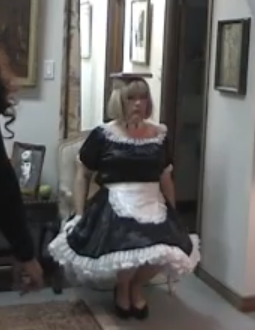 Mistress: Cross your ankles.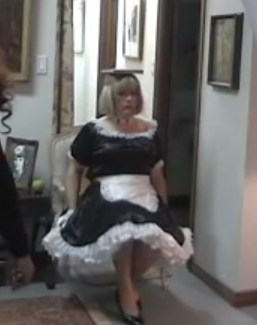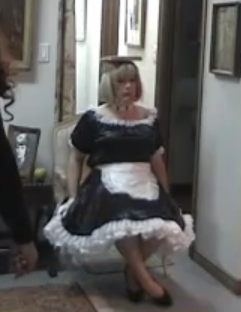 Mistress: And smooth out your skirt. Keep those heels off the floor.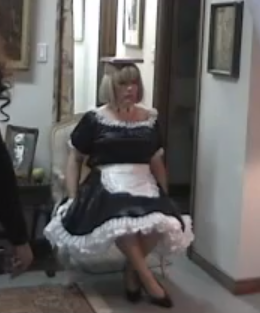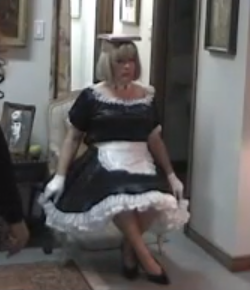 Mistress: And hands folded daintily on your lap.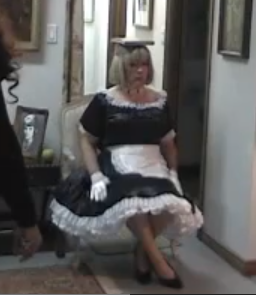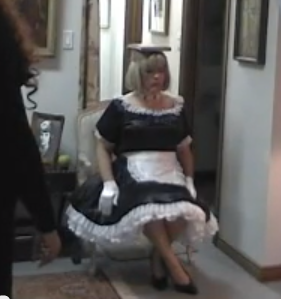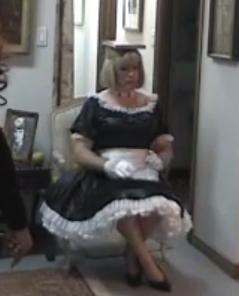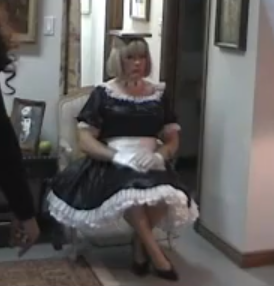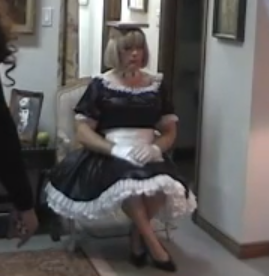 Mistress: Do you see that?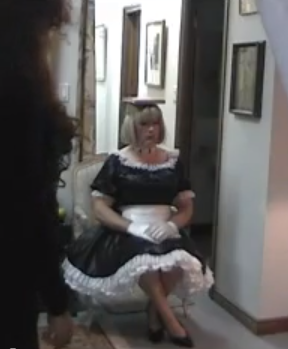 Mistress: That looks very nice. You look like a beautiful, poised young lady.
Comment: Your pretty :) —Rickie Muth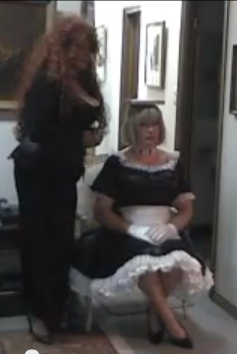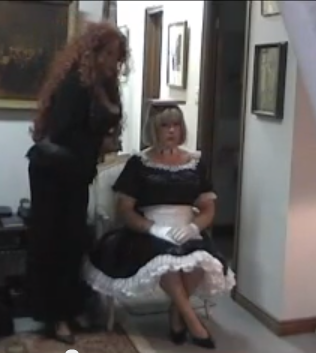 Mistress: Very, very nice. You would pass as a woman if you were in a crowd sitting like that. I want you to do that five times.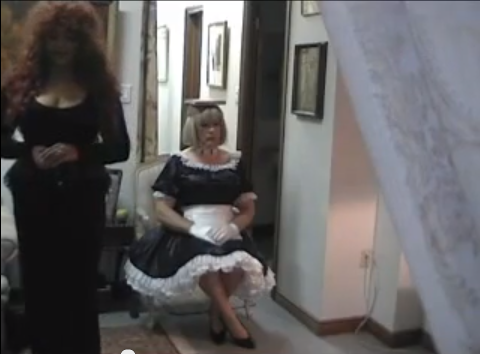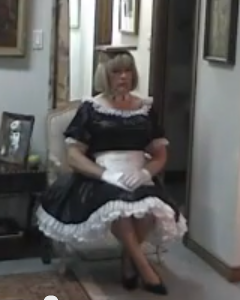 Mistress: You may begin. Rise.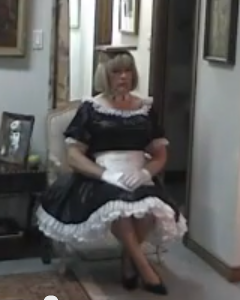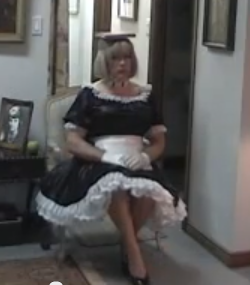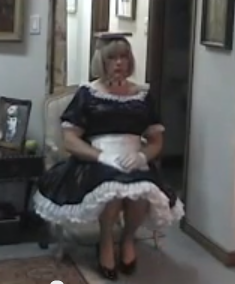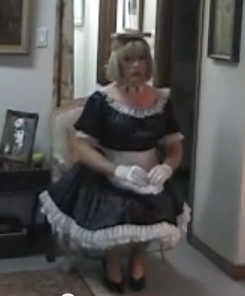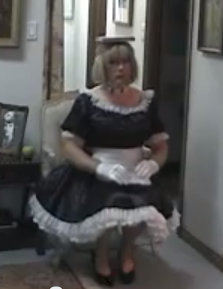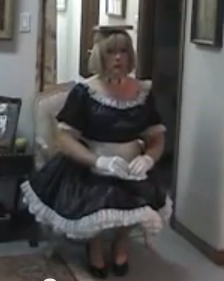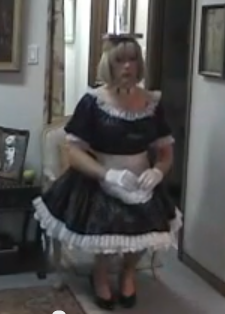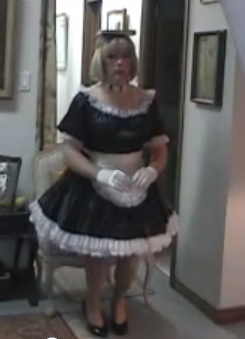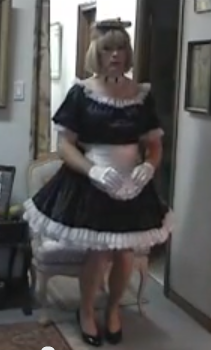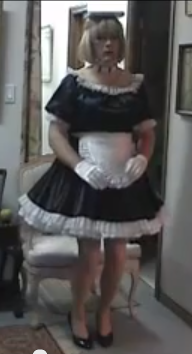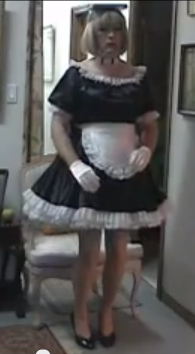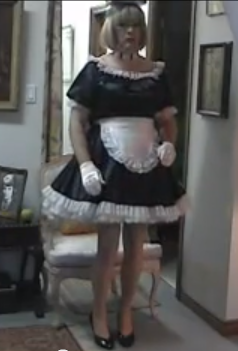 Mistress: Hands to the back. Smooth out your dress in the back.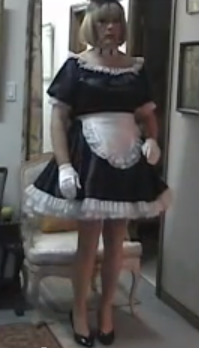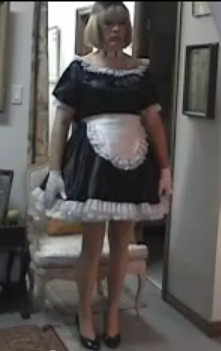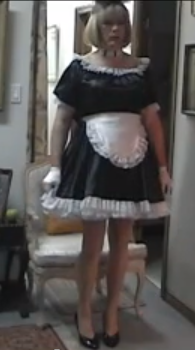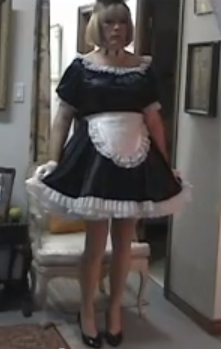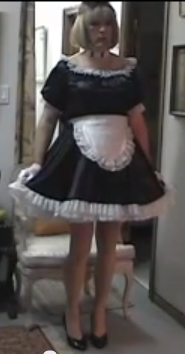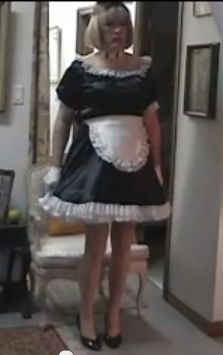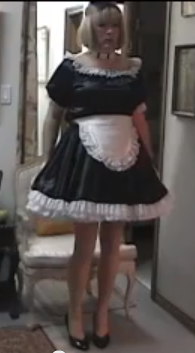 Mistress: Bring those, fan those [skirt] out.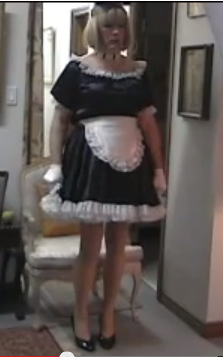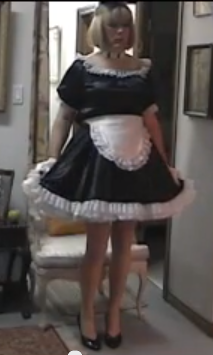 Mistress: Sit on the edge of the chair very gracefully. Very ritualistically.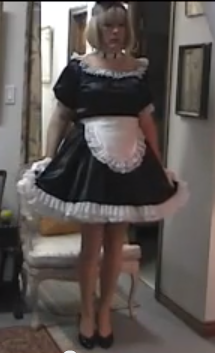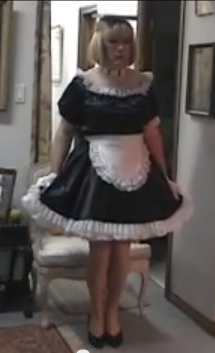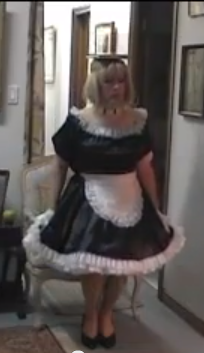 Mistress: And slowly cross the ankles. Balls of the foot rest on the floor. Heels off the floor.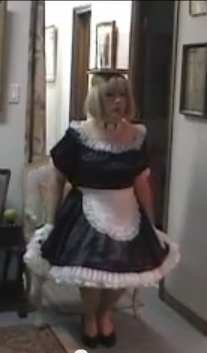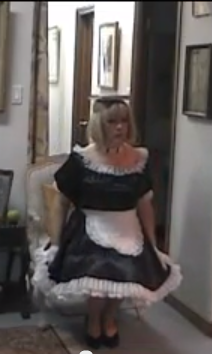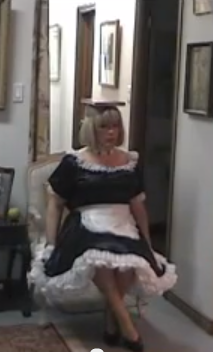 Mistress: Smooth out your dress.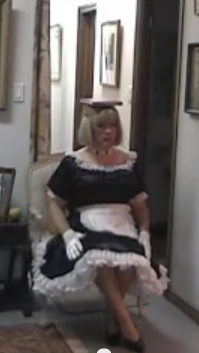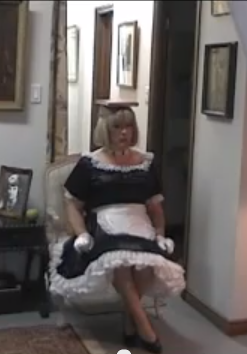 Mistress: And hands folded in your lap.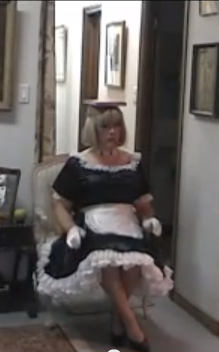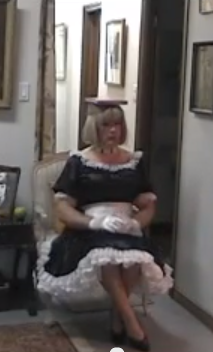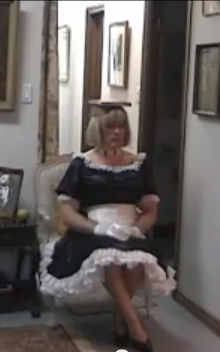 Mistress: Eyes downcast. Chin on a slight inclination. Very good.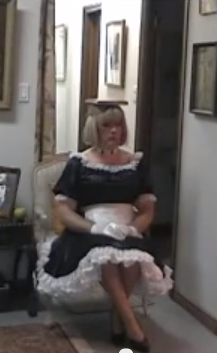 Comment: Most of the girls I know and I mean genetic girls would not dare to do this. I applaud the trainer and the trainee. Well done ladies! The maid makes a proper lady. And we know what that means. Yeah? —lacy235
Sissy Maid Timmy practices walking in a lady-like manner like a sissy.
Mistress: Arms up. Elbows in close to the spine.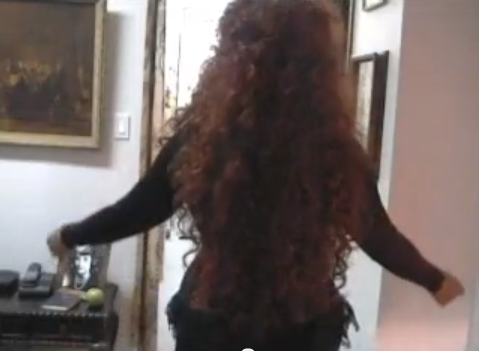 Mistress: Wrists right under your breasts.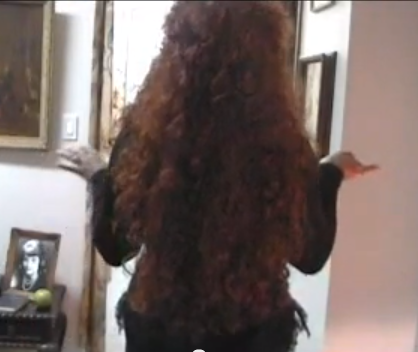 Mistress: Pinkies out.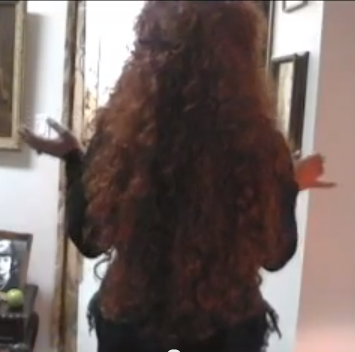 Mistress: And one, two, three, four, five, six, seven, I'm such a good little sissy maid.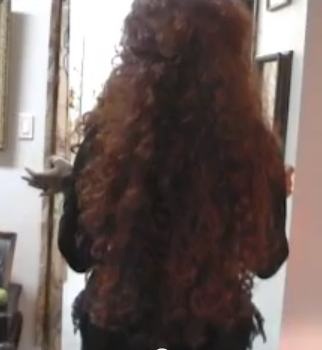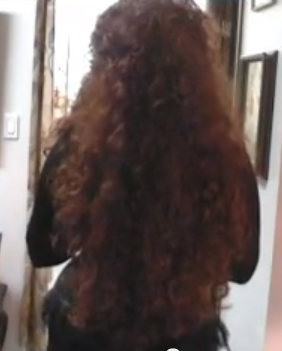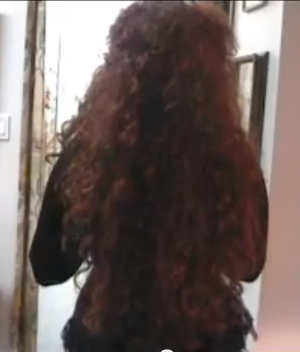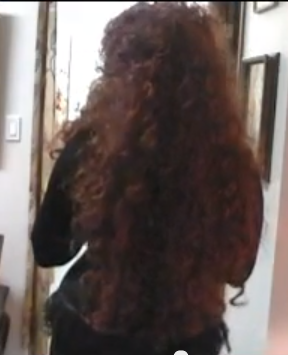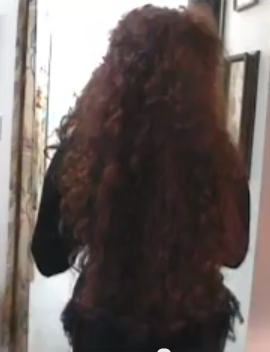 Mistress: Eight, nine, ten, eleven, twelve, thirteen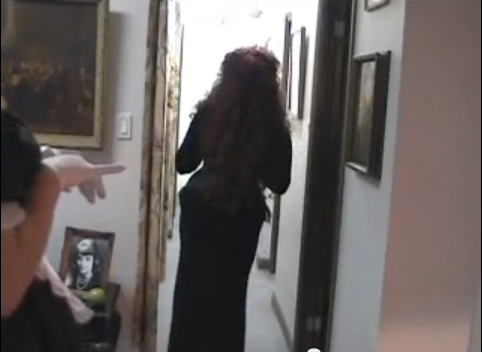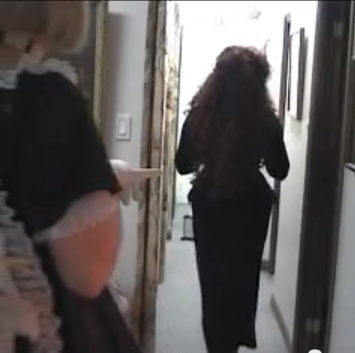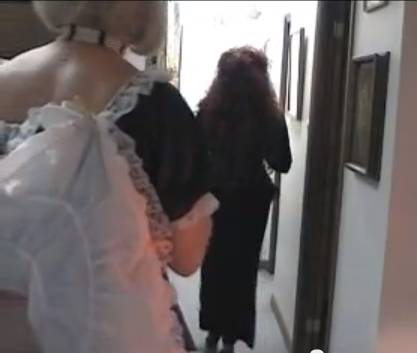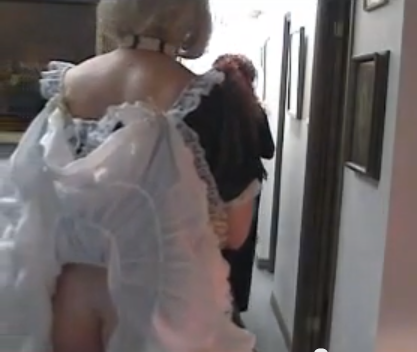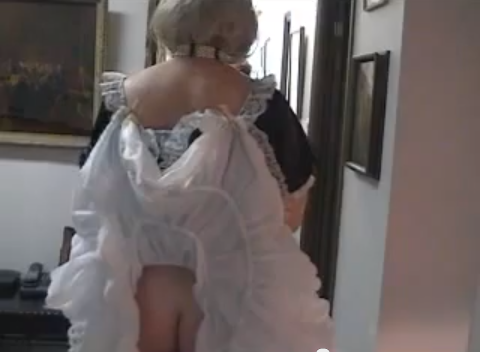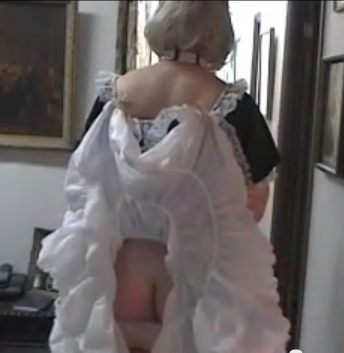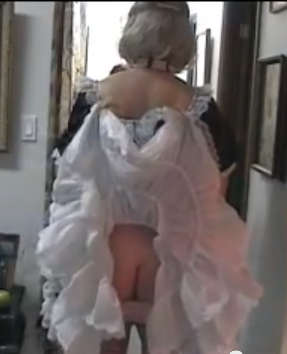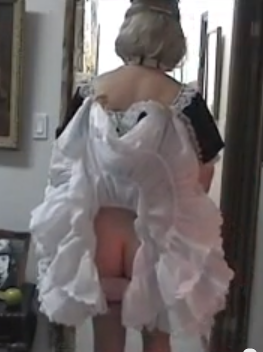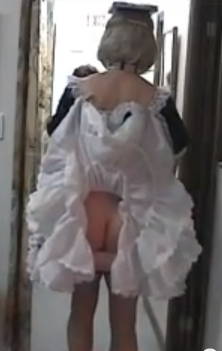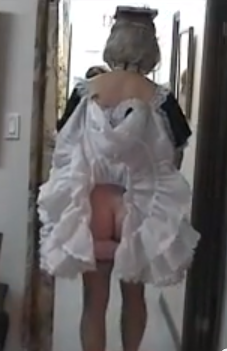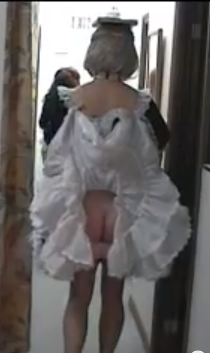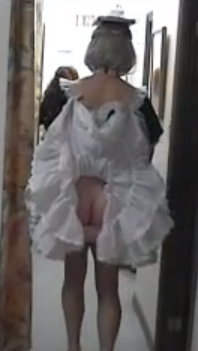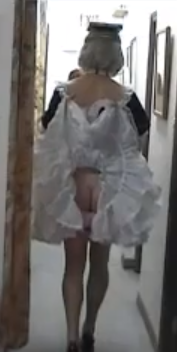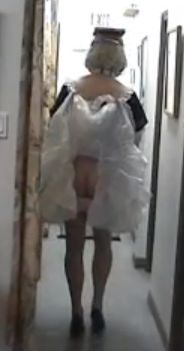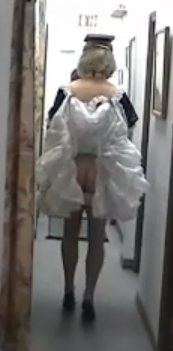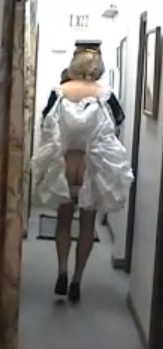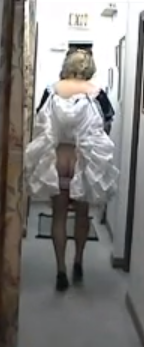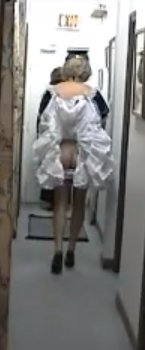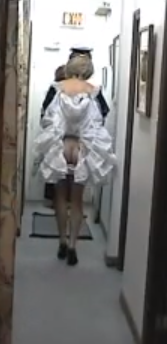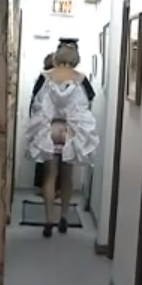 Comment: Well trained maid. Love the rear view as she walks away, so humiliating. Love the poise of the hands beneath the breasts. —Gina Fuller
Comment: Such proper "high heel trainingž !!!! I got some of this training as a teenager from several ladies and a group of girls as a punishment. First I was forced into a mini skirt and red patent high heels with skirt tucked into the garter belt skimpy women's panties displaying my buns to be smacked with a ruler…then was made to beg to wear a dress with petticoat. WOW what a humiliating experience especially when a girl took me outside on the walk. —matty4heels
Comment: Light that fags ass up!!! —redneck6310
Comment: very very good mistress please give me more punishment —pureslave1
Mistress: Turn.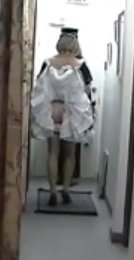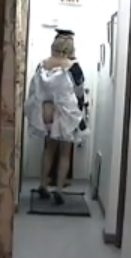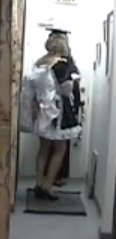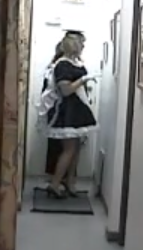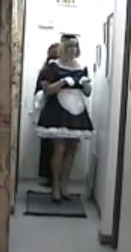 Mistress: Make sure you back is straight and shoulders are up.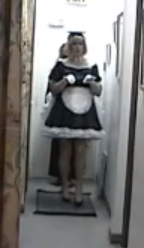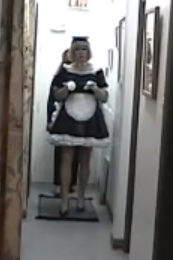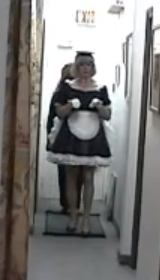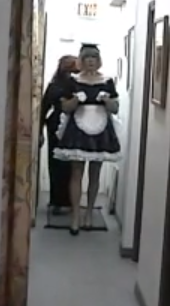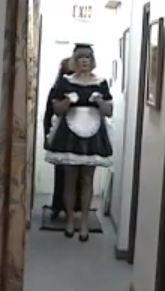 Mistress: Let's have a little more wiggle in that behind, thank you.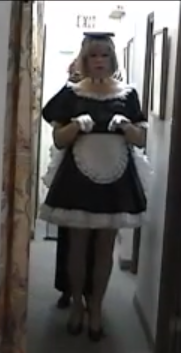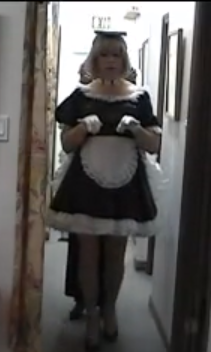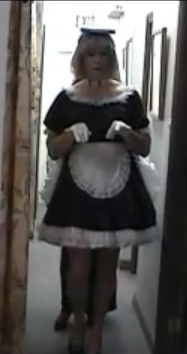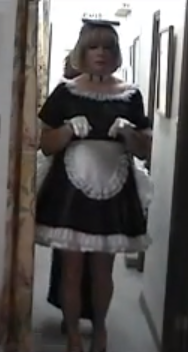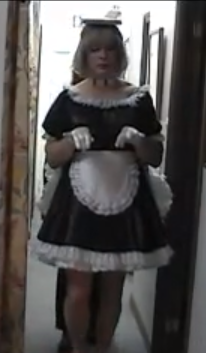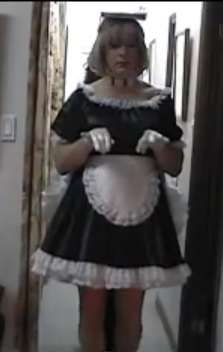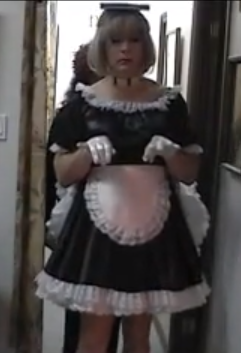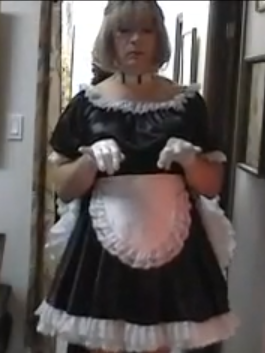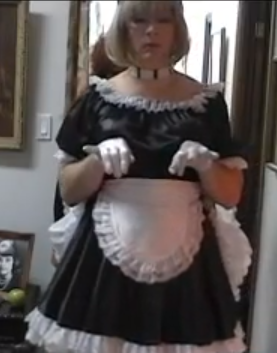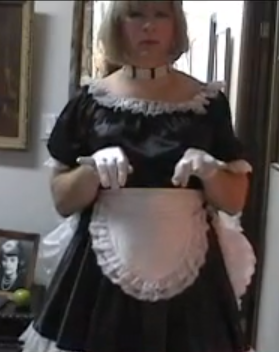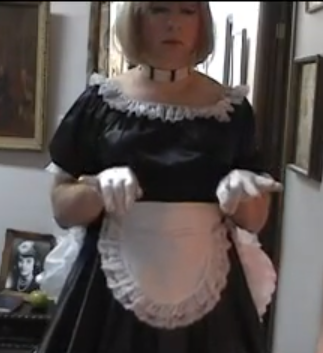 Comment: Very graceful. You'll be walking like a sissy-girl any day now. —Kevin Straus
Mistress: And curtsey nice and pretty.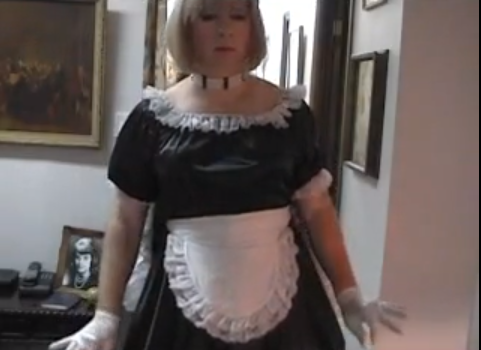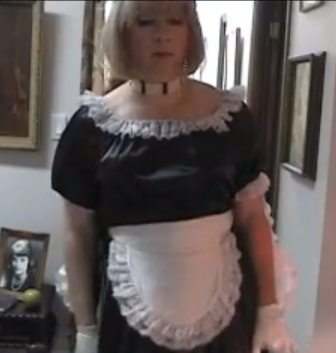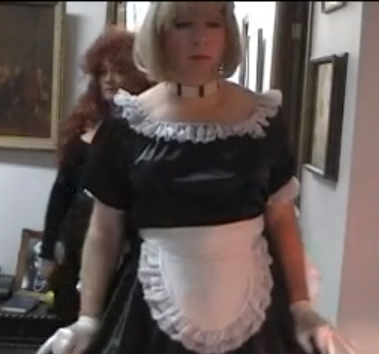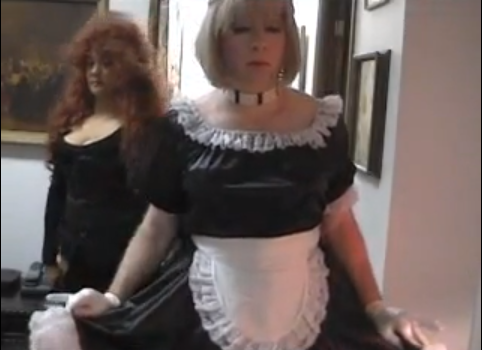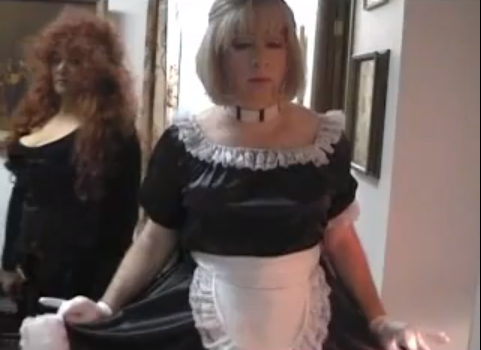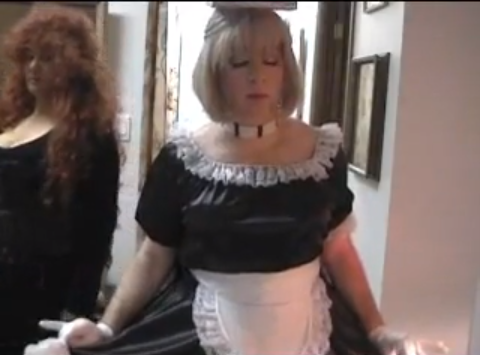 Mistress: Head on a slight inclination.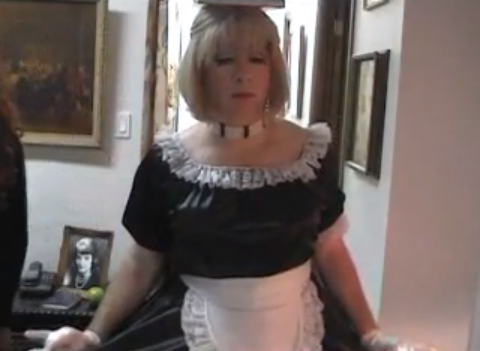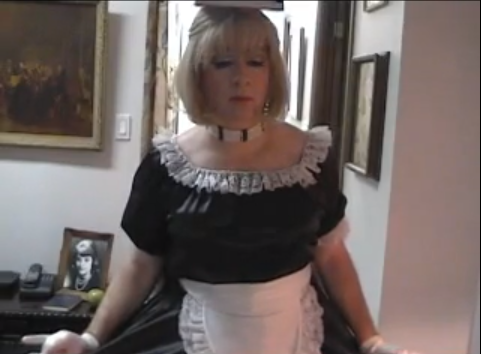 Mistress: And rise.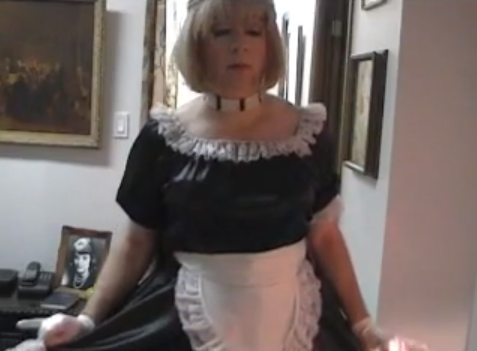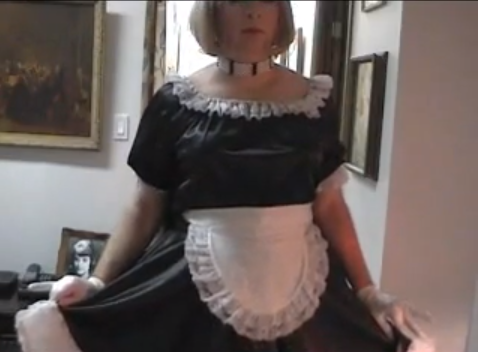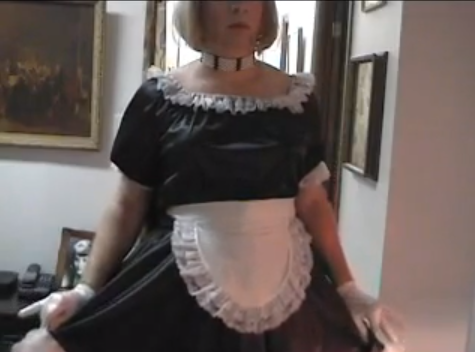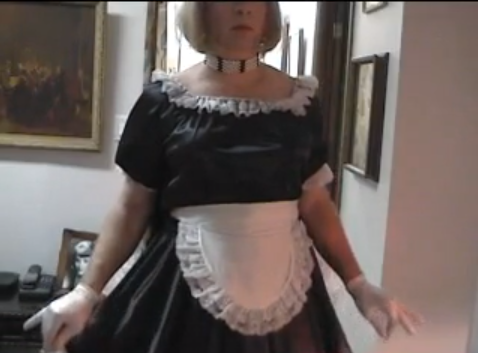 Mistress: Very good.
Comment: Excellent...... i would love to train aside sissy maid timmy —tiffanymaid
Comment: I sure want to see more —JillBride
Comment: Wow I would love to become this sissy maid! —bigboy69563
Comment: Lovely video Sissy Maid Timmy! —Teri022
Comment: Who is your mistress? I would like to submit to her. —cyborg0018

message to wealthy business person
You have an interest in sissies. You are wealthy. You are good at business.
I am poor (very poor), but I am good at generating web traffic. You have found this website because with literally no money, I have made this one of the top sissy websites in the world. Entirely legally. No stolen material.
Anything sex or fetish related is a highly competitive field. Businesses spend millions of dollars a year in this field without achieving the results I have.
I need to team up with a competent business person (male or female) who has an interest in sissies and can fund good work and can run a business so that it makes plenty of money. Not looking for a boyfriend or girlfriend, but someone who sees the potential here and has a plan and the funds to make a profit ethically. No pop-up ads. None of the things that are annoying. Good, decent, ethical business.


complete table of contents listing all dolls

Gay and Lesbian Marriages in California

some of the sources on the web:

transvestite sites

premium sites

specialty sites

discount sites

general sites

Shopping through these links may result in a small percentage of your purchase helping keep this site on the web.
(Some of the sites have tricky rules, so we don't always get a percentage, but it can't hurt to try.).
[ home ] [ toy info ] [ sorted by color ] [ sorted by material ] [ rabbits ] [ butterflies ] [ remote control ] [ strap-on harnesses ] [ dildoes ] [ double dildoes ] [ glass dildoes ] [ hands and fists ] [ vibrators ] [ massagers ] [ sleeves ] [ eggs and bullets ] [ clitoral stimulators ] [ waterproof vibrators ] [ anal probes and butt plugs ] [ beads ] [ breast pumps and nipple exciters ] [ balls ] [ erotic jewelry ] [ cock rings ] [ bondage ] [ lubricants, oils, and creams ] [ barriers ] [ hygiene ] [ erotic clothing ] [ transvestite items ] [ kits ] [ artificial vaginas ] [ male masturbators ] [ dolls ] [ penis pumps ] [ novelties ] [ DVDs ] [ videos ] [ books ] [ words ]

other

Copyright © 2013 RealSissySchool.com
Last Updated: April 15, 2013
Created: April 15, 2013
Author of this sissy lesson page: contact00@RealSissySchool.com
If you write, please label your message as "Sissy" to help separate it from SPAM (which gets tossed unread).

[ home ] [ toy info ] [ sorted by color ] [ sorted by material ] [ rabbits ] [ butterflies ] [ remote control ] [ strap-on harnesses ] [ dildoes ] [ double dildoes ] [ glass dildoes ] [ hands and fists ] [ vibrators ] [ massagers ] [ sleeves ] [ eggs and bullets ] [ clitoral stimulators ] [ waterproof vibrators ] [ anal probes and butt plugs ] [ beads ] [ breast pumps and nipple exciters ] [ balls ] [ erotic jewelry ] [ cock rings ] [ bondage ] [ lubricants, oils, and creams ] [ barriers ] [ hygiene ] [ erotic clothing ] [ transvestite items ] [ kits ] [ artificial vaginas ] [ male masturbators ] [ dolls ] [ penis pumps ] [ novelties ] [ DVDs ] [ videos ] [ books ] [ words ]