Young Girls
Young girl fantasies are a close variation to both the poufbunny annd the adult baby. Young girl sisiies often enjoy wearing intricate and pretty little girl dresses.
Young girl play may include playing with stuffed animals, dolls (child's and inflatable), and other toys associated with young girls.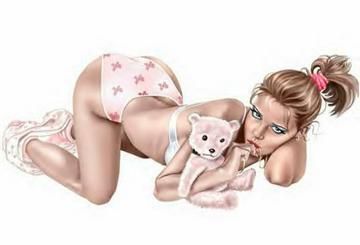 picture courtesy of Michael's Sin, Sex & Pleasure
There is an entire subculture (including sissies and non-sissies) who masturbate rubbing themselves with stuffed animals.
There is an entire subculture (including sissies and non-sissies) who masturbate with inflatable dolls.
Important Note: This is about fantasy play in which adult sissies wear the clothing of young girls. This is not about illegal sexual activity of any kind with minors. It may include adults legally pretending to be young. Kind of sad that I have to explicitly state the obvious.
specific characters
Here is a list of some specific characters that might be adopted in cosplay:
first experiences
Share your first young girl experience at contact00@RealSissySchool.com
young girl experiences
"Mommy can turn you into a little girl and dress you up sooooo pretty. Then I can put my STRAP-ON and you'll have to beg me for IT."—MOMMY_HELEN; e-mail
Share young girl suggestions at contact00@RealSissySchool.com

message to wealthy business person
You have an interest in sissies. You are wealthy. You are good at business.
I am creative (very creative). I am good at generating web traffic. You have found this website because with literally no money, I have made this one of the top sissy websites in the world. Entirely legally. No stolen material.
Anything sex or fetish related is a highly competitive field. Businesses spend millions of dollars a year in this field without achieving the results I have.
I need to team up with a competent business person (male or female) who has an interest in sissies and can fund good work and can run a business so that it makes plenty of money. Not looking for a boyfriend or girlfriend, but someone who sees the potential here and has a plan and the funds to make a profit ethically. No pop-up ads. None of the things that are annoying. Good, decent, ethical business.


complete table of contents listing all dolls

Gay and Lesbian Marriages in California

some of the sources on the web:

transvestite sites

premium sites

specialty sites

discount sites

general sites

Shopping through these links may result in a small percentage of your purchase helping keep this site on the web.
(Some of the sites have tricky rules, so we don't always get a percentage, but it can't hurt to try.).
[ home ] [ toy info ] [ sorted by color ] [ sorted by material ] [ rabbits ] [ butterflies ] [ remote control ] [ strap-on harnesses ] [ dildoes ] [ double dildoes ] [ glass dildoes ] [ hands and fists ] [ vibrators ] [ massagers ] [ sleeves ] [ eggs and bullets ] [ clitoral stimulators ] [ waterproof vibrators ] [ anal probes and butt plugs ] [ beads ] [ breast pumps and nipple exciters ] [ balls ] [ erotic jewelry ] [ cock rings ] [ bondage ] [ lubricants, oils, and creams ] [ barriers ] [ hygiene ] [ erotic clothing ] [ transvestite items ] [ kits ] [ artificial vaginas ] [ male masturbators ] [ dolls ] [ penis pumps ] [ novelties ] [ DVDs ] [ videos ] [ books ] [ words ]

other

Notes regarding Shemade Shemale pictures: Access strictly forbidden to minors — © Carpe Diem — All rights reserved — All images presented on this are conform to French legislation : no images of anyone under the age of 18 are present on this access. Proof of age and majority as well as the running rights for the videos and photos are available at Carpe Diem's head office.
Copyright © 1999, 2000, 2001, 2002, 2003, 2004, 2020 RealSissySchool.com
Last Updated: May 8, 2020
Created: May 21, 2004
Based on material previously at AdultToyReviews.com
Author of this sissy lesson page: contact00@RealSissySchool.com
If you write, please label your message as "Sissy" to help separate it from SPAM (which gets tossed unread).

[ home ] [ toy info ] [ sorted by color ] [ sorted by material ] [ rabbits ] [ butterflies ] [ remote control ] [ strap-on harnesses ] [ dildoes ] [ double dildoes ] [ glass dildoes ] [ hands and fists ] [ vibrators ] [ massagers ] [ sleeves ] [ eggs and bullets ] [ clitoral stimulators ] [ waterproof vibrators ] [ anal probes and butt plugs ] [ beads ] [ breast pumps and nipple exciters ] [ balls ] [ erotic jewelry ] [ cock rings ] [ bondage ] [ lubricants, oils, and creams ] [ barriers ] [ hygiene ] [ erotic clothing ] [ transvestite items ] [ kits ] [ artificial vaginas ] [ male masturbators ] [ dolls ] [ penis pumps ] [ novelties ] [ DVDs ] [ videos ] [ books ] [ words ]