sissy critique
Sandra
Remember that critiques should be constructive criticism. Praise what is right and offer suggestions on how to improve on things that aren't working. Be specific.
Share critiques at contact00@RealSissySchool.com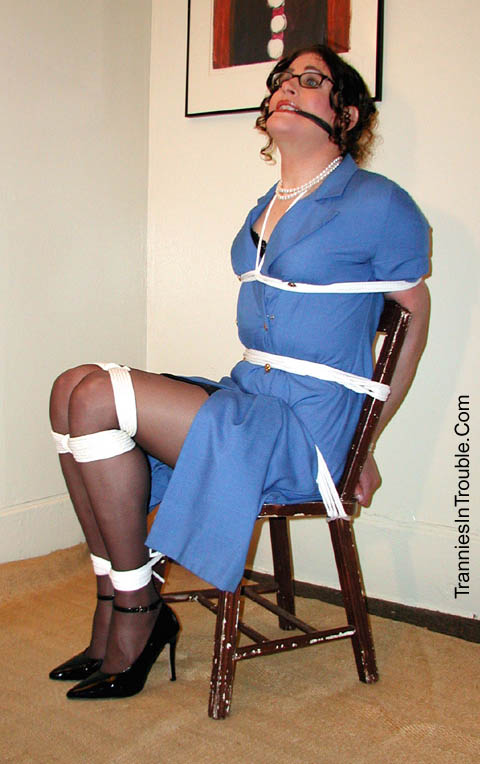 Office girl in bondage, with clear tape over her lips, and then finally an ace bandage over that! —courtesy Trannies in Trouble

He overcame her so quickly that she hardly knew what was happening. But once the wrist tie was cinched down, all hope was lost for poor office girl Sandra. —courtesy Trannies in Trouble



pictures of Sandra courtesy of Trannies in Trouble

what works: Glasses are a nice office worker touch. Same with the white "pearl" necklace. The conservative clothing being unkempt and unbuttoned, with black lace bra and slip showing, gives an erotic flair of danger. The rope work looks secure. The setting is uncluttered. The hair and makeup looks very natural.
what needs work: More padding on the breasts would have been nice. The strap heels are a bit more fetish than the rest of the costume.
conclusions: Very realistic look by Sandra, but the bondage could have been more exciting. —Sissy Candy
The plain even lighting was competent, but the photos would have been more interesting with dramatic lighting (maybe a 4:1 ratio). —Photo Sissy
if i had a chacce and i found sandra like that i would fuck her mouth hard sandra be very careful i may be your best friend dear you got a nice mouth —Scott
I've seen Sandra many times on the net. I think she's fantastic. It's really amazing how beautiful she is in some of her "non-bondage" shots. And one person mentioned that the bondage could be more exciting. Check out her websites. It is. —Dee
Share critiques at contact00@RealSissySchool.com

Your own photo shoot
(message from Trannies in Trouble):
Model Call
We're always looking for attractive new models for TranniesInTrouble. If you're a TV, CD or TS in the Los Angeles area with your own outfits and are interested in bondage modeling, please send an email and a recent picture for consideration.
Basically we're looking to shoot with models who have a passion for bondage and want to take some nice sexy pictures. To be honest, there's not a lot of money involved. Payment usually consists of a share of the profits from the Token Gallery sales or on very rare occasion a small payment for shooting (typically half a day). But if you're hoping to pay the rent with it, unfortunately it won't happen here.
We try to keep photo shoots simple and relaxed. There's no sex involved or pressure to do things that the model is uncomfortable with. Of course, it's all right for a model to bring a friend or spouse along for safety as long as the person doesn't interfere with the shooting.
If you'd like more information, just send me [the Trannies in Trouble website] an e-mail. Please mention modeling in the subject line and send along a recent picture (jpeg or gif), bound or unbound.
preceding message from Trannies in Trouble

If you want to be critiqued by your fellow sissies, send your picture(s) to contact00@RealSissySchool.com
Try the following link for a sissy search.

Share critiques at contact00@RealSissySchool.com
complete table of contents listing all dolls

some of the sources on the web:

premium sites

specialty sites

discount sites

general sites

Shopping through these links may result in a small percentage of your purchase helping keep this site on the web.
(Some of the sites have tricky rules, so we don't always get a percentage, but it can't hurt to try.).
[ home ] [ toy info ] [ sorted by color ] [ sorted by material ] [ rabbits ] [ butterflies ] [ remote control ] [ strap-on harnesses ] [ dildoes ] [ double dildoes ] [ glass dildoes ] [ hands and fists ] [ vibrators ] [ massagers ] [ sleeves ] [ eggs and bullets ] [ clitoral stimulators ] [ waterproof vibrators ] [ anal probes and butt plugs ] [ beads ] [ breast pumps and nipple exciters ] [ balls ] [ erotic jewelry ] [ cock rings ] [ bondage ] [ lubricants, oils, and creams ] [ barriers ] [ hygiene ] [ erotic clothing ] [ transvestite items ] [ kits ] [ artificial vaginas ] [ male masturbators ] [ dolls ] [ penis pumps ] [ novelties ] [ DVDs ] [ videos ] [ books ] [ words ]

other
Copyright © 2004, 2005 RealSissySchool.com
Last Updated: October 26, 2005
Created: June 22, 2004
Author of this sissy lesson page: contact00@RealSissySchool.com
If you write, please label your message as "Sissy" to help separate it from SPAM (which gets tossed unread).