sissy critique
Sissy Maxine
Remember that critiques should be constructive criticism. Praise what is right and offer suggestions on how to improve on things that aren't working. Be specific.
Share critiques at contact00@RealSissySchool.com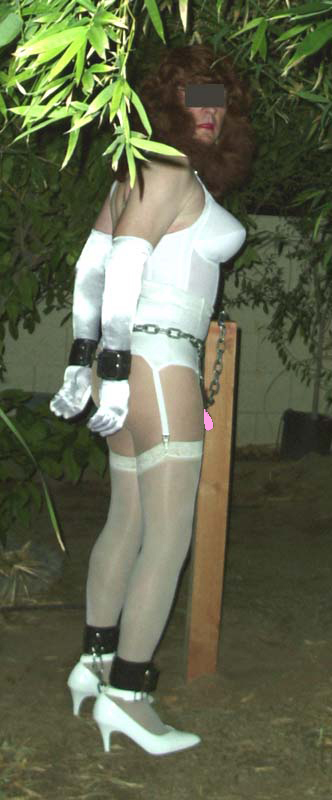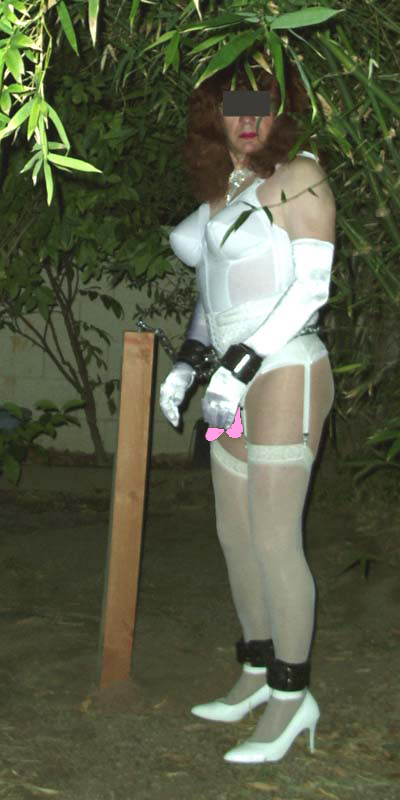 pictures of Sissy Maxine

what works: Nice cuffs. The post is a little plain (but serviceable). Nice chain. Good shaving job. The straps on the heels are a nice touch. The long line bra and plain white corset are a bit boring, but does set a Victorian mood. The all white works well together. I wonder why you didn't wear panties.
what needs work: The makeup needs lots of work. You can use blush and foundation to shape your face and make it look a lot more feminine. You don't have a pretty face, but most GGs don't either. You can achieve a realistic feminine look. Just slapping on some bright red lipstick doesn't cut it either. Use a lipliner pencil to outline pretty femininne lips, then fill in with lipstick. Can't comment on the eyes (because you have them blocked out), but eye shadow, mascara, eye liner, eye brow liner, etc. can all help achieve a believable feminine appearance.
conclusions: Overall it looks like a very erotic experience. I don't think my dick would be as limp. —Sissy Candy
Fix your make-up. Straighten the tops of your stockings. Lose some weight. Tighten your corset. —Mistrress Rose
looks pretty hot to me!!! wish i could find someone to fix me up like that. —AOL member
Share critiques at contact00@RealSissySchool.com

If you want to be critiqued by your fellow sissies, send your picture(s) to contact00@RealSissySchool.com
Try the following link for a sissy search.

Share critiques at contact00@RealSissySchool.com
complete table of contents listing all dolls

some of the sources on the web:

premium sites

specialty sites

discount sites

general sites

Shopping through these links may result in a small percentage of your purchase helping keep this site on the web.
(Some of the sites have tricky rules, so we don't always get a percentage, but it can't hurt to try.).
[ home ] [ toy info ] [ sorted by color ] [ sorted by material ] [ rabbits ] [ butterflies ] [ remote control ] [ strap-on harnesses ] [ dildoes ] [ double dildoes ] [ glass dildoes ] [ hands and fists ] [ vibrators ] [ massagers ] [ sleeves ] [ eggs and bullets ] [ clitoral stimulators ] [ waterproof vibrators ] [ anal probes and butt plugs ] [ beads ] [ breast pumps and nipple exciters ] [ balls ] [ erotic jewelry ] [ cock rings ] [ bondage ] [ lubricants, oils, and creams ] [ barriers ] [ hygiene ] [ erotic clothing ] [ transvestite items ] [ kits ] [ artificial vaginas ] [ male masturbators ] [ dolls ] [ penis pumps ] [ novelties ] [ DVDs ] [ videos ] [ books ] [ words ]

other
Copyright © 2004, 2005 RealSissySchool.com
Last Updated: October 26, 2005
Created: June 22, 2004
Author of this sissy lesson page: contact00@RealSissySchool.com
If you write, please label your message as "Sissy" to help separate it from SPAM (which gets tossed unread).