Cleaning Bathroom

A common chore for sissy maids is cleaning the bathroom.
Clean from the top down (high to low). Otherwise, you will knock dirt, grime, suds, and splatter onto surfaces you have already cleaned.
weekly deep clean
Deep clean the bathroom at least once a week to prevent milddew and other buildup. Clean the toilets, sinks, shower, and other high traffic areas weekly.
daily clean
Wipe down the shower daily or even after each use.
On a daily basis wipe up any spills or spatters on the mirror, keep the sink and countertops dry, and wipe down the toilet seat and faucet handles.
Open the bathroom door and windows and turn on a fan to cut down on fumes, bring in fresh air, and speed up the drying process.
metal fixtures
Use the correct tupe of metal polish on all metal fixtures.
bathroom fan
Vacuum dust from the grill of the bathroom fan and clean the rest with a soap and water solution, being careful not to get any of the internal parts wet.
If the grill is removable, soak it in sudsy water, clean, rinse, and dry.
shower
To clean the shower, scrub weekly. Mix 3/4 cup of household chlorine bleach with 1 gallon water. Wear rubber gloves. Use a stiff brush to apply the cleanser to one small area at a time. Be careful to avoid letting the liquid splatter on you, your sissy maid uniform, or surrounding areas. Let the cleanser sit for several minutes before scrubbing and rinsing.
Clean the shower curtain.
tub
Spray tub and shower areas with a chlorine based cleanser.
Weekly tough scrube with Mr. Clean Magic Eraser Bath. Wet the sponge, aqueeze to activate the foam and microcleaners, and scrub clean.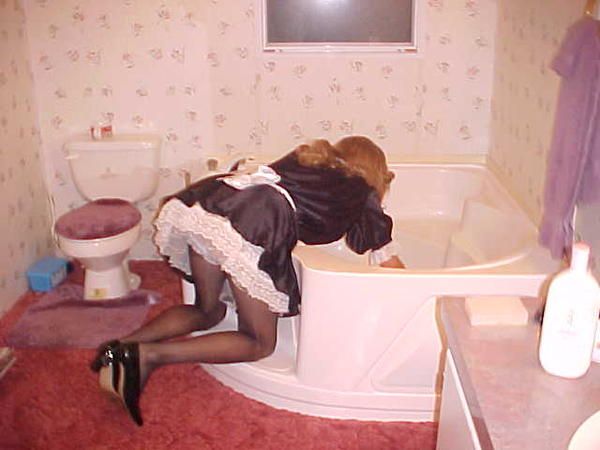 I've always enjoyed a good soak. The problem with corner tubs is that they are so difficult to clean. Problem solved! —Lisa Rose Farrow
doors and tracks
Clean tracks and doors.
sink
Spray a disinfectant bathroom cleaner (such as CLorx or Lysol) all around the bathroom sink and wipe with a cloth or sponge. Spray faucet handles with a disinfectant spray, allow the to remain wet for the required time listed on the package for killing germs, then wipe dry.
toilet
Generously apply a toilet bowl cleaner and let sit for up to five minutes before scrubbing with a stiff-bristled toilet brush, then flush.
Wipe down the seat and handle with disinfectant wipes.
Remember to clean the toilet brush as well. After use, let it dry out of the caddy and spray with disinfectant.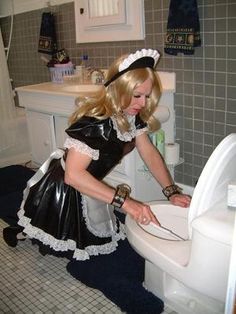 >
priscella9562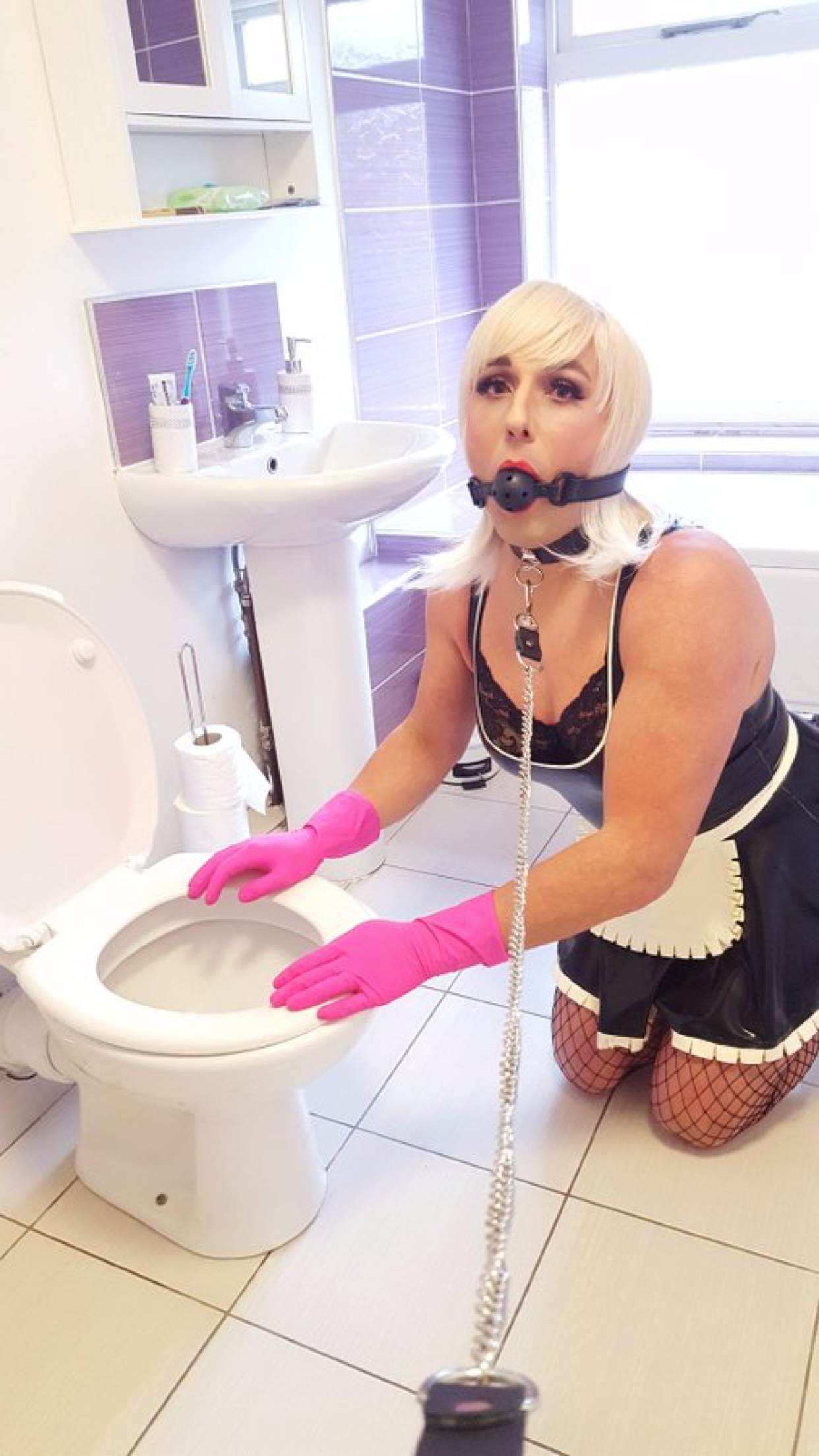 Cleanng Maid —gloree win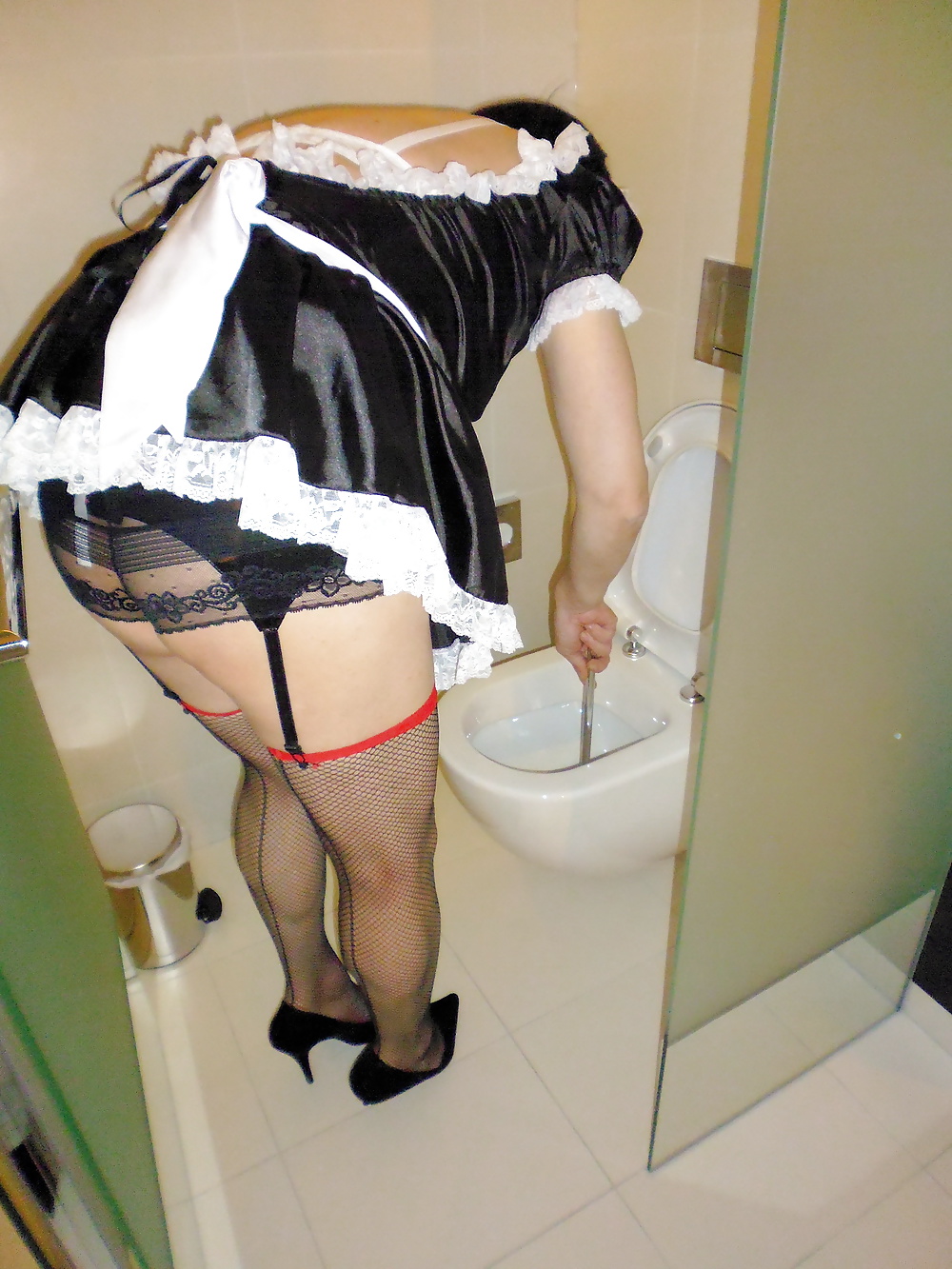 Humiliating Sissy Maid Service —a mistress and her sissy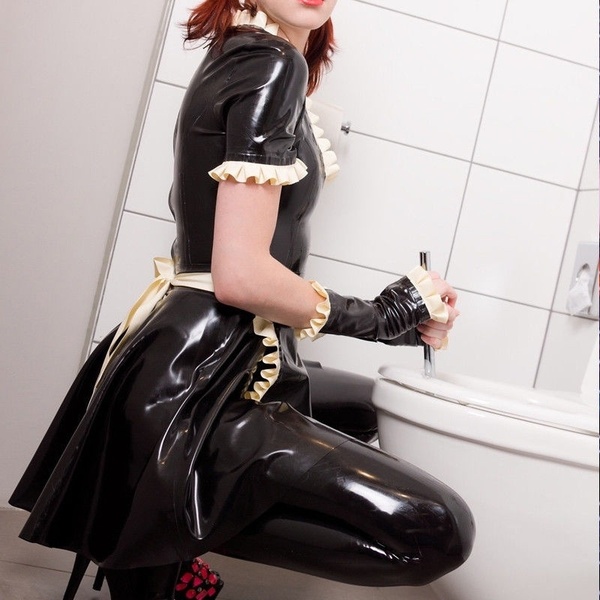 100% New Latex Rubber Gummi Maid Skirt Party Dress
wish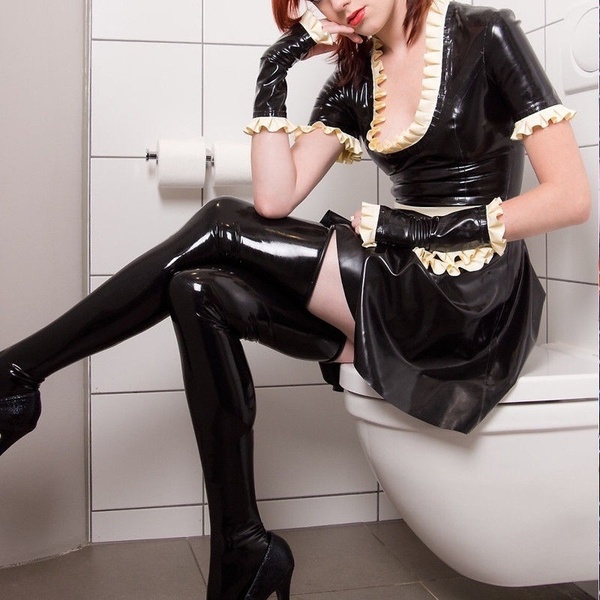 100% New Latex Rubber Gummi Maid Skirt Party Dress
wish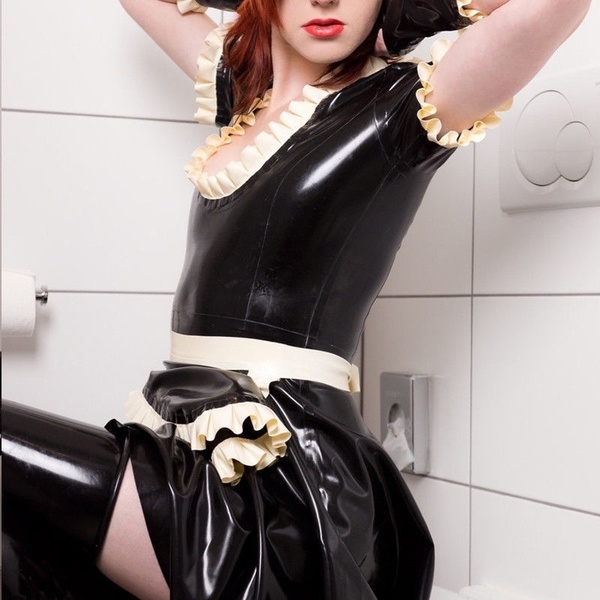 100% New Latex Rubber Gummi Maid Skirt Party Dress
wish
Story for picture: Miss C's boyfriend came over last night.
"Dress for the occasion" She told me. That meant the maids uniform.
I had to clean the bathrooms before he arrived but he got there early and saw me cleaning the one we have off the hall.
He stopped to watch me. I said "hello" then continued to clean the toilet. They both continued to watch until he came in, undid his pants, took out his cock, pushed me aside gently and said "Good time for me to take a piss."
I stood aside and watched a powerful stream of piss come out of his man-sized cock. The noise it made was earth shattering compared to the dribbles that come out of my own cock because of the chastity i'm in.
Miss C watched with a smile on Her face.
"Oops," he said. "Missed the target a bit" as his stream of piss hit the top edge of the bowl.
When he finished he faced me, cock in hand and told me to lick his moist cock head. I knelt and licked it clean, tasting the last drop of his piss that remained on his slit.
He stuffed the cock back in his pants and walked away.
I was left to clean his piss off the rim of the bowl and some on the floor of the bathroom.
When I was done, he and Miss C were already in our bedroom by themselves. —a mistress and her sissy, Wednesday, 22 July 2015
Comment: Did they share a laugh over the fact that, because you're in chastity, you always have to sit to pee? —Throne, 23 July 2015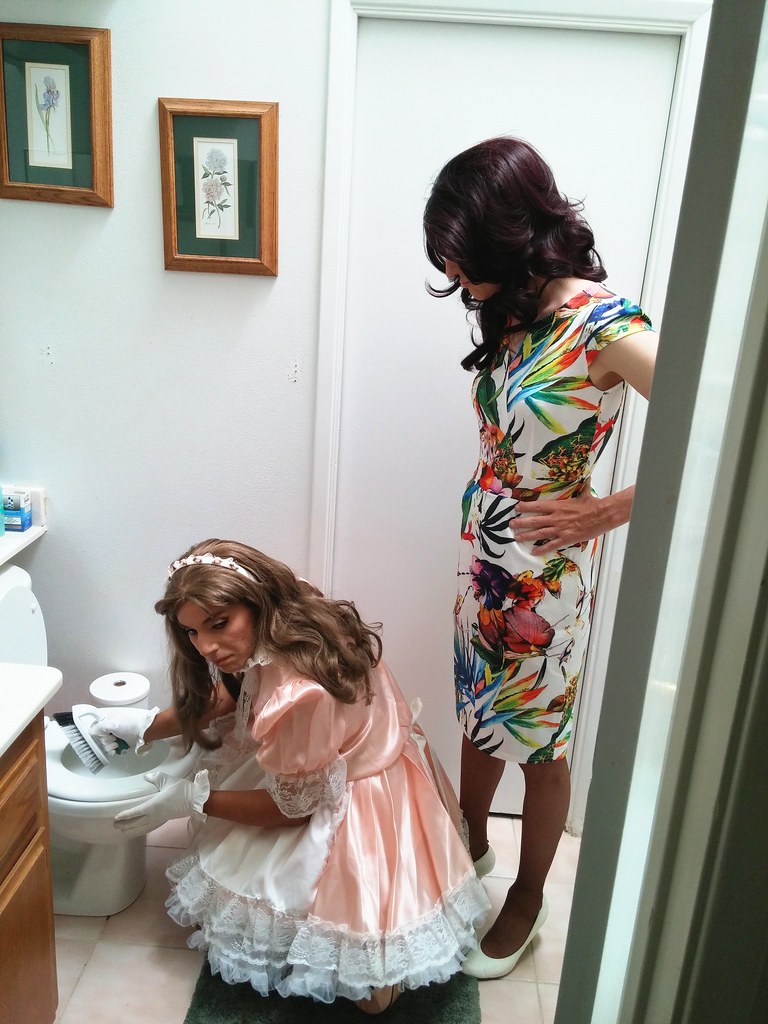 "Now it's time for your punishment, little sissy maid" —LadeeAlana, 12 July 2018
Comments: surely the tongue will do a better job? ;-) xxx —Vicky Leather, 2018
She is so gorgeous and must want to be pampered all the time. —Sidney Mathious, 2018
A sexy gurl like you standing over me and barking orders at me...I AM SO TURNED ON RIGHT NOW! —kinkycummings, 2018
Gorgeous —Unique Night, 2019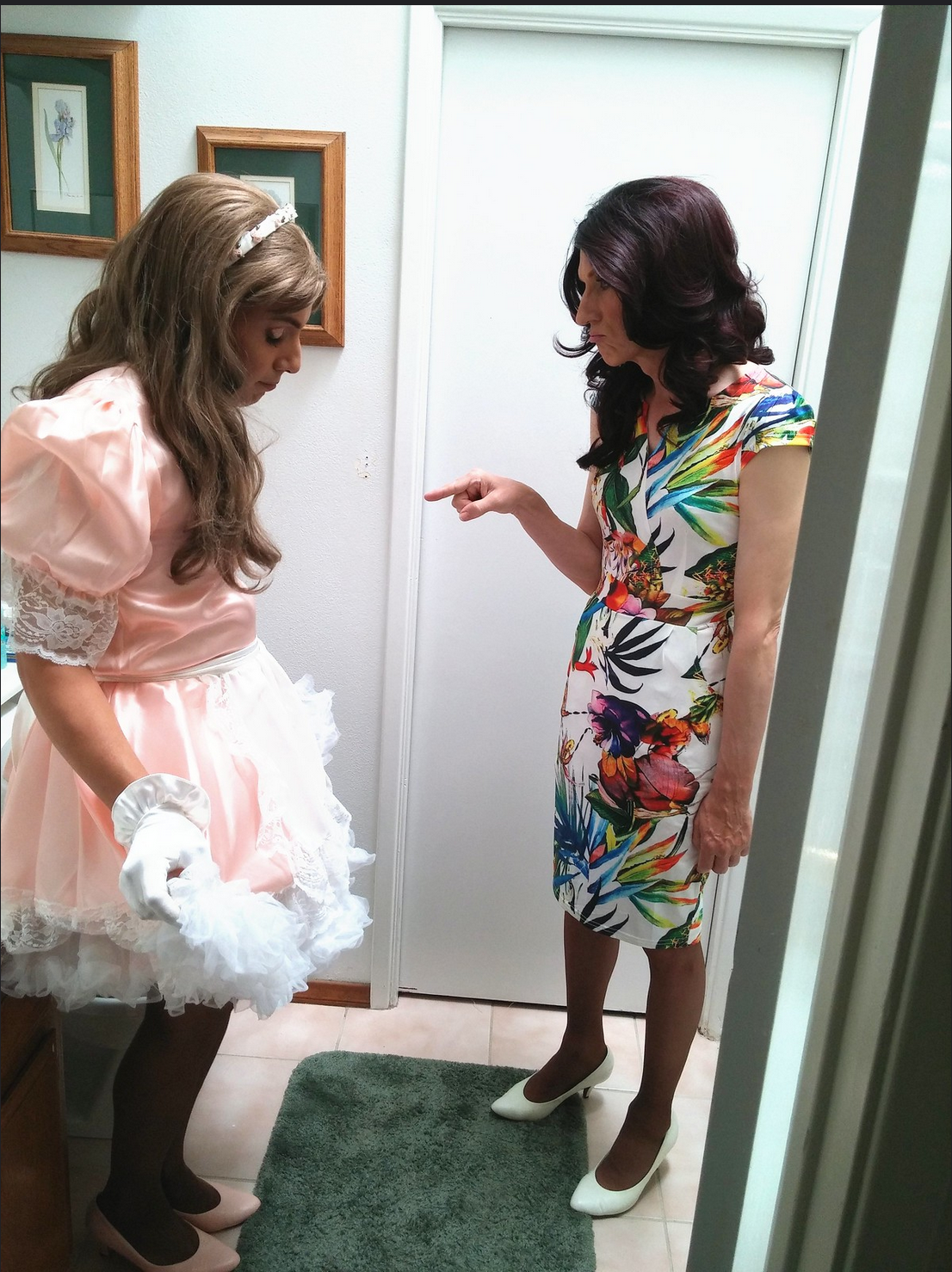 "Now it's time for your punishment, little sissy maid" —LadeeAlana, 12 July 2018
Comments:Your expressions are priceless! —kinkycummings, 2018
Turn me into your sissy maid. Swoon —Lunchroom, 2018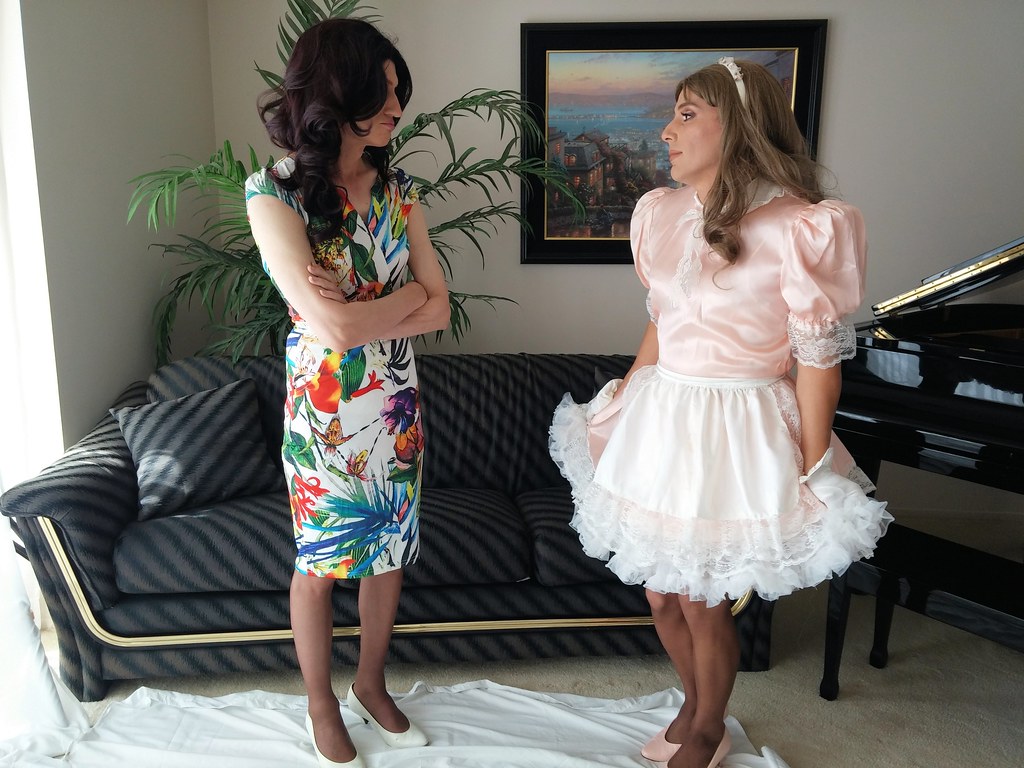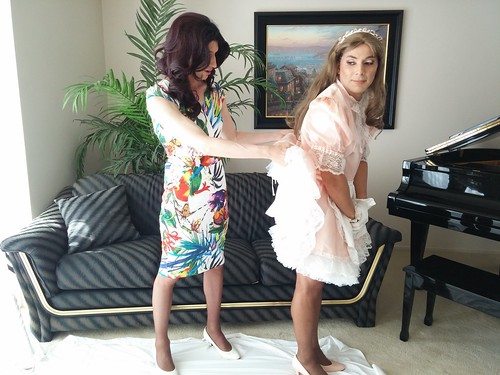 "Now it's time for your punishment, little sissy maid" —LadeeAlana, 12 July 2018
Comments:cute sissy maid in cute pink sissy dress —Annabella, 2018
sweet xxxx —Suzi Slip, 2019
I love this aesthetical Pose —asdf, 2019
So THAT'S how I look when I am ready to serve your guests on New Year's eve, MadamMistress ?? —Joan Apron, 2019
joanapron that is nice but with a longer dress —madam mistess, 2019
madam mistess
Yes MAAM, whatever you say. Have you picked out a longer dress or uniform ? Will the apron have to be longer as well ? —Joan Apron, 2019
joanapron the uniform will be longer but the apron will not so you better be careful —madam mistess, 2019
madam mistess
I will try to be extra careful, because wearing a long dress and that short frilly apron, it is going to be very hard to keep it clean. —Joan Apron, 2019
joanapron i dont care that is your responsibility you know the consequences —madam mistess, 2019
madam mistess
Oh YES, I know the consequences VERY WELL, and therefore will be extra careful. I HOPE this is NOT the uniform and apron I am expected to wear though, when you and your friend are going to have your fun and games with that man she brought along ?? —Joan Apron, 2019
joanapron i have tagged you in a uniform —madam mistess, 2019
madam mistess
I can't find the tag anywhere, MadamMistress. WHERE ?? —Joan Apron, 2019
So jealous —james Green, 2019
floor
Use a low-sudsing cleaner to avoid leaving behind any residue that will dul the floor's shine.
Clean grout by putting a bleach-containing cleanser on a brush and scrub. Rinse and wipe dry.
An adjustable steam mo can make cleaning the floor easier. Use the "mop" or "medium" setting for daily cleanings and the "high" or "scrub" setting for weekly deep cleans.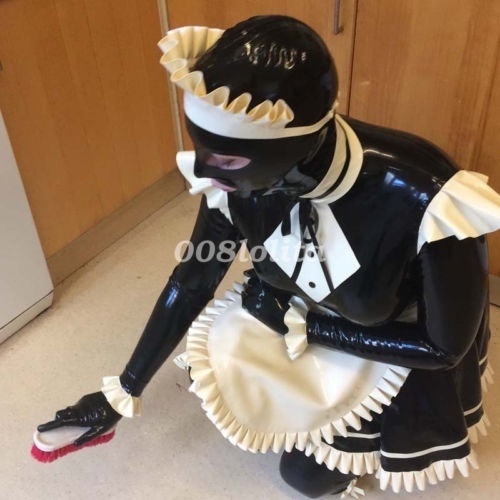 100% Latex Rubber Gummi Masquerade Maid Costume Fancy Ball Skirt
—Wish

sissy cleaning bathroom suggestions
Share cleaning bathroom suggestions at contact00@RealSissySchool.com
first experiences
Share your first cleaning bathroom experience at contact00@RealSissySchool.com

cleaning bathroom experiences
"I am a busy surgeon and my life is much easier ever since I turned my wimpy husband into my real life housemaid. He was such a drag on my life as a guy. He spent my money, goofed off, and freeloaded, but demanded sex and expected me to keep the house! Well, no more! Now during the day she keeps my house spotless while wearing a frilly maid uniform, ruffled panties, baby doll socks, and high heels. When I get home my dinner is ready. If the house is not clean to my high standards she is disciplined and bound up for the night.
"After dinner she rubs and massages my tired feet. Busy wives should think about making their husbands more obedient by making them wear sissy type clothes. It makes them much more docile and very easy to handle."—Mistress Joan; e-mail
Share your sissy cleaning bathroom experiences and suggestions at contact00@RealSissySchool.com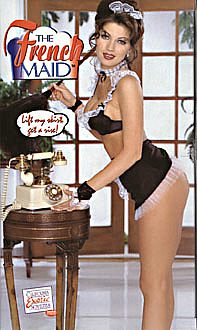 other
Copyright © 2020 RealSissySchool.com
Last Updated: May 16, 2020
Created: May 10, 2020
Author of this sissy lesson page: contact00@RealSissySchool.com