Closet Sissy
A closet sissy is a secret sissy.
Discovery
Discovery is the most common fear among closet sissies. Closet sissies will often goto extreme measures to try to avoid being discovered.
hiding places
Closet sissies will find or create secret hiding places for the women's clothing, inflatable dolls, bondage gear, etc. Closet sissies may also lock these items into containers in secret hiding places.
Closet sissies will schedule their sissy sessions to avoid detection, often picking times when they have several hours alone. Quick sessions in the bathroom are often squeezed into the daily routine.
excitement
Ironically, the fear of discovery adds to the sexual excitement for some closet sissies.
Closet sissies often develop intricate fantasies about what might happen if discovered. The two most common variations are being discovered by "the guys", then gangbanged, and being discovered by a girlfriend or wife (or neighbor or desired girlfriend), then being turned into a personal sissy maid.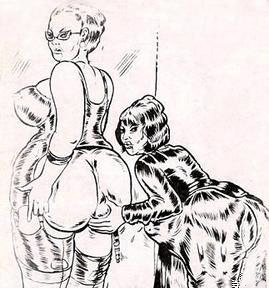 woman searches a sissy's panties for a cock
picture courtesy of femminilizzazioneforzata

discovery experience
"When i was about 8 i started to become more curious about my sisters top drawer, i knew what was in there because i had peeked inside many times. She is five years older than me, and when i was about 10 i started to visit the drawer more and more, then eventually i took a pair of pastle pink briefs with a heart on them. I went to my room, full of excitement i put them on, they felt as good as i imagined. My sister and her friend emma came home and my mum went out to the shops, they went upstairs to her room and a couple of minutes later my sister came in mine. All i was wearing was her pink knickers, she asked me if i had been in her room and i said "no". She said "why is my knicker draw open then?" Next she pulled off my duvet, and i was lying there embarassed, emma came into the room and they both laughted at me, and called me a little pansy boy. They both left and i started to get changed into my clothes, but the came back with a frilly pink prom dress, that looked like a bridemaid's dress. They made me put the knickers back on and told me if i wanted to be a girl then i can, then threw the dress at me. The told me to put it on or they would tell my mum. So i did, i remember crying and they made me walk around the room, then told me to make them both a drink. I quickly went downstairs and made them a drink, they called me a sissy and laughed and laughed. I was so embarassed, but it didn't stop me…"—John; e-mail
"After we were married I found out my husband John liked to wear feminine clothing. I was shocked, angry, horrified. I demanded a divorce, but he begged to stay with me. I still loved him, but didn't respect him as a man. I agreed that after the divorce he could be my full time sissy, keeping house in frilly sissy outfits, but I needed to have sex with a real man. He could kiss and lick my pussy, massage my back, thighs, tits, and feet, but the only fucking his sissy cock would be allowed would be with inflatable sissy dolls. He agreed and I named him Jill. I had to keep Jill gagged and in bondage to keep her from running off to masturbate with her dolls while I had sex with real men. I don't allow Jill to play with her dolls until after she's licked out my creampie — and sometimes I fall asleep in my lover's arms and leave poor Jill all night in bondage without sexual relief. Jill keeps the house clean, does the laundry, cooks great meals, massages my feet and back, licks out my pussy, and listens attentively to anything I want to talk about. I'm glad now that I have Jill as my personal sissy maid."—Mistress Linda; e-mail
Share discovery suggestions at contact00@RealSissySchool.com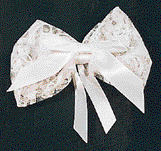 ...........The GIFT:............ Sometimes people come to me expressing concern about their tendencies and interests. Many times they confront this as a problem and wage a bitter battle trying to resolve it. I do agree that it does not fit well into everyday lifestyle. As it is certainly not well accepted by others.
The greatest thing about our interest though, is that it is a Gift. Something unusual that was given to only a chosen few. Remember, others do not enjoy what we do. They were not given this opportunity and can not enjoy it even if they tried. We were selected for a very special reason.
Don't ignore this Gift. Time is not kind to our physical looks or our mental attitude. It is important to explore this interest and enjoy this Gift while you are young enough to appreciate it the most. If you have ever desired to buy yourself some special item, schedule yourself a makeover session, or have your portrait photgraphed, do it now! It won't do any good to someday wish you had it done when you were younger. Now is the time !!!
Courtesy of Audrie's little girl image.


Girl-next-door Sandra surprised at home. She comes home too early and walks in on an unexpected visitor! Finally she loses her shoes in her struggles. —courtesy Trannies in Trouble

After a night of clubbing, Sandra's surprised by the guy who secretly followed her home. Maybe she'll finally learn not to leave the front door unlocked. —courtesy Trannies in Trouble

videos

message to wealthy business person
You have an interest in sissies. You are wealthy. You are good at business.
I am creative (very creative). I am good at generating web traffic. You have found this website because with literally no money, I have made this one of the top sissy websites in the world. Entirely legally. No stolen material.
Anything sex or fetish related is a highly competitive field. Businesses spend millions of dollars a year in this field without achieving the results I have.
I need to team up with a competent business person (male or female) who has an interest in sissies and can fund good work and can run a business so that it makes plenty of money. Not looking for a boyfriend or girlfriend, but someone who sees the potential here and has a plan and the funds to make a profit ethically. No pop-up ads. None of the things that are annoying. Good, decent, ethical business.
If you think you can help achieve these goals, send a real letter to Candy, PO Box 5237, Balboa Island, California 92662, USA.


complete table of contents listing all dolls

some of the sources on the web:

transvestite sites

premium sites

specialty sites

discount sites

general sites

Shopping through these links may result in a small percentage of your purchase helping keep this site on the web.
(Some of the sites have tricky rules, so we don't always get a percentage, but it can't hurt to try.).
[ home ] [ toy info ] [ sorted by color ] [ sorted by material ] [ rabbits ] [ butterflies ] [ remote control ] [ strap-on harnesses ] [ dildoes ] [ double dildoes ] [ glass dildoes ] [ hands and fists ] [ vibrators ] [ massagers ] [ sleeves ] [ eggs and bullets ] [ clitoral stimulators ] [ waterproof vibrators ] [ anal probes and butt plugs ] [ beads ] [ breast pumps and nipple exciters ] [ balls ] [ erotic jewelry ] [ cock rings ] [ bondage ] [ lubricants, oils, and creams ] [ barriers ] [ hygiene ] [ erotic clothing ] [ transvestite items ] [ kits ] [ artificial vaginas ] [ male masturbators ] [ dolls ] [ penis pumps ] [ novelties ] [ DVDs ] [ videos ] [ books ] [ words ]

other
Notes regarding Shemade Shemale pictures: Access strictly forbidden to minors — © Carpe Diem — All rights reserved — All images presented on this are conform to French legislation : no images of anyone under the age of 18 are present on this access. Proof of age and majority as well as the running rights for the videos and photos are available at Carpe Diem's head office.
Copyright © 1999, 2000, 2001, 2002, 2003, 2004, 2005 RealSissySchool.com
Last Updated: December 29, 2005
Created: April 26, 2004
Based on material previously at AdultToyReviews.com
Author of this sissy lesson page: contact00@RealSissySchool.com
If you write, please label your message as "Sissy" to help separate it from SPAM (which gets tossed unread).