Masks and blindfolds
Masks and blindfolds are used to block a sissy's vision. This can be done by itself (for light bondage) or in combination with other forms of bondage. A blindfold covers just the eyes, while a mask covers more of the head or face. A hood covers the whole headd. Inexpensive blindfolds often have light leaks at the edges, which might allow a sissy to partially see around. More expensive blindfolds and masks completely block any vision. You can use a piece of cloth (such as a rolled up scarf or a necktie), but these almost always allow some peripheral vision.


blindfolds: Basic Fleece Lined Blindfold, Blindfold with Fleece, Extra Wide Fleece Lined Blindfold, Fleece Lined Contour Blindfold, Full Hood, Full Hood Bag Style, Full Hood with Zippers, Fully Adjustable Blinder, Head Harness with Full Blindfold and Mouth Gag, Lavender Leather Pleasure Mask, Master's Half Mask, New Padded Style Blindfold, Padded Blindfold Leather Lined, Pleasure Productions Blindfold, Slave Mask, Slave Mask with Removable Blind and Gag, Soft Garment Leather Blindfold

Please learn more about bondage safety before actually engaging in bondage.
Share mask and blindfold suggestions at contact00@RealSissySchool.com
See also hoods.

blindfold bondage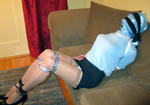 Scarved! Delilah was shooting pictures and brought out the scarves. Little did Sandra know that she was about to be fully hooded, bound, gagged, and blindfolded in silk and rayon. —courtesy Trannies in Trouble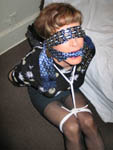 Sandra endures an evening with the Ol' Sarge. First it's a shoulder-aching wrist tie, then serious scarf gagging and blindfolding, and finally a scarf hood over that for further isolation in her bondage.—courtesy Trannies in Trouble

Please learn more about bondage safety before actually engaging in bondage.
Share mask and blindfold suggestions at contact00@RealSissySchool.com
See also hoods.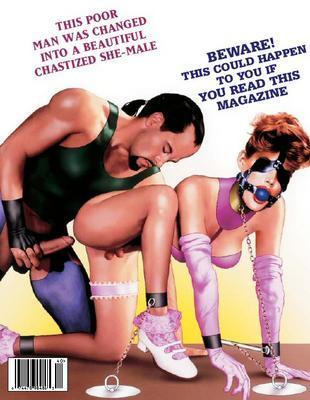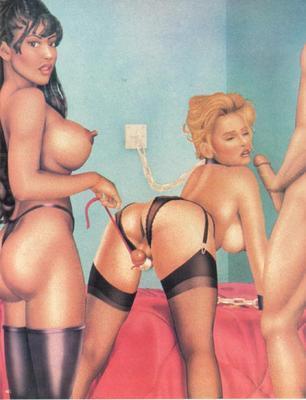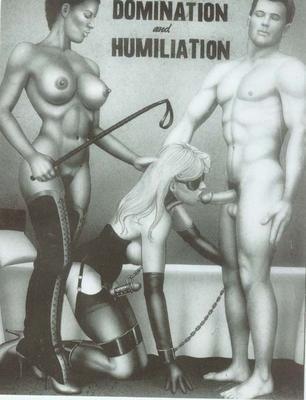 pictures courtesy of femminilizzazioneforzata

message to wealthy business person
You have an interest in sissies. You are wealthy. You are good at business.
I am creative (very creative). I am good at generating web traffic. You have found this website because with literally no money, I have made this one of the top sissy websites in the world. Entirely legally. No stolen material.
Anything sex or fetish related is a highly competitive field. Businesses spend millions of dollars a year in this field without achieving the results I have.
I need to team up with a competent business person (male or female) who has an interest in sissies and can fund good work and can run a business so that it makes plenty of money. Not looking for a boyfriend or girlfriend, but someone who sees the potential here and has a plan and the funds to make a profit ethically. No pop-up ads. None of the things that are annoying. Good, decent, ethical business.
If you think you can help achieve these goals, send a real letter to Candy, PO Box 5237, Balboa Island, California 92662, USA.


complete table of contents listing all dolls

some of the sources on the web:

transvestite sites

premium sites

specialty sites

discount sites

general sites

Shopping through these links may result in a small percentage of your purchase helping keep this site on the web.
(Some of the sites have tricky rules, so we don't always get a percentage, but it can't hurt to try.).
[ home ] [ toy info ] [ sorted by color ] [ sorted by material ] [ rabbits ] [ butterflies ] [ remote control ] [ strap-on harnesses ] [ dildoes ] [ double dildoes ] [ glass dildoes ] [ hands and fists ] [ vibrators ] [ massagers ] [ sleeves ] [ eggs and bullets ] [ clitoral stimulators ] [ waterproof vibrators ] [ anal probes and butt plugs ] [ beads ] [ breast pumps and nipple exciters ] [ balls ] [ erotic jewelry ] [ cock rings ] [ bondage ] [ lubricants, oils, and creams ] [ barriers ] [ hygiene ] [ erotic clothing ] [ transvestite items ] [ kits ] [ artificial vaginas ] [ male masturbators ] [ dolls ] [ penis pumps ] [ novelties ] [ DVDs ] [ videos ] [ books ] [ words ]

other
Copyright © 1999, 2000, 2001, 2002, 2003, 2004, 2005, 2012 RealSissySchool.com
Last Updated: July 22, 2012
Created: April 16, 2004
Based on material previously at AdultToyReviews.com
Author of this sissy lesson page: contact00@RealSissySchool.com
If you write, please label your message as "Sissy" to help separate it from SPAM (which gets tossed unread).