Safety
Safety first. If you seriously injure or kill someone, you are in trouble, no matter how accidental.
Be careful about tight restrictions. If you cut off the blood supply to a body part, you can cause permanent damage, including loss of a body part or even death. Be especially careful about any bondage around the neck, which can cut off blood or air supply. If you lose feelingor feel a tingling sensation, the bondage is too tight and should be released immediately. If you choke or have difficulty breathing, the bondage is too tight and should be released immediately. Do not block the breathing passages. Be aware of such breathing obstrructions as gags, swallowed tongues, vomit, etc.
Never leave a sissy unattended in bondage. Keep all necessary keys handy and ready in case you have to unlock a sissy in a hurry. It is wise to have some kind of identification to help match keys to locks. This can be a colored bit of tape, a bit of colored paint or ink, or any other marking that clearly indicates which key goes with which lock. It is possible to get a set of locks that all use the same key, which can make emergency unlocking much easier.
Check all locks to make sure that they smoothly lock and unlock before each use. Check all gear to make sure it is in proper working condition before each use.
Have some method of indicating that a sissy needs to be unlocked or that his limits are being violated. When bondage play includes simulated rape or force, words such as "no" and "stop" might be interpretted as part of play. A common method is to have a "code word" that indicates the need to stop play. One problem with code words is that a sissy can easily forget the proper code word in a moment of stress. One possible solution is the old children's method of calling out "for real" or "I mean it", either of which is easy to remember and unlikely to be used as part of play. If your bondage play includes gags, it may not be possible to speak a code word clearly. In this case, a simple tune might be hummed. To avoid trouble because someone can't remember the correct tune, any humming might be used as your code word.
Discuss your limits before you start play. All participants should be clear on what is allowable play and what isn't. A sissy's limits should never be violated. If you are uncertain as to how far you are willing to go, you can agree upon a method for communicating how you feel when you reach the critical point.
Some sexual activites and positions require above average strength, more than the average man or woman can sustain for the normal length of intercourse. Do not strain your body beyond its capacity. Should any strain occur, consult a medical professional immediately.
Pain can be an important part of play for some people and can be completely unacceptable for others. Pain is your body's way to tell you that something is wrong. Any time you experience unexpected pain, stop play immediately. If you are going to include pain in your play (especially spanking, paddling, or whipping), you should understand the dangers involved and know the limits of what you can really handle.
Excessive and/or misplaced force during whipping, paddling, spanking, caning, etc. can cause broken bones, internal injuries, nerve damage, death, etc. A sissy deeply into sexual ecstasy during beatings/whippings/etc. may be unaware of the severity of damage. Be extremely careful with any cock or ball torture.
Bleeding is never a good sign. If blood letting is part of your play you should be experienced enough to know how to do this safely. Bleeding from the anus or vagina or penis is a sign of a serious injury and requires immediate medical attention. Stop play immediately and go directly to an emergency room or trauma center.
Be extremely careful when binding any part of the body, especially the neck or throat.
Dizziness, unconsciousness, and choking are not good signs. If dizziness or choking is experienced, stop play immediately. Place the head lower than the heart (such as laying down with the legs elevated). If dizziness or choking persists after play stops, seek immediate medical attention. If a sissy loses consciousness, seek immediate medical attention (even if the sissy recovers consciousness).
Be aware of the potential problems with piercings and surgeries.
Be extremely cautious when inserting any object into the anus. There are delicate tissues that can be permanently damaged.
Be cautious about the angle of entry for the penis. An awkward thrusting position can be dangerous, as the penis can sustain very painful and permanent damage if it is excessively bent.
In general, it is an unwise idea to introduce organic material (cucumbers, etc.) into the anus or vagina, because of the likelihood of bacterial or yeast infection. Use sanitary plastic or latex toys designed for this purpose.
Do not place any object (including fingers, penis, or sex toys) in or near a woman's vagina after the object has been in contact with the anus until after the object has been thoroughly cleansed. bacteria that can exist safely in the anus can cause severe health problems if introduced to the vagina.
Do not blow directly into the vagina. This can cause air bubbles to be introduced into the woman's blood stream, which can block the circulation to the brain or other vital organs and can lead to severe brain damage, permanent physical disability, or even death.
Be careful about your choice of sexual partners. In addition to possible psychological or physical threats from an unstable individual, there is the strong possibility of the introduction of sexually transmitted diseases, including the incurable disease AIDS. Use a condom and adhere to safer sex practices if either you or your partner have not been strictly monogamous to each other for more than a year.
Some sexual activities are severely oppressed by religious totalitarian governments, especially those run by Jewish, Christian, and Moslem fundamentalists. These governments have a multi-millennia history of extreme persecution, including theft, imprisonment, torture, and murder. The documents of the Roman Catholic Church reveal the torture and execution of more than 140 million individuals (mostly women) for belonging to non-Christian religions.
The material presented in the fiction section of this website is fiction. The stories may contain unsafe, unhealthy, or impossible situations and practices for the sake of the story. Do not try to blindly recreate any of these stories or any part of a story. Use your brain.
Please learn more about bondage safety before actually engaging in bondage.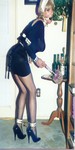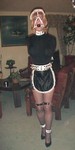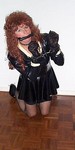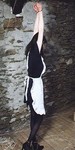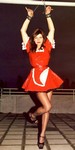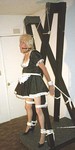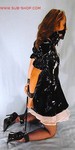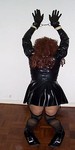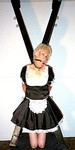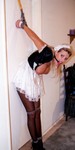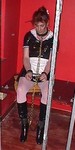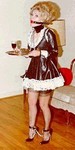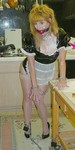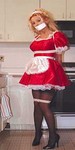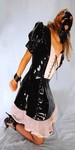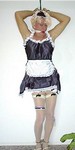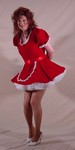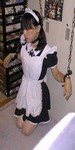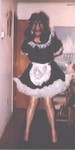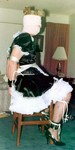 Pictures of sissies in bondage courtesy of Shemade Shemale: Access strictly forbidden to minors — © Carpe Diem — All rights reserved — All images presented on this are conform to French legislation : no images of anyone under the age of 18 are present on this access. Proof of age and majority as well as the running rights for the videos and photos are available at Carpe Diem's head office.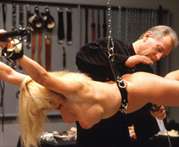 courtesy Shemade Shemale
(see notes above)

courtesy Shemade Shemale
(see notes above)
tips on proper use of condoms
"When condoms fail, it's usually because people handled them wrong or didn't use one every time," according to Dr. Kay Stone of the Centers of Disease Control and Prevention.
"Condoms aren't 100 percent but they can be very, very close if used consistently," she said.
Condom breaks are often traced to misuse, such as applying oil-based lubricants instead of water-based ones, the CDC said.
Other causes of condom failures cited by the CDC:
Tearing condoms with the fingernails.
Failing to note the expiration date.
Failing to roll them on carefully and not putting them on early enough in intercourse.
The CDC provides a fact sheet about condoms that attacks condom myths. Copies are available from the AIDS Clearinghouse at (800) 458-5231.
Share safety suggestions at contact00@RealSissySchool.com

message to wealthy business person
You have an interest in sissies. You are wealthy. You are good at business.
I am creative (very creative). I am good at generating web traffic. You have found this website because with literally no money, I have made this one of the top sissy websites in the world. Entirely legally. No stolen material.
Anything sex or fetish related is a highly competitive field. Businesses spend millions of dollars a year in this field without achieving the results I have.
I need to team up with a competent business person (male or female) who has an interest in sissies and can fund good work and can run a business so that it makes plenty of money. Not looking for a boyfriend or girlfriend, but someone who sees the potential here and has a plan and the funds to make a profit ethically. No pop-up ads. None of the things that are annoying. Good, decent, ethical business.
If you think you can help achieve these goals, send a real letter to Candy, PO Box 5237, Balboa Island, California 92662, USA.


complete table of contents listing all dolls

some of the sources on the web:

transvestite sites

premium sites

specialty sites

discount sites

general sites

Shopping through these links may result in a small percentage of your purchase helping keep this site on the web.
(Some of the sites have tricky rules, so we don't always get a percentage, but it can't hurt to try.).
[ home ] [ toy info ] [ sorted by color ] [ sorted by material ] [ rabbits ] [ butterflies ] [ remote control ] [ strap-on harnesses ] [ dildoes ] [ double dildoes ] [ glass dildoes ] [ hands and fists ] [ vibrators ] [ massagers ] [ sleeves ] [ eggs and bullets ] [ clitoral stimulators ] [ waterproof vibrators ] [ anal probes and butt plugs ] [ beads ] [ breast pumps and nipple exciters ] [ balls ] [ erotic jewelry ] [ cock rings ] [ bondage ] [ lubricants, oils, and creams ] [ barriers ] [ hygiene ] [ erotic clothing ] [ transvestite items ] [ kits ] [ artificial vaginas ] [ male masturbators ] [ dolls ] [ penis pumps ] [ novelties ] [ DVDs ] [ videos ] [ books ] [ words ]

other
Copyright © 1999, 2000, 2001, 2002, 2003, 2004, 2005 RealSissySchool.com
Last Updated: December 27, 2005
Created: March 30, 2004
Based on material previously at AdultToyReviews.com
Author of this sissy lesson page: contact00@RealSissySchool.com
If you write, please label your message as "Sissy" to help separate it from SPAM (which gets tossed unread).