stock
A stock is a traditional form of Medieval punishment, in which a person's head and arms are trapped between wooden pieces.

The Stocks
Padded, and adjustable to various heights. Includes headstocks, c&b stocks, and footstocks. The footstocks and the headstocks can be used in conjunction with the Bondage Bed.
The QTVR animation to the below is only a mild sample of what's in store… Please wait until the download is complete. Drag your mouse horizontally over the image to activate the animation… Zoom in and out.
Picture and description courtesy of Mistress Patricia March's house of domination and fantasy.

Mistress Evangeline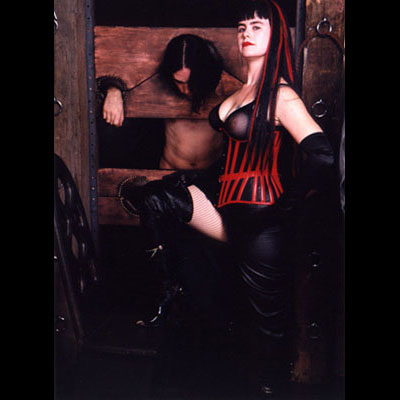 Surrender to your darkest fantasy. I can be your ultimate dream or your cruelest nightmare. I boast nine years of BDSM experience. I am 29, of fair complexion, with flashing blue predatory wolf eyes. I stand 5' 3" with a perfect hourglass figure, the embodiment of beauty and sophistication with an evil smile. With elegance and stunning severity, I shall put you in your place — on your knees, gazing up at Me with the rapture which is My due.
I can cut you with My sharp wit as keenly as any razor or charm you as surely as any siren. My touch can be as deadly as poison. I can make you want to forfeit your very existence with just a glance.
I especially love role-playing, and enjoy a myriad of scenarios including nasty secretary; librarian; school teacher; naughty nun; evil fairy; crooked police woman; medieval Queen; She-devil; Victorian riding Mistress; fantasy nurse; or your Dominant bride. My favourite clothing fetish is for latex. I feel particularly powerful and tantalizing when ensconced in rubber. My wardrobe is vast and varied, including PVC, some leather, uniforms, and traditional Gothic wear.
I can make you smile with My twisted, bizarre sense of humour, and command your presence. I have a firm hand and delight in using it on a slave's helpless bottom. I also take pleasure in flagellation, CBT, NT, mild to severe bondage, and feminization training. I love having My long toes attended to by a talented foot slave.
Enter My realm of S/M pleasures. I shall settle for nothing less than your absolute obedience.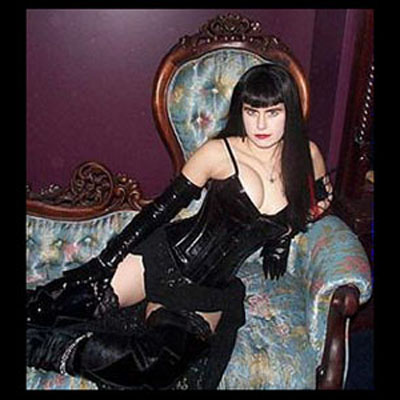 Picture and description courtesy of Mistress Patricia March's house of domination and fantasy.

Ms. Nadja von Sade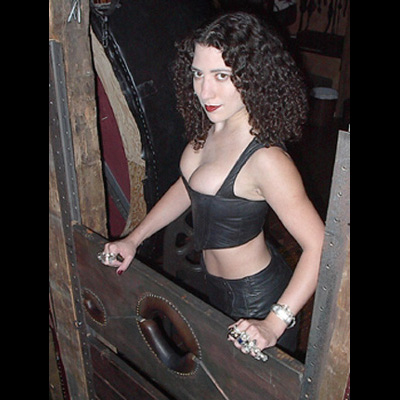 Kneel before your Tormentress Confessor. Submit to a Domina who delights in decadence, desire, debauchery, who revels in the most sublime of the pleasures of the flesh.
I am muscular, feminine, well educated and sophisticated. Classical sado-masochism, fetishistic scenarios and extreme fantasies are My forte, particularly mild to heavy bondage; discipline; corporal punishment; slave training; CBT; nipple play; medical scenes; watersports; dildo training; role-play; crossdressing; foot worship; wrestling; behaviour modification; customized scenes and shows.
I take great pride in My exquisite and stylish fetish wardrobe, replete with high-heeled exotic footwear, leather, latex, pvc, formalwear, corsetry, uniforms, business attire, exotic lingerie and hosiery.
No matter how diabolical your urges may be, or what level of experience you possess, your psychosexual submission will be My pleasure. Safety and sensuality are paramount.
Picture and description courtesy of Mistress Patricia March's house of domination and fantasy.

Please learn more about bondage safety before actually engaging in bondage.
Share whipping post suggestions at contact00@RealSissySchool.com

message to wealthy business person
You have an interest in sissies. You are wealthy. You are good at business.
I am creative (very creative). I am good at generating web traffic. You have found this website because with literally no money, I have made this one of the top sissy websites in the world. Entirely legally. No stolen material.
Anything sex or fetish related is a highly competitive field. Businesses spend millions of dollars a year in this field without achieving the results I have.
I need to team up with a competent business person (male or female) who has an interest in sissies and can fund good work and can run a business so that it makes plenty of money. Not looking for a boyfriend or girlfriend, but someone who sees the potential here and has a plan and the funds to make a profit ethically. No pop-up ads. None of the things that are annoying. Good, decent, ethical business.
If you think you can help achieve these goals, send a real letter to Candy, PO Box 5237, Balboa Island, California 92662, USA.


complete table of contents listing all dolls

some of the sources on the web:

transvestite sites

premium sites

specialty sites

discount sites

general sites

Shopping through these links may result in a small percentage of your purchase helping keep this site on the web.
(Some of the sites have tricky rules, so we don't always get a percentage, but it can't hurt to try.).
[ home ] [ toy info ] [ sorted by color ] [ sorted by material ] [ rabbits ] [ butterflies ] [ remote control ] [ strap-on harnesses ] [ dildoes ] [ double dildoes ] [ glass dildoes ] [ hands and fists ] [ vibrators ] [ massagers ] [ sleeves ] [ eggs and bullets ] [ clitoral stimulators ] [ waterproof vibrators ] [ anal probes and butt plugs ] [ beads ] [ breast pumps and nipple exciters ] [ balls ] [ erotic jewelry ] [ cock rings ] [ bondage ] [ lubricants, oils, and creams ] [ barriers ] [ hygiene ] [ erotic clothing ] [ transvestite items ] [ kits ] [ artificial vaginas ] [ male masturbators ] [ dolls ] [ penis pumps ] [ novelties ] [ DVDs ] [ videos ] [ books ] [ words ]

other
Copyright © 2005 RealSissySchool.com
Last Updated: May 31, 2005
Created: May 31, 2005
Based on material previously at AdultToyReviews.com
Author of this sissy lesson page: contact00@RealSissySchool.com
If you write, please label your message as "Sissy" to help separate it from SPAM (which gets tossed unread).