Sissy Whores
The whore or slut is the next most common fantasy costume and is associated with sex slaves, especially cuckolded sissy sluts with multiple partners and sissy sluts with macho male masters (commonly monogamous). Any degree of bondage possible. Often combined with kidnap, rape, gangbang, stripper, and/or police fantasies. Police fantasies can include an undercover police operation gone wrong.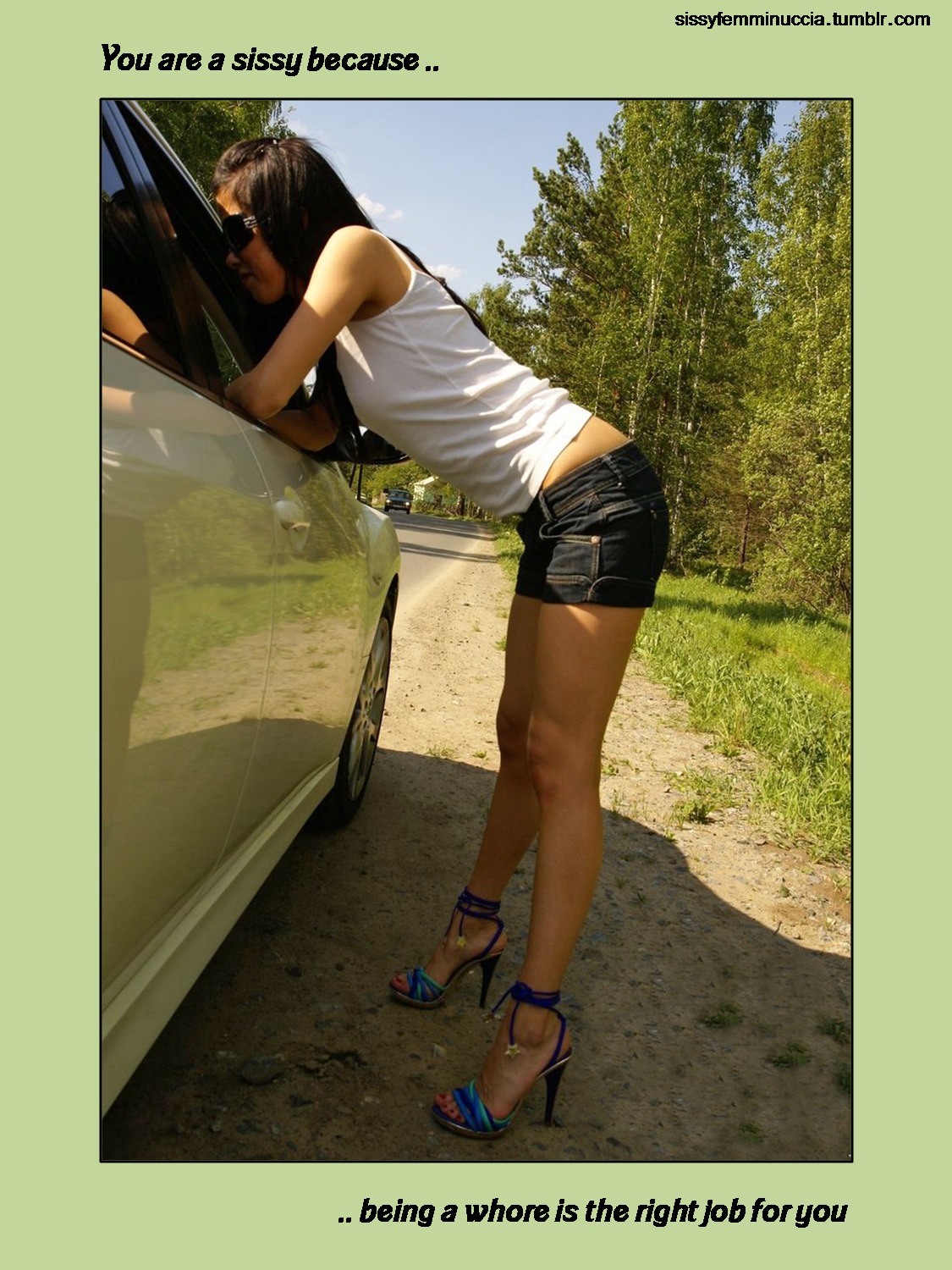 picture appears to be in the public domain
status unknown
Everlicking I would never recommend this. It' s a crazy world we live in now. But it's your life girls. You won't have any troubles hooking up with guys when you're OUT.

famous transvestite prostitutes
Director Lee Tamahori was arrested and charged with soliciting prostitution on Hollywood's Santa Monica Boulevard in early 2006. Read article for more info.

Courtesy of Doug Adams: "I especially enjoy training new submissive slut/slaves and it's always exciting to watch someone finding herself more and more turned on as she learns to release herself and give herself over to the control of a Master. I have a special interest in slut-training and degradation. I get a big charge out of taking a strong and in-control woman such as a high-flying business executive and making her crawl, beg for discipline, transforming her into a sexual slave and slut. Seeing her first of all in her formal business wear, then using her extensively before taking her out in public dressed as a cheap whore, her holes plugged, weights on her labia and her breasts squeezed with tight bands at the base and on the nipples, standing out through a transparent top … that's what I call entertainment!"
Courtesy of Doug Adams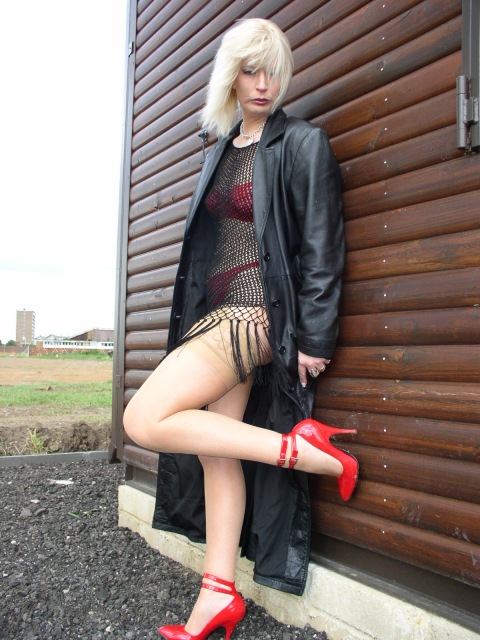 (genuine girl)
courtesy Doug Adams' Bi-Sluts for Gangbangs

"Hi, I'm Angel. I'm a 35 year old British Blonde Cum Junkie. I'm never happier than when I'm taking semen from nice hard cocks. I hold regular parties around London where I love to have lots of guys shoot sperm all over me. You can see more at my website. Have a look and please come along to my spunky get togethers, the more sperm I get, the happier I am. Kisses, Angel xx"

Please note that there may be a charge for attending Angel's parties. Follow the link to her website to find out more.
experiences
"last night i dressed like a total slut whore and walked around my neighbor hood....i was wearing a mini mini skirt and 4 inch silver sexy high heels......my entire body was shaved and i was sexyyy...i had a fantasy about boys i saw playing basketball to come and fuck me....they alll saw me walking and probably got their dicks hard....im soo sexy...i tryed to get people to see me so i walked next to traffic to see if anyone can notice a true slut...i tryed to flash some people hopefully they saw me and masturbated about fucking my sexy ass later......but the night ended with me in the car spanking my ass and spreading my legs in the back seat fantasizing about a stud named toney fucking my sexy slut asss. my heels were banging together and i was horny.....i masturbaited about it soo hard i pointed my dick to my mouth and i cummmed all over my face with my slutty pink lipstick onnn....imm so sexyyy....i swalloweed it all proudly and im a dirty slut"—solid; e-mail
Transformed Into a Sissy Cockwhore Cumslut
It is strange where one's desires can lead one. Take me as an example. Always entirely enamored of, infatuated with and completely submissive to all things feminine, a true devotee of Female Supremacy, my lifelong fantasy has always, since before I can remember, been to find a position as the submissive sissy maid and sex slave of a commandingly beautiful, dominant Goddess, spending virtually all of my time that was not devoted to domestic duties with my sissy face, mouth, and tongue smothered by and buried in the delicate, sweet, pungent pussy and ass of my Owner/Mistress and/or any of Her dominant lady friends.
Well, I have found the Owner/Mistress of my dreams, but things from there on did not turn out exactly as I had fantasized they might.
I have now become transformed into the stereotype of the sleaziest, trashiest, sluttiest female slut one could even fantasize, and I am being aggressively pimped out for free by my Mistress to any who want to use, abuse, humiliate, and degrade me.
So far all of the takers have been men, predictably enough, and the only sex I have had for months going on into years has been with men, all of them total strangers who, by arrangement with Mistress, drop by my house to have their way with me — fuck me in the face and in the ass, cum and piss all over my face and in my mouth, slap me around, verbally humiliate and degrade me, then leave, dropping me wet, sore, and sobbing on the floor in a disgusting, wet, sticky pool of spit, cum, and urine.
On occasion Mistress has allowed me to organize and host for Her amusement bukkake-style gangbangs, in which as many men as possible are invited to come over and fuck me and make me suck them off, cumming all over me and in my mouth, and having me collect all their cum in a bowl, which I must then, when they are all done, eat the entire contents of with a spoon, in front of any who care to stay to watch. Often these sessions are captured on video, too, which Mistress then sells on the internet to augment my tribute to Her and to enhance my total, abject, public humiliation and debasement.
Mistress and I live rather far apart, and I am not able to serve Her in person very often (She has slaves from all over the world who come to serve and worship Her), but She says that She gets almost as much pleasure from just whoring me out from afar as from me serving Her in person, and She definitely seems to get great pleasure from listening on the phone while some total stranger rams his big, hot manly cock repeatedly down my throat, choking and gagging me with his strong, throbbing dick, or roughly rams it up my tender ass, making me moan and whine to the rhythm of his insistent fucking, then dumps his hot, sticky load all over my pathetic, worthless sissy face and in my lowly, humble cumsucking whore's mouth, and leaves me to wallow in a messy mixture of my own tears of shame, humiliation, and embarrassment and his salty, gooey sexual effluent, as he waltzes off on his merry way.
Lately, Mistress has been threatening to make me get all done up in my sluttiest french maid or slutty schoolgirl outfit on garbage day, and go out and seduce the garbagemen, inviting them in to fuck me in the face and ass and cum all over my face and in my mouth. She even talks about making this a standing invitation, whenever they stop by on their route, to pop inside for a quick, nasty fuck and suck. I am afraid that I will start getting garbage pickup every day of the week.
This story just goes to demonstrate the truth of the old adage, "Be careful what you wish for, you just might get it!" I have gone from wishing with all my heart and with all my soul to become the total, obedient, sissy slave of a beautiful, dominant Goddess, and I have gotten that wish, for which I am eternally greatful, but the ironic twist is that, in becoming Her slave, I have become what I never thought I would have, or would have wanted to become, a sissy faggot cocksucking cumslut whore.
Mistress is so clever, subtle, and adept at psychological manipulation that She never even had to ask, muck less command me to start whoring myself out as a sissy cumslut, but rather She directed the entire flow of the years of my servitude to Her to the point where I willingly, imagining it to be on my own initiative and of my own volition, started whoring myself out to total strangers for Her pleasure and amusement.
A simple but effective technique that She used to gradually influence me willingly to offer myself to Her as a sissy, cocksucking fag whore was to strictly control my orgasms, absolutely forbidding me ever to cum except when there was a dildo or a real cock in either my mouth and/or my ass, or else by jerking off into my own mouth. Surprisingly quickly (demonstrsating what a nasty, sissy fag slut I really am) I became habituated to this, and learned to associate sexual pleasure with servicing a hot, hard, throbbing cock, and I may now have become one of the nastiest, sleaziest, horniest whores on the planet.
As a further extension of Her turning me into a remorselessly insatiable cockwhore, Mistress sees to it that I virtually always have a dick both in my mouth and up my ass. I have a huge eight inch dildo which I am required to stick up my ass, strap in as a butt plug and wear all day every day, at work and play, and I am required to spend at least an hour a day fucking it wildly while sucking deeply and madly on another dildo of equal size, to ensure that I am always in practice as a fuck and suck toy in case Mistress wants anyone to come by and use me.
Additionally, whenever I am at home I must wear a cock gag, and She has even made me devise an entirely internal cock gag from the end of a dildo which I must keep in my mouth whenever possible, even out in public, even at work, so that often when I encounter people from my straight life, I am confronted with the humiliation of looking them right in the face knowing that my sissy ass is plugged with a huge artificial cock and my mouth is stuffed with a little toy penis to remind me of who and what I am; a filthy, nasty, dirty-minded little sissy faggot cockwhore and cumslut.
As an added favor, Mistress is always teasing me about how much money She could be making off of me if She were to whore me out for money, but She says that since She knows how much I love being humiliated and dominated by Her, She does me the kindness of pimping me out for free, to remind me of my utter chapness and worthlessness, and underscoring Her total domination and merciless humiliation of me.
With hormone therapy, my breasts are developing nicely, and I am pretty sure that several of the men who have used me, especially recently, have left totally unaware that it was not a genetic girl that they had just ravaged.
Most frightening of all, I have recently heard murmerings from Mistress about having my sissy clitty removed and an artificial pussy installed, so that I can be fucked by one more guy at a time!
Yes indeed, it all comes back to the same old hackneyed line; "Be careful what you wish for, you just might get it!"
—sissy slut crystal
community.webtv.net/cockadoodledoer/Crystal
Share whore suggestions and experiences at contact00@RealSissySchool.com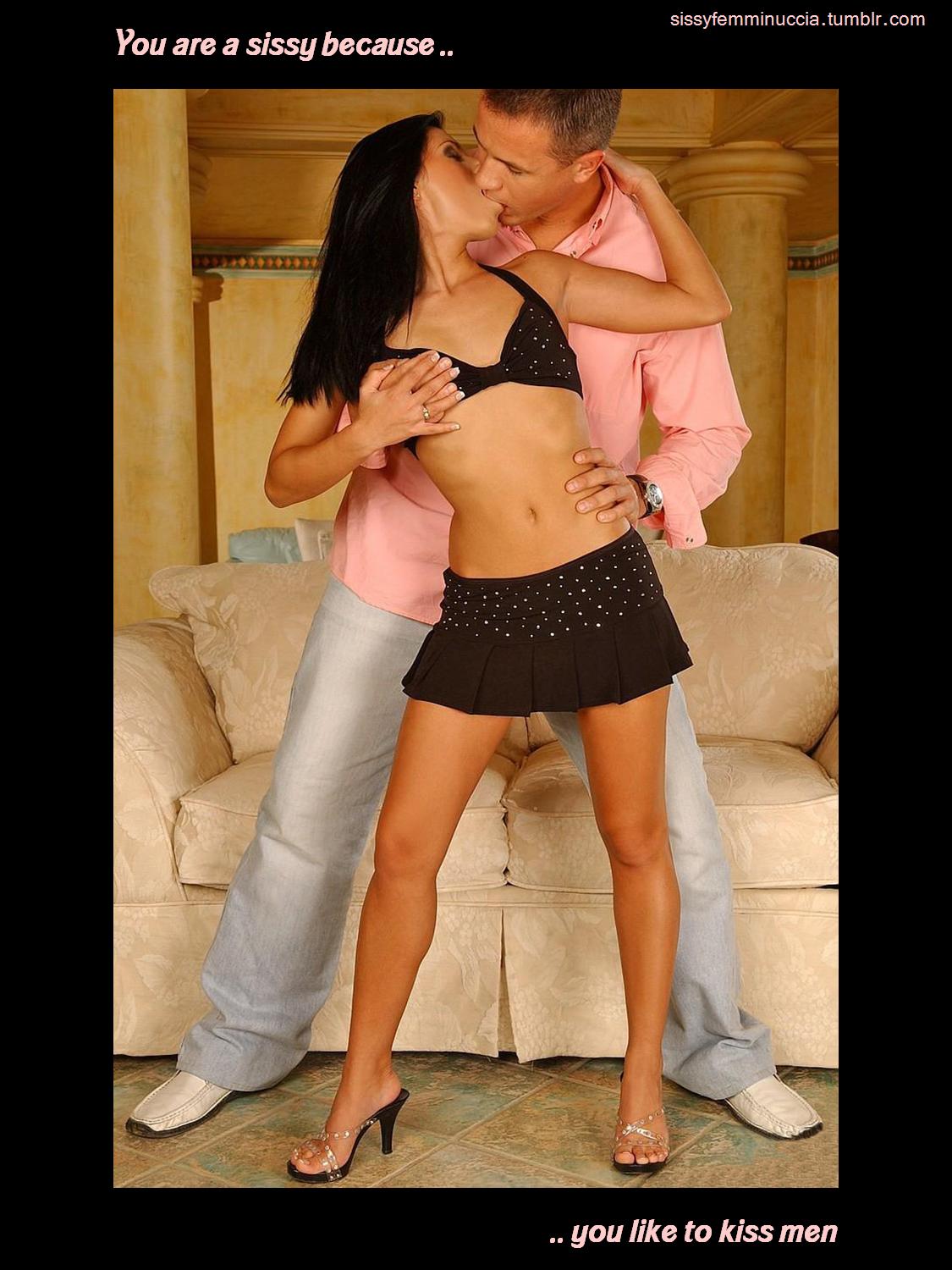 picture appears to be in the public domain
status unknown
Everlicking Go for it girls!!! More girls for me that way ... giggle
Just adore kissing the boys!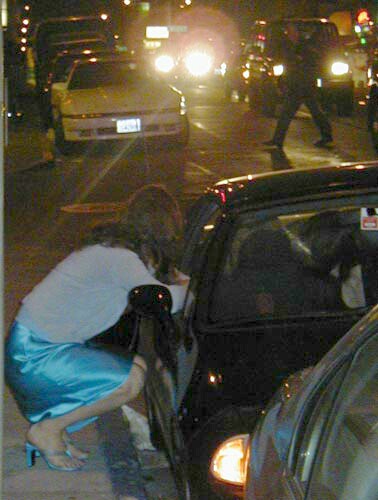 picture of Aubrey posted to alt.sex.trans newsgroup by archiver@invalid.com

message to wealthy business person
You have an interest in sissies. You are wealthy. You are good at business.
I am creative (very creative). I am good at generating web traffic. You have found this website because with literally no money, I have made this one of the top sissy websites in the world. Entirely legally. No stolen material.
Anything sex or fetish related is a highly competitive field. Businesses spend millions of dollars a year in this field without achieving the results I have.
I need to team up with a competent business person (male or female) who has an interest in sissies and can fund good work and can run a business so that it makes plenty of money. Not looking for a boyfriend or girlfriend, but someone who sees the potential here and has a plan and the funds to make a profit ethically. No pop-up ads. None of the things that are annoying. Good, decent, ethical business.
If you think you can help achieve these goals, send a real letter to Candy, PO Box 5237, Balboa Island, California 92662, USA.


complete table of contents listing all dolls


some of the sources on the web:

transvestite sites

premium sites

specialty sites

discount sites

general sites

Shopping through these links may result in a small percentage of your purchase helping keep this site on the web.
(Some of the sites have tricky rules, so we don't always get a percentage, but it can't hurt to try.).
[ home ] [ toy info ] [ sorted by color ] [ sorted by material ] [ rabbits ] [ butterflies ] [ remote control ] [ strap-on harnesses ] [ dildoes ] [ double dildoes ] [ glass dildoes ] [ hands and fists ] [ vibrators ] [ massagers ] [ sleeves ] [ eggs and bullets ] [ clitoral stimulators ] [ waterproof vibrators ] [ anal probes and butt plugs ] [ beads ] [ breast pumps and nipple exciters ] [ balls ] [ erotic jewelry ] [ cock rings ] [ bondage ] [ lubricants, oils, and creams ] [ barriers ] [ hygiene ] [ erotic clothing ] [ transvestite items ] [ kits ] [ artificial vaginas ] [ male masturbators ] [ dolls ] [ penis pumps ] [ novelties ] [ DVDs ] [ videos ] [ books ] [ words ]

other
Copyright © 1999, 2000, 2001, 2002, 2003, 2004, 2005, 2006, 2013 RealSissySchool.com
Last Updated: June 21, 2013
Created: July 21, 2004
Based on material previously at AdultToyReviews.com
Author of this sissy lesson page: contact00@RealSissySchool.com
If you write, please label your message as "Sissy" to help separate it from SPAM (which gets tossed unread).