Lee Tamahori
New Zealand director Lee Tamahori, 55, while dressed in drag was arrested, booked, and charged with prostitution and unlawfully loitering the night of January 8, 2006, in a Hollywood, California, prostitution sting.
Lee Tamahori was arrested on Hollywood's Santa Monica Boulevard near the intersection of Santa Monica Boulevard and Lodi Place, a few blocks from where actor Eddie Murphy picked up a transvestite hooker in May 1997. Eddie Murphy was not charged with any crime. Santa Monica Boulevard is on the south end of Hollywood.
Lee Tamahori sought sex with an undercover policeman while crossdressed in women's clothes according to a criminal complaint filed in the Los Angeles Superior Court.
Lee Tamahori was charged with two misdemeanour charges:
COUNT 01: 647(B) PC MISD - Disorderly Conduct: Soliciting an Act of Prostitution.
COUNT 02: 653.22(A) PC MISD - Unlawful Loitering with Intent to Commit Prostitute.
The maximum penalty was six months in jail and/or a $1,000 (£567) fine.
Los Angeles Police Department Officer Jason Lee stated: "Mr. Tamahori was arrested for soliciting. I can confirm he was dressed in women's clothing at the time of the arrest."
Officer Jason Lee continued: "It is not like we go out with the intention of targeting stars. In fact, the arresting officer had no idea who Mr. Tamahori was — especially with him being dressed up as a woman.".
Officer Jason Lee said the LAPD would not release Lee Tamahori's mug shot due to "department policy".
Frank Maleljan of the Los Angeles City Attorney's office stated: "He was arrested after approaching an undercover officer who was sitting in his car and offering to perform a sex act. The defendant was dressed in drag, loitering on the sidewalk."
Frank Maleljan continued: "The defendant was loitering on the sidewalk in drag and then approached an undercover officer in his car and offered to orally copulate him for money."
Lee Tamahori was dolled up in a long black wig, a revealing black off the shoulder dress, black high heels, full make up, and accessories when he offered to perform oral sex for an unspecified fee, according to Frank Mateljan.
Lee Tamahori was born in Wellington, New Zealand, the son of a Maori father and British mother. In the 1970s he worked as a commercial artist and photographer.
In the late 1970s Lee Tamahori entered the movie business as a boom microphone operator. After ten years he moved up to assistant director and then directed hundreds of commercial advertisements, winning awards in the U.S., Australia, and New Zealand.
In 1985 Lee Tamahori directed the television series "The Ray Bradbury Theater" and then directed his first film "Thunderbox" (1985).
Lee Tamahori directed the drama "Once Were Warriors" (1994), starring Temuera Morrison, based on a controversial novel by Alan Duff about the ravages of alcohol, drugs, and violence in urban Maori life in New Zealand. Among the awards won by the movie was Best Film at the New Zealand Film & Television Awards.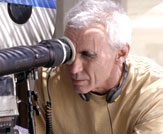 Lee Tamahori's first American feature film was "Mulholland Falls" (April 26, 1996), starring Nick Nolte, Melanie Griffith, Chazz Palminteri, and Chris Penn. The movie was a Hollywood period thriller about the elite crime unit called The Four Hats.
Lee Tamahori directed "The Edge" (September 6, 1997), a wilderness thriller starring Anthony Hopkins, Alec Baldwin, and Elle Macpherson and written by David Mamet.
Lee Tamahori appeared as an actor in the movie "Me and Will" (October 19, 1999).
Lee Tamohori directed several television shows, including a episode during the second season of HBO's "The Sopranos" (2000) starring James Gandolfini.
Lee Tamahori directed the "Along Came a Spider" (April 2, 2001) starring Morgan Freeman, Monica Potter, and Michael Wincott. The movie was a thrilled based on James Patterson's about Detective Alex Cross and a kidnapping.
Lee Tamahori directed the James Bond movie "Die Another Day". (November 18, 2002) starring Pierce Brosnan and Halle Berry. Brosnan creditted the success of the movie to Lee Tamahori's "sense of flair".
Lee Tamahori appeared as himself in "Tell Them Who You Are" (September 11, 2004).
Lee Tamahori directed the film "xXx: State of the Union" (April 27, 2005) starring Samuel L. Jackson, Ice Cube, and Willem Dafoe.
Lee Tamahori is scheduled to direct the science fiction thriller "Next" starring Nicolas Cage and Julianne Moore. Julianne Moore stands by director Lee Tamahori, saying "I feel bad for him, I think the experience was probably pretty upsetting and humiliating and he's been very, very brave about it."
Lee Tamahori's lawyer was celebrity attorney Mark Geragos, who has also represented Michael Jackson, Scott Peterson (double murder), and Winona Ryder (shoplifting).
Lee Tamahori was released on $2,000 bail posted by the Kuniko Usui, receipt number LAH400905005.
Lee Tamahori was called for arraignment in Hollywood Courthouse Division 078 on February 2, 2006, before Judge H. Chester Horn Jr. and was represented by private attorney Lara Yeretsian of Geragos & Geragos. Lee Tamahori did not personally appear in court. Accordng to court documents: "Defendant objects to the media coverage request. Objection is overruled." The arraignment was postponed.
The case was called for arraignment and plea before Judge H. Chester Horn Jr. in Hollywood Courthouse Div 078 at 8:30 a.m. on February 23, 2006. Lee Tamahori did not personally appear in court, being represetned by private attorney Lara Yeretsian. The government amended the court orders by interlineation to add VIOLATION 602(K) PC MISD - Tresspass-lands Und Cultivation as COUNT 03.
Prosecutors dropped the solicitation and loitering charges as part of a plea bargain that is typically offered to first time prostitutes.
Lee Tamahori pled nolo contendere to Count 03. The court found the defendant guilty. Disposition: convicted.
The judge suspended the sentence and placed the defendant on summary probation for a period of 036 months (three years) under the following conditions: ".Do not, anywhere within the: Hollywood District of the City of Los Angeles, as depicted on the map provided to you, engage or try to engage drivers in conversation, hitchhike, ask for or accept rides from drivers, be stopped parked in a vehicle with drivers, or loiter, congregate or remain on any public street, sidewalk or alley, with the intent to solicit acts of prostittuion or to enter into agreements or angage in acts of prostitution." and ".Obey all laws and further orders of the court."
Lee Tamahori was also required to pay a $20.00 Court Security Assessment (pursuant to 1465.8(A) (1) P.C.); pay a restitution fine in the amount of $100.00 to the court (total due of $120.00); enroll immediately, attend, and complete an AIDS education class; and perform 15 days of community service to be performed with Hollywood Beautification Team Project. The court also imposed and stayed a $100.00 Probation Revocation Fine. Lee Tamahori was credited for one day in custody for the night he spent in jail after his arrest.
The first two counts were dismissed in furtherance of justice per 1385 PC as part of a plea bargain. Lee Tamahori was ordered to appear in court March 24, 2006 and show proof of completion of AIDS class.
Attorney Mark Geragos said that Lee Tamahori was "pleased with the disposition, and he's back at work."
Actor Hugh Grant was arrested June 1995 on nearby Sunset Strip for soliciting transvestite prostitute Divine Brown. Police observed Divine Brown performing fellatio on Hugh Grant in a parked car. Hugh grant was given two years of probation, a $1,180 fine, and required to attend an AIDS education class.
The Los Angeles Police Department is attempting to cut down on the transgender and male prostitution common on Santa Monica Boulevard. "Traditionally, it's been the biggest problem in the La Brea-Highland area," claimed Hollywood activist Ferris Wehbe. "[Prostitution] will never end, so we ned to manage it. The reason they are doing it is because there is no light on it."
Los Angeles Police Department Sergeant Mark Garza claimed that prostitutes in the area include cross-dressing men as well as transexuals undergoing hormonal or surgical procedures, with as many as 18 prostitutes per street corner. "That area is blatant. The seedy part of Hollywood would be the best way to describe it."
Los Angeles Councilman Tom LaBonge wants to revitalize the area, including discouraging prostitution through better lighting, street tree-planting, and traffic managament. "I'm a very strong proponent of the 'broken windows' concept. If it looks like no one cares about it, no one will care about it. Any development on the south side of Santa Monica [should] be Hollywood-studio related — offices, studio sound stages, industrial advertising — anything complementary to Hollywood."
Lee Tamahori was ridculed at Let's Go Cruising with Lee Tamahori.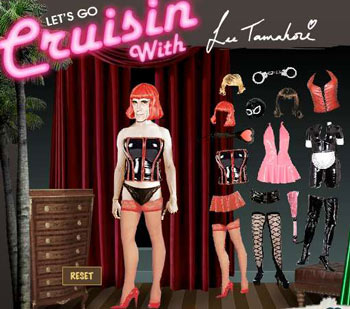 "Are you a hacky director who's curious about a side-career as a transvestite street walker working the Santa Monica Boulevard beat, but not sure that the life is for you? With the online Let's Go Cruising with Lee Tamahori simulator, weary fauxteurs ready for a different kind of Hollywood whoredom can outfit newly minted cross-dressing icon Lee Tamahori in a variety of wigs, corsets, and garter sets; think of it as dipping a toe in the chilly water of gender-bending sexual entrepreneurship before sheepishly buying a bustier from Trashy Lingerie "for your girlfriend" and hitting the streets for real."
Lee Tamahori has a previous history of dressing up in latex and going to fetish clubs with his girlfriend Sasha Turjak. Lee Tamahori has silver hair and thick black eyebrows and often appears in public dressed entirely in black except for a blood red tie.
Eric Munn quotes an unidentified Los Angeles friend of Lee Tamahori: "No one was surpirsed when Lee was arrested for a sex offence. He's always been kinky in his private life, but the transexual thing was a shock. He's never shown any interest in men sexually. In fact, there is a lot of aamusement at the whole incident. During the filming of the last Bond movie Die Another Day, in London, Lee used dress up in latex and go to fetish clubs with Sasha. He was a regular on the scene and it was an open secret. He definitely liked the alternative side of sex with black, tight latex costumes, uniforms, and so on. One night in Prague during the filming of Bond, Sasha was openly kissing Halle Berry's stand-in at the bar and after a while the three of them disappeared upstairs in his hotel room. But the amazing thing is he is a really professional director and his fetishes never spilled into work. He is the consummate professional and very well-respected in Hollywood. Everyone knows his sexual likings and no one really minds because he is such a great guy."
In the past Lee Tamahori has said "Sex should not be in the movies and it should be in the home. And violence should be in the movies and not in the home." (Internet Movie Database) and "See, I'm the ultimate Hollywood wanker." The Weekend Australian, May 1996).

message to wealthy business person
You have an interest in sissies. You are wealthy. You are good at business.
I am creative (very creative). I am good at generating web traffic. You have found this website because with literally no money, I have made this one of the top sissy websites in the world. Entirely legally. No stolen material.
Anything sex or fetish related is a highly competitive field. Businesses spend millions of dollars a year in this field without achieving the results I have.
I need to team up with a competent business person (male or female) who has an interest in sissies and can fund good work and can run a business so that it makes plenty of money. Not looking for a boyfriend or girlfriend, but someone who sees the potential here and has a plan and the funds to make a profit ethically. No pop-up ads. None of the things that are annoying. Good, decent, ethical business.
If you think you can help achieve these goals, send a real letter to Candy, PO Box 5237, Balboa Island, California 92662, USA.


complete table of contents listing all dolls


some of the sources on the web:

transvestite sites

premium sites

specialty sites

discount sites

general sites

Shopping through these links may result in a small percentage of your purchase helping keep this site on the web.
(Some of the sites have tricky rules, so we don't always get a percentage, but it can't hurt to try.).
[ home ] [ toy info ] [ sorted by color ] [ sorted by material ] [ rabbits ] [ butterflies ] [ remote control ] [ strap-on harnesses ] [ dildoes ] [ double dildoes ] [ glass dildoes ] [ hands and fists ] [ vibrators ] [ massagers ] [ sleeves ] [ eggs and bullets ] [ clitoral stimulators ] [ waterproof vibrators ] [ anal probes and butt plugs ] [ beads ] [ breast pumps and nipple exciters ] [ balls ] [ erotic jewelry ] [ cock rings ] [ bondage ] [ lubricants, oils, and creams ] [ barriers ] [ hygiene ] [ erotic clothing ] [ transvestite items ] [ kits ] [ artificial vaginas ] [ male masturbators ] [ dolls ] [ penis pumps ] [ novelties ] [ DVDs ] [ videos ] [ books ] [ words ]

other
Copyright © 2006 RealSissySchool.com
Last Updated: February 24, 2006
Created: February 24, 2006
Based on material previously at AdultToyReviews.com
Author of this sissy lesson page: contact00@RealSissySchool.com
If you write, please label your message as "Sissy" to help separate it from SPAM (which gets tossed unread).