barbershop lawsuit
A transgender man (female-to-male) filed a lawsuit against a Long Beach, California barbershop for illegal discrimination.
While this is not a sissy case, it is a case about the legal rights of any transgendered or transvestite person.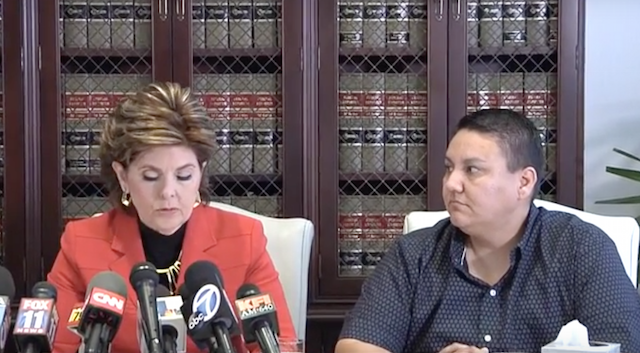 Gloria Allred and Rose Trevis at a press conference Tuesday, March 29, via screenshot from YouTube.
The civil rights lawsuit was filed in Los Angeles County Superior Court on March 29, 2016. Rose Trevis claimed that the Long Beach location of Hawleywood's Barber Shop & Shaving Parlor illegally refused service.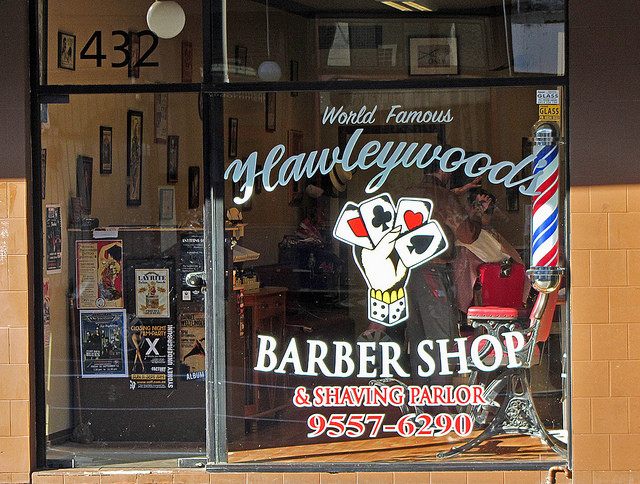 Rose Trevis entered Hawleywood's Barber Shop & Shaving Parlor's Long Beach location on March 4, 2016, with his domestic partner Laura Lozano.
According to Gloria Allred, Rose Trevis' attorney, "On March 4, 2016, Rose and her domestic partner Laura Lozano were walking in Long Beach, California, when Rose decided to get a haircut at a nearby barber shop. Rose and Laura entered Hawleywood's Barber Shop and Rose asked a barber there for a haircut. The barber stated that Hawleywood's only provided services to customers who had appointments."
According to the lawsuit, Rose Trevis asked for an apointment time and asked if there were any available that day and an employee stared at him and stated, "We don't cut women's hair."
Rose Trevis claims to have then asked, "Who says I'm a woman"
The lawsuit claims the barber replied, "Like I said, we don't cut women's hair," then walked to the back of the shop and summoned another barber.
Gloria Allred, a famous feminist lawyer, described her client "Rose [is] a transgender male with a masculine transgender expression."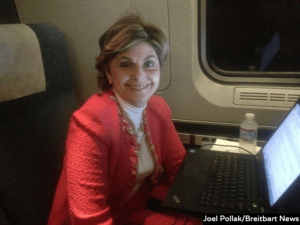 Gloria Allred
(photo by Joel Pollak of Breitbart News)
According to the lawsuit, the other employee looked Rose Trevis up and down and reiterated, "We don't cut women's hair."
According to the lawsuit, the second barber pointed to a sign and claimed the business has "the right to refuse services to anyone" and that the business "is an old school barber shop" and therefore doesn't serve women.
According to the lawsuit, After Rose Trevis pointed out the policy was illegal discrimination, the second employee stated, "We don't care."
Rose Trevis stated in a prepared statement, "After I was greeted, I was denied service because of my gender and on account of what the barbers perceived to be my gender."
According to the lawsuit, Rose Travis was not only refused an appointment for service, he was told that the business didn't even allow women in the shop.
According to the lawsuit, Laura Lozano asked if her presence was the reason the employees were refusign to serve Rose Trevis and the second employee responded, "We don't cut women's hair and women are not even allowed in the shop."
Long Beach neighbor Lance Dobbie told KTTV, Fox 11, Los Angeles, "If you want to go inside to wait for your boyfriend, they won't let girls inside. It's males only."
Long Beach resident Kellie Peters told KTTV, Fox 11, Los Angeles, "I think everyone should get their haircut wherever they want — it shouldn't matter."
In a statement released by attorney Gloria Allred, Rose Trevis is quoted as saying, "I felt humiliated, discriminated against, and frowned upon. I was dumbfounded and appalled that this type of behavior continues to exist and hope that we can bring an end to this absurd type of discrimination."
The Hawleywood chain, owned by Donnie Hawley has four locations, in Long Beach, California, Costa Mesa, California, Huntington Beach, California, and Sydney, Australia.
The chain's website refers to the barbershop as a "men's sanctuary" and claims the business is "a time warp back to '40s Chicago." "Remember waaay back when in the good ol' days when you could go down to the local barber shop, get a straight razor shave, a nice tight haircut and enjoy the relaxed and comfortable atmosphere of a real men's sanctuary?""
The website also states, "One thing you won't see at Hawleywood's is women. You all know how distracting a woman can be, and who wants a straight razor shave with a buxom blonde in the joint?"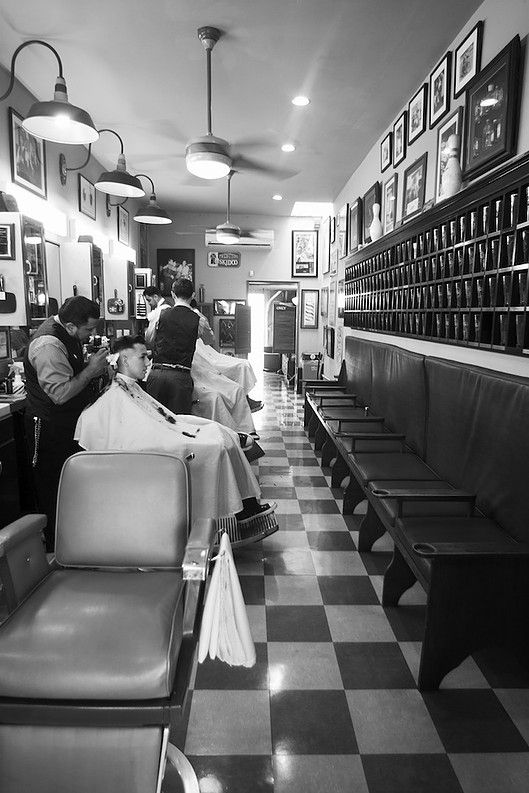 Hawleywood's photo
Donnie Hawley opened the first barbershop in the chain in Costa Mesa in 1999, with straight razor shaves as the featured service. In addition to the current four lcoations (three in Souther California and on in Australia), Donnie Hawley plans to open additional location in Harajuku, Japan, Las Vegas, Nevada, and an unspecified city in Canada. An oil and canvas painting of Donnie Hawley by artist Mark Cummings hung in the Smithsonian in 2013. Donnie Hawley also has a signature line with skate shoemaker Vans and a men's grooming product line called Layrite that was launched in Ireland in June 2013.
Donnie Hawley descrtibed his service to the Orange County Register in 2013, "It gives men the opportunity to unwind, relax, have a beer, get a hot towel shave, and a Hawleywood's signature cut. While getting pampered you get to listen to a collection of old, rare retro tunes and vinyl."
Rose Trevor's attorney Gloria Allred claims, "A business that excludes women, refuses to serve women and that confirms a discriminating policy in its advertising is in violation of the law. Furthermore, a business that refuses to serve a customer based on gender identity or perceived gender identity also violates that customer's or potential customer's civil rights."
The civil rights lawsuit seeks unspecified damages and an injunction that would require "Hawleywood's Barber Shop elminate its policy and practice of illegally discriminating on the basis of gender or perceived gender and mandating that it stop refusing to provide accommodations or services for those reasons in their place of business."
The complaint and lawsuit is under California's Unruh Civil RIghts Act Civil Code 51, which states:
"All persons within the jurisdiction of this state are free and equal, and no matter what their sex, race, color, religion, ancestry, national origin, disability, or medicla condition are entitled to the full and equal accommodations, advantages, facilities, privileges, or sevices in all business establishments of every kind whatsoever."
Brian Kazarian, lawyer for the barbershop, released a statement late Tuesday afternoon, April 12, 2016: [all unusual grammar, punctuation, and sentence structure is from the original lawyer statement]
"This Press Release is in regards to alleged discrimination incident that is said to have taken place on Friday March 4th, 2016 at Hawleywood's barbershop, Long Beach California location.

"We are informed and believe that a customer entered our establishment and requested an appointment for a haircut on a "walk-in" basis at the above date and location. An appointment was scheduled for a time the next business day.

"Hawleywood's is not aware of any discrimination that has been alleged to have taken place. Moreover, Hawleywood's takes accusations of any law violation very seriously and will continue to investigate the facts and circumstances that surround this alleged incident."
Gloria Allred responded in an interview with Breitbart News:
"He never received an appointment. But if Hawleywood's is saying that they do not discriminate against women or transgender patrons, then they should have no problem with agreeing to our request for a court order, in other words an injunction, mandating that they serve any customer, regardless of gender or perceived gender identity from enjoying equal access to their services. And Hawleywood's should agree to changing their web page to reflect that change."
Gloria Allred, who won a 1987 lawsuit against a Women's Only spa, told Breitbart, "It makes good economic sense for businesses to serve the public and serve as many customers as possible. And it's also in the interest of equal access and opportunity for the public to be able to enjoy the services of a business. So, I think it's a win-win for both the public and for businesses."
Gloria Allred claimed, "We are very proud of Rose coming forward to fight this battle against a business which engages in such open and blatant sex discrimination and stereotyping of women. It is 2016 and neither Rose nor I will tolerate the type of discrimination that [he] was forced to suffer."
In a related case from March 2016, U.S. Army Sgt. Kendall Oliver, who is transgender, sued the barbershop in Rancho Cucamonga, California, after being denied a haircut. Owner Richard Hernandez, who is a religious Christian, did not dispute Olivers account and told the Guardian "We're definitely not targeting the LGBT movement. We simply don't cut women's hair. It's a traditional men's barbershop. To cut a woman's hair would be a violation. God teaches a very clear distinction between the genders."
Ilona Turner, legal director of the Transgender Law Center in Oakland, California, told Yahoo Beauty that the discrimination is two-pronged, "For one thing, the California civil rights law prohibits businesses from discrimination based on sex — there's no question at all that keeping women out of barbershops is against the law — so that's one half of this. And in [Trevis's] case, the plaintiff is a man, a transgender man, and the law also prohibits discrimination based on gender identity and says an individual must be treated in accordance with their gender identity. It's quite likely that this discrimination was based on a particular bias against transgender people. Because unfortunately, there's still a lot of bias and misunderstanding about transgender people."

complete table of contents listing all dolls

Gay and Lesbian Marriages in California

some of the sources on the web:

transvestite sites

premium sites

specialty sites

discount sites

general sites

Shopping through these links may result in a small percentage of your purchase helping keep this site on the web.
(Some of the sites have tricky rules, so we don't always get a percentage, but it can't hurt to try.).
[ home ] [ toy info ] [ sorted by color ] [ sorted by material ] [ rabbits ] [ butterflies ] [ remote control ] [ strap-on harnesses ] [ dildoes ] [ double dildoes ] [ glass dildoes ] [ hands and fists ] [ vibrators ] [ massagers ] [ sleeves ] [ eggs and bullets ] [ clitoral stimulators ] [ waterproof vibrators ] [ anal probes and butt plugs ] [ beads ] [ breast pumps and nipple exciters ] [ balls ] [ erotic jewelry ] [ cock rings ] [ bondage ] [ lubricants, oils, and creams ] [ barriers ] [ hygiene ] [ erotic clothing ] [ transvestite items ] [ kits ] [ artificial vaginas ] [ male masturbators ] [ dolls ] [ penis pumps ] [ novelties ] [ DVDs ] [ videos ] [ books ] [ words ]

other

Copyright © 2016 RealSissySchool.com
Last Updated: April 15, 2016
Created: April 15, 2016
Author of this sissy lesson page: contact00@RealSissySchool.com
If you write, please label your message as "Sissy" to help separate it from SPAM (which gets tossed unread).

[ home ] [ toy info ] [ sorted by color ] [ sorted by material ] [ rabbits ] [ butterflies ] [ remote control ] [ strap-on harnesses ] [ dildoes ] [ double dildoes ] [ glass dildoes ] [ hands and fists ] [ vibrators ] [ massagers ] [ sleeves ] [ eggs and bullets ] [ clitoral stimulators ] [ waterproof vibrators ] [ anal probes and butt plugs ] [ beads ] [ breast pumps and nipple exciters ] [ balls ] [ erotic jewelry ] [ cock rings ] [ bondage ] [ lubricants, oils, and creams ] [ barriers ] [ hygiene ] [ erotic clothing ] [ transvestite items ] [ kits ] [ artificial vaginas ] [ male masturbators ] [ dolls ] [ penis pumps ] [ novelties ] [ DVDs ] [ videos ] [ books ] [ words ]