clothes washing
doing laundry
A common chore for sissy maids is clothes washing.

washing clothes experiences
pink prissy
Mistress

Love the site.

I can remember the first time I worn panties. I didn't have any clean underwear to wear on Friday when I was getting ready to go to work because I didn't do any laundry yet. Doing laundry was one of the thing that I agreed to do when I married my wife ten years ago.

She told me to wear a pair of her panties to hold my cock in so noone would know I wasn't wearing any underwear at work. I didn't make any comments as to not wearing them. She picked out a pair of white satin thongs for me to wear. That started it all.

The same thing happened on Saturday morning. The laundry never got done and she told me that if I couldn't get it done it will be panties for Sunday. It never got done because one of my friends wanted to go out Saturday with my wife and myself to dinner together with his wife.

Well Sunday came around and I was sitting in the kitchen reading the Sunday newspaper and having coffee. My wife came into the kitchen and asked me if the laundy was going to get done today. I didn't even look at her and said, "I'll get to it". She said "fine, if it's not done today you'll be wearing panties forever.'

I messed around all moring doing nothing. At 12 noon she said I needed to get ready and take a shower because she has two of her girlfriends coming over and that I needed to drive them around to to malls here in Cincinnati. After I got out of the shower my wife told me to pick a pair of panties to wear myself. I picked out a pair of pink lace thongs. When I went into the bathroom again to shave my wife saw which ones I was wearing. She then told me that they were from a set that has a matching bra and garter belt. She told me being that because I had them on aready that I would have to wear the bra and garter belt with the panties because she didn't want them to be washed seperately. I did as I was told because I didn't want to piss her off because the laundy would never got done again. After putting on the bra and garter belt she told me that I need to wear stockings to hold the garter clips in place. She picked out a pair of white wide lace top stocking. She showed me how to put the on.

Then she said "my pink prissy".

I HAVE BEEN A PINK SISSY PRISSY SINCE.

I would love to tell you my whole story as the PINK PRISSY.

Thank you Mistress —Racheal; e-mail
Share your sissy clothes washing experiences and suggestions at contact00@RealSissySchool.com

sissy clothes washing suggestions
Share clothes washing suggestions at contact00@RealSissySchool.com
first experiences
Share your first clothes washing experience at contact00@RealSissySchool.com

clothes washing captions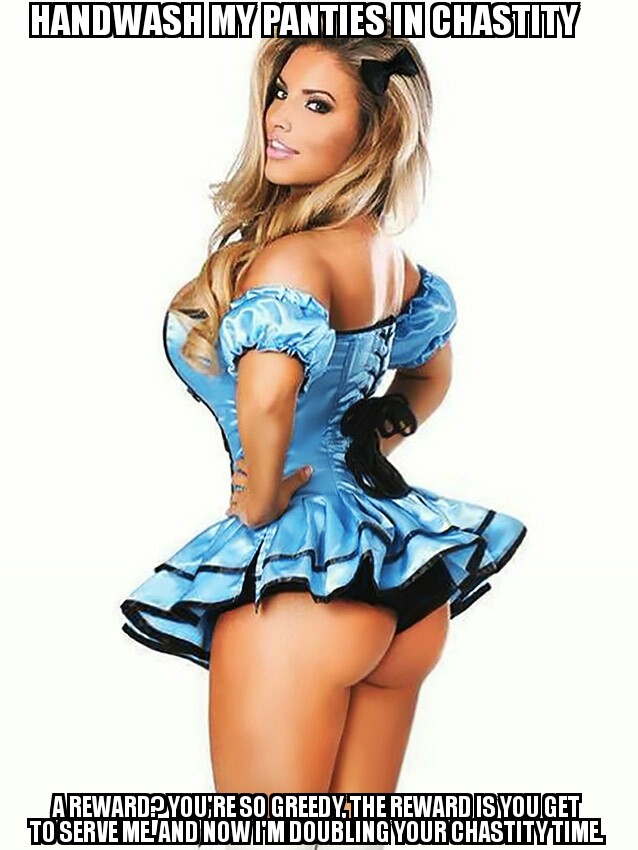 The Fem Life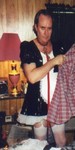 Pictures of sissies in bondage courtesy of Shemade Shemale: Access strictly forbidden to minors — © Carpe Diem — All rights reserved — All images presented on this are conform to French legislation : no images of anyone under the age of 18 are present on this access. Proof of age and majority as well as the running rights for the videos and photos are available at Carpe Diem's head office.

message to wealthy business person
You have an interest in sissies. You are wealthy. You are good at business.
I am creative (very creative). I am good at generating web traffic. You have found this website because with literally no money, I have made this one of the top sissy websites in the world. Entirely legally. No stolen material.
Anything sex or fetish related is a highly competitive field. Businesses spend millions of dollars a year in this field without achieving the results I have.
I need to team up with a competent business person (male or female) who has an interest in sissies and can fund good work and can run a business so that it makes plenty of money. Not looking for a boyfriend or girlfriend, but someone who sees the potential here and has a plan and the funds to make a profit ethically. No pop-up ads. None of the things that are annoying. Good, decent, ethical business.
If you think you can help achieve these goals, send a real letter to Candy, PO Box 5237, Balboa Island, California 92662, USA.


complete table of contents listing all dolls

some of the sources on the web:

transvestite sites

premium sites

specialty sites

discount sites

general sites

Shopping through these links may result in a small percentage of your purchase helping keep this site on the web.
(Some of the sites have tricky rules, so we don't always get a percentage, but it can't hurt to try.).
[ home ] [ toy info ] [ sorted by color ] [ sorted by material ] [ rabbits ] [ butterflies ] [ remote control ] [ strap-on harnesses ] [ dildoes ] [ double dildoes ] [ glass dildoes ] [ hands and fists ] [ vibrators ] [ massagers ] [ sleeves ] [ eggs and bullets ] [ clitoral stimulators ] [ waterproof vibrators ] [ anal probes and butt plugs ] [ beads ] [ breast pumps and nipple exciters ] [ balls ] [ erotic jewelry ] [ cock rings ] [ bondage ] [ lubricants, oils, and creams ] [ barriers ] [ hygiene ] [ erotic clothing ] [ transvestite items ] [ kits ] [ artificial vaginas ] [ male masturbators ] [ dolls ] [ penis pumps ] [ novelties ] [ DVDs ] [ videos ] [ books ] [ words ]

other
Copyright © 2005, 2016 RealSissySchool.com
Last Updated: April 15, 2016
Created: April 16, 2005
Based on material previously at AdultToyReviews.com
Author of this sissy lesson page: contact00@RealSissySchool.com
If you write, please label your message as "Sissy" to help separate it from SPAM (which gets tossed unread).