Sissy Maid Josie
Meet the lovely Maid Josie. Josie is being kept as a maid, and her wife Sarina has given us permission to publish these most enjoyable pictures on our page.
As you can see, Josie's wife is very strict about the maid's appearance. Maid Josie has to keep her hair colored, permed and cut in a permanent female hairstyle. She has thin arched brows, acrylic nails, double pierced ears, and permanent tattooed eyeliner.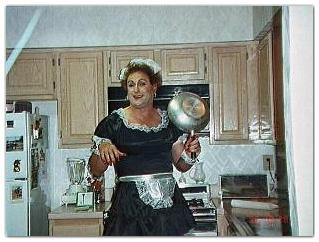 Here you can see Timothy Reisling Betticut describing how Sarina can make Josie do whatever she wants.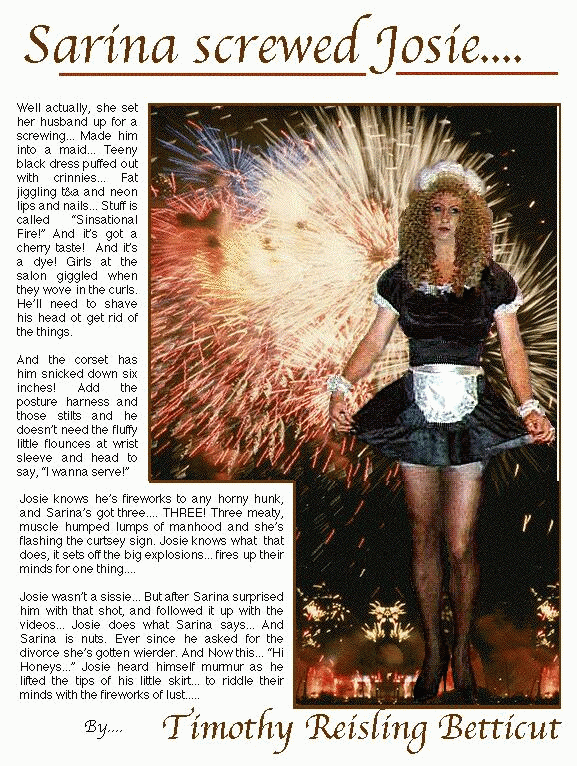 pictures courtesy of theFrenchMaids.net

Sarina has put Josie through quite a number of humiliations and she has made Josie tell us about some of her not very glorious adventures.
I thought you would enjoy some humiliations I put Josie through
Sarina

Josie's humiliation 1
As I wake up, and hustle out of bed I begin to realize that this is the way it is always going to be for me. Looking like this, feeling like this. My glued on double hoops jingle and brush against my cheeks. My nails are so long that I can't grip the earring's back to even attempt to remove them. The nail glue that has been applied also make it impossible to take out and really it doesn't matter. I wash my face and glance at the banana blonde hairdo, the pencil thin tattooed brows, the permanent eyeliner and lip liner that will always be looking back at me. I really can't dress as a male even if I wanted to, I'm convinced I would just look like a manly female.
Today its Halloween and my mistress is taking me out to a party at a hotel tonite, there will be at least 2 or 3 thousand people in the main ballroom and there will be dozens of s/m people in various stages of dress there. I put on my leopard silk robe and wiggle out to the kitchen, put the coffee on and make her lunch. I've been doing this for years now. The difference is after my wife leaves for work, I have to put on a french maid's outfit and remain looking this way for the rest of the day, into the evening.
As I drive to Holly's I look down at my attire and I can't believe what I've been turned into. Seamed fishnet stockings, held up by a pink garter belt, held tightly around my corseted waist. I am wearing 4 inch black patent leather pumps, with a pointed toe and pointed heel, the only way I can walk is with a definite wiggle. I'm wearing a black satin maid's dress with a crinoline petticoat underneath that of course is slightly longer than the dress, so it peeks out from underneath and pushes out my skirt. The length of the dress is ridiculously short, it barely covers my chastity belted crotch. So my tops and garters show when I sit or stand, its screaming for attention. All the attachments are added, frilly lace cuffs tied in a bow, lace maid's cap perched on my teased female hair, lace choker around my neck, bright orange 3 inch acrylic nails with rings, and my Josie ID bracelet. I'm such a sight that everyone who has laid eyes on me over the last week just smiles, giggles or burst out laughing as I wiggle past.
Of course I run the required errands, go for my biweekly hair appointment at Holly's salon, and anticipate my debut at the Halloween party.
As we get ready to leave My wife takes a few pictures to insure a good laugh for her album. Just before we go out the door, Sarina reaches out and attaches a leash to my choker, "this will let everyone know that you are a feminized slave girl for me sweetie," she says. I just bow my head, and at this point in my life I really am so dependent on her that I just meekly mince behind her as we go out to the car.
We pull into the hotel entrance and as I get out, the door man just grins from ear to ear at my outfit, "Are you here for the Halloween party ma'am?" he asks. I meekly smile and in my new minnie voice tell him yes and really feel totally mortified when Sarina grabs my leash and hooks it on her belt as she starts to walk into the hotel lobby, I can barely keep up because of these heels, I have to take twice as many steps as she does and I can see that this image must be quite an eyeful to any onlooker.
Just before we go into the ballroom she turns to me and says "you are not to speak without my approval, and whenever you are standing be sure to hold your skirt out in your curtsey!" As we make our way there are hundreds of people in different costumes and music is playing and its really quite an enormous turnout. A man comes up to me as I stand there (apparently didn't see the leash) and dressed in a scottish outfit and says, "Hi, I love tall women, especially pretty blondes, my name is Rick what's yours?" Sarina pipes in "Josie, and she is attached for tonight." She holds up the leash and Rick just smiled and said "sorry". I'm so embarrassed standing there.
I had to dance for Sarina as suggestively as I could, I had to dance the Macarena also in a group of other females. IT WAS A LONG NIGHT IN HEELS!
When the judging came on for costumes at midnight I had to get in line and strut my self in front of every one, wiggle and prance as femininely as possible… I placed third for most erotic costume. As we left at around 2 in the morning I heard the new rules for the up coming weeks, until I am 4 to 5 months pregnant, I'm to wear the maid's uniform every day. Of course when I go to work at my job as a female I can wear my various skirts and dresses or business suits as my wife sees fit.
"I need someone to plan my office xmas party and you're elected Josie dear" my wife said. then she went on "So you are to call at least 10 places, get all the information and then I'm going to have you visit the various restaurants and check them out for the best rooms, you can go as an office worker on the xmas committee, of course you will be dressed in your office outfits, but I'll think of some little risque attachment for you to wear in your different visits."
Here I am dressed in a pleated hunter green skirt, with a white shell, hunter green 3/4 quarter sleeve jacket over it, black stockings and scalloped black heels 3 inches high. My 4 inch acrylic french manicure nails grasp my black purse as I inspect myself in the mirror. I look at my gold necklace, with matching double hoops and try to smile at this ultra thin browed, blonde female. I am going to visit a restaurant for my wife's office party and I'm to meet the male caterer manager. "I told you I would give you something risque to wear that I know will cause you some further humiliation" my wife said.
"Now don't forget to ask the manager as you leave whether your seams are straight on your stockings."
"Make sure you smile as coyly as you can and let him get a good look at your legs."
"Maybe I'll have you give him a personal tip if I pick this place as the xmas party location, won't that be fun Josie?"
I can't wait till my other visits…
Maid Josie.

Josie's humiliation 2
This was bringing tears to my eyes, as I saw what Holly had done to me. Holly was smiling from ear to ear. But before I finish telling you what I looked like let me start from the beginning of this humiliating day.
I knew that I had my normal Tuesday salon visit, every Tuesday and Friday I have a standing appointment with my wife's girlfriend Holly. Holly owns a salon called the "Big Teeze". Part of my wife's revenge is that I have to keep my hair in a permanent female haircut. By going twice a week it really insures that my hair is never looking anything but teased, cut and in some sort of girly hairdo. I have a little pillow that goes around my neck when I sleep, so it will stay in its shape and I wear a shower cap when I bathe, so my hair only gets washed at Holly's. It is so sprayed that it will stay in this female's hairstyle until my next appointment. I've had many different colors, blonde, redhead, auburn, eggplant. And I've had many different cuts, from a short wedge with lots of bangs to a curly perm. Holly loves to experiment on my hair and because she knows that Sarina has put me in female clothes and wants me to be punished for cheating on her, Holly really enjoys the humiliation probably more than Sarina does.
The morning I got up I put on my leopard robe and the fluffy black boa mules with the little cha-cha heel and went downstairs to make Sarina her coffee. I helped her get dressed as I've been trained to do for the last 6 years, ever since my getting caught having an affair and Sarina decided to have the "punishment fit the crime". I had been a crossdresser when we got married and she knew about it. And over the years she enjoyed the participation. But whenever I decided the adventure should end I would take off my skirt and resume being the macho man in every one's eyes. Over the years of being my "girlfriend" Sarina got more and more dominant. She really loved being the "boss" and having me trot along with her on several excursions as two females. And I think loved having the control over me when I was feminized. When I got caught having this affair, the choice was simple, be feminine or be divorced and have everyone find out. I really thought if I went along with her it would be over in a week or so. But the feminizations that she did to me were so permanent, that before I realized it, I was really stuck dressing as a female. If I didn't everyone would see that I was a male sissy.
What would you do with several pierced holes in your ears, one set with permanent earrings glued on. Your eyebrows waxed so thin that you are in a perpetual "who" expression. Then having a thin line tattooed on so that it will be forever in a feminine arch. Your eyes given a smoky brown outline tattooed so that you look like you have eyeliner on and a thin pinky red lipliner permanent drawn on your lips so that you have to always wear lipstick!
Either I keep my legs, arms, and chest shaved and wear the skirt and heels and try and pass as a female, getting my hair done and keeping these acrylic nails on forever, or I will look like a feminized male and really get stares everywhere I go. Once this happened to me I didn't really know what to do.
Of course having a chastity belt padlocked on my penis and not allowed to have an orgasm has been very difficult. But what choice do I have. With the straps attached to a pierced penis, and the ends glued, it could only come off by having it torched off. So to remove the padlocks and such I'd have to do damage to my balls. So I remain locked up. After the first year it really isn't so bad, you just try not to think about it. Sarina has laughed and has told me I could get the chastity belt cut off. I'd probably lose my balls, but then I could have them made into a pair of earring to wear so I'd still have my balls, except hanging from my earlobes!!
Well after Sarina got ready for work with my help I put on my outfit for the day. It was a day off from my office job, which means its a salon day / errand day. First going to Holly's for the salon visit, then Sarina handed me my list of things that had to be done by the time she got home. Of course all this and clean the house, do the laundry, and cook dinner. Even after all these years I still feel so humiliated when I have to be so girly and this was another of those more girly outfits.
After I put on my make-up, I went and pulled on my suntan pantyhose up over my shaved legs and straightened the toes of my stockings around my pink polished toes. I stepped into my lacy pink panties with the matching pink lace bra. I pushed my breasts (40 D) into the bra. I have a semi-permenant breasts that are glued onto my chest. I had them fitted at a shop especially for women that have had masectomies (but that's another adventure).
I pulled up a little ribbed short white skirt. It really is much too short for a person my age, but Sarina wants me to dress like that. She calls me "her bimbette". Then over my head goes a bright teal top. It has a rounded neck and short sleeves, so you can see I have hairless arms, and it falls over the top of the skirt, so only about 18 inches of the white skirt shows. Then I slip my feet into teal colored heels, yes the same color as my top. They are not too high maybe 3 inches, just high enough to let everyone know you are wearing heels, but still short enough to pass as everyday shoes to be running around town in. They are pointed pumps and because of their color I look like such a girly-girl walking around in them. Then to complete my outfit, I put in a pair of large heart shaped earrings, that are teal colored also, I pick up a little purse that has a long shoulder strap and you guessed it, matching my little heels in the same teal blue color.
I add my gold bracelets on my left arm and my little gold watch on my right and then my rings are put on my pinky red 2 inch acrylic nails. 3 gold chains are around my neck. I pick out my teased eggplant hair and I trot out to the car. I hear my clicking heels as I walk and when I glance down I see my toe cleavage in these blue teal pumps and my shaved legs in the suntan pantyhose, I realize what a sight I must look like. I wiggle with one foot in front of the other. With wearing heels so much over the years its really become the only way I walk. I'd have to make a conscious effort to walk like a male.
My first stop is right into the parking lot of Holly's shop. She is located in a large strip mall, right across from a Goodyear tire store. Usually the mall parking lot is jammed pack so you have to park near the tire garage so when I swing my smooth legs out and place them on the ground next to the car, all the men in the garage changing tires stop and watch me walk up towards Holly's shop. In my teal and white outfit, I know I'm very noticeable. But that's why Sarina picked it out. I realize that these men glance up all the time because they know that alot of women are going to be walking by going to the salon and it's a free leg show. I feel so mortified, I wonder what these men would say if they knew I used to be like them, instead here I am wiggling and mincing along, and trying not to look over there as one of the men let's out a low whistle as I go by. "Hey cutie, need your tires changed?" then laughter, then I hear "Hey Bobby, check out the skirt!"
I walk into Holly's shop and Amy one of her stylists, who is sitting at the receptionist's desk says, "Hi Josie, cute outfit, love the shoes and bag, its adorable. Holly will be right with you, go over to her station sweetie."
As I walk over to Holly's chair, Cindy (Holly's sister) is cutting a woman's hair glances up and smiles and says "Hi Josie, cute look hon." The woman patron looks up and smiles at me, gives me that smile that other women give each other, she then says "I like your shoes. That's a pretty color for you!" I smile and say in my squeaky high pitched Minnie Mouse voice "thank you" and smooth my skirt as I sit down in the chair. I put my legs together, cross them at the ankles and place my hands demurely on my lap on top of one another, stretching out my fingers and glancing at my polished nails. I tremble to myself and realize that what I just did was second nature. I didn't even give it a second thought, I automatically sat just like a girl.
Holly comes out from the back and walks up behind me and says "well, I have cool plans for you today, this is going to be something, I have thought about this for the last few days, and I spoke to Sarina about it and this is going to be wild." I start to tremble, because I know its going to be something that will be humiliating I'm sure. Holly tells me "Let's get started, I've blocked out a couple of hours for this new look." (giggle, giggle).
Holly has mixed the new hair colors already and turns me around so that I can't see myself in the mirror. There are several other women in the shop along with the 3 stylists. Some women are at the sinks in various atages of getting perms, or getting washed. and there is another woman sitting at the nail station getting new nails put on by the nail tech Marie. The first color that is placed on me is put all over the lower half of my hair. Then I have to sit reading a mag for about 1/2 hour. Then I'm led over to the row of chairs lined in the back with the other female patrons. A cap is placed on my head and most of the top part of my hair is pulled through and that is then covered in a white paste. I have had this white paste before and from the smell I know its bleach. Biting my lip I ask Holly as she brushes it on "Am I going to be a blonde again?" "Am I going to be frosted?" Holly starts to laugh and she giggles as she tells me "Oh no I have a much prettier set of colors for you honey."
"But you're right in that I am taking out your eggplant color but just the hair on the top is getting bleached. The hair under and on the bottom already has a new color. You'll see its gonna look so cute."
Then after the bleach, the top of my head is rinsed off and this new color is brushed on. I have a new plastic cap put on that, and I'm placed under the dryer for another 1/2 hour. Every 5 minutes or so Holly comes by and lifts up the dryer, takes a small piece of my hair, giggles and says "I have to watch it, I want to take you out at just the right time, so the color is exactly what Sarina and I picked out." As I'm sitting under the dryer other women patrons sit next to me and smile over at me and start to talk about kids, their husbands, work, and such, I am included as another female and as I glance down at my shaved legs, teal blue pumps, white mini skirt, blue top, there is no way with these polished acrylic nails, hair up in a cap, being colored like this that anyone would think that I ever was at one time a male. Those days are really a distant memory. Here I am forever looking like a female.
Finally the plastic cap is removed as the dryer is lifted off and I'm led over to the sink and everything is rinsed and washed off my hair. I'm still not allowed to see myself, a towel is draped over my hair as I'm led back to Holly's chair. The chair again is turned away from the mirror. Holly then wheels over a tray and starts to brush the back of my head, She tells me to lower my chin and starts to put pins in my hair. I've had this done before and I know she is giving me some type of "updo". My hair is pulled all on top of my head and then she puts pin after pin in the hair, all over the sides and back telling me that she is doubling and tripling the pins so it will last until Friday. "I don't know how you're going to be able to sleep but that's not my problem!" Holly chided. Every few pins, Holly grabs the can of hairspray and puts a long blast on the spot she just pinned.
Then she starts to use an electric curling iron on just the top of my hair, curling and giving me bangs in the front. When this is done, she starts to tease, tease and tease some more, I feel her pulling and picking my hair in some sort of buffont on top of my head. With each few curls she does the same process with the hair spray. I feel her take the curling iron and she is making little tendrils on the side of my face! Then when she is finished she starts to spray my whole head from top to bottom again. "You are shellaced sweetie" she laughs as she tells me. "This is going to stay put onto I see you on Friday and then you get to have it done in this 'updo' all over again."
As Cindy who by this time has another woman patron in her chair looks up at me (because I'm turned away from the mirror and am facing her) she GASPS out loud when she looks at me. The woman patron look ups and says "Oh Lord!!" Cindy then looks at Holly and says "Jesus Holly that color is hysterical, what a cool idea for Josie!!!"
I hear Amy call out and say "Holly send her over here I can't wait to see how she turned out!!!!"
Holly then turns the chair very slowly and I see what has been done to my hair. "Oh my god, I look and my feminine arched brows completely make half moon lines on my forehead. My startled eyes are glued to my image in the mirror. My hair is coiffed in a BUBBLE CURLY CLOUD ontop of my head. but this mass of pouffed teased curly hair sitting on top with long bangs over my forehead is colored a BRIGHT LAVENDER!!!!!!!!!!!"
The sides and back which are pulled smooth because all my hair in the front and top is colored a JET BLACK!!!! The contrast is incredible to see "I have purple colored hair," I start to choke on the words, I can't get them out!
"OH YES, BUT ONLY THE TOP IS DYED LAVENDER, THE SIDES AND BACK IS THIS RAVEN BLACK COLOR WHICH REALLY SETS OFF YOUR CURLS" Holly pipes in.
Even the little tendrils on the side of my face that curl so femininely are colored this lavender. I look like a bimbo. No woman except one that wants everyone to look at her would have hair like this. It is so embarrassing, so humiliating, I can't believe this is happening.
I reach up and touch the curls on top, they are rock hard, then I put my hands on the back of my head and it feels like a smooth painted CONCRETE SURFACE. Holly is laughing, "I have you glued so tight and pinned so tight that not one hair will move until you come in on Friday and then I curl and pin again. This is your new hair style. Sarina wanted you to have the ultimate girly-do. This can't be any more girly."
Then she says the words that just make the tears swell up in my eyes "The colors are permanent! They can't be washed out, in about 6 to 8 weeks you can get another touch-up."
"You're stuck with the new look Josie, You'll get used to the stares."
"If it's possible to be a sissy-girl, you now have the look." Holly then added "You need to dress with purple and lavender tops and skirts. Do you have purple heels? It will look so cool" (giggle).
The woman getting her hair cut from Cindy says "Did she lose some kind of bet? I mean its a little extreme."
Cindy pipes in "No Josie didn't lose a bet, but Josie USED TO BE A MAN! This is what his wife has done to him, can you believe this is how he has to look from now on!!!!" The woman's mouth hung open and she said "No way!" Then she looked over at me and said, "you even have shaved legs, oh Jesus, this is got to be so embarrassing for you!"
"How could you let your wife do this to you!" she is laughing hysterically now. "Let me see your nails, oh Jesus, he has permanent nails, oh Jesus, you have pierced ears, I can't believe the way you look, you really look like a woman."
I smile and know if I don't act girly Holly will tell Sarina and I will be punished. So I tell her that this is the punishment I deserve for cheating on my wife and that she wants me to look the bimbo that I was cheating with.
"Oh you look like a real bimbo with that hair and outfit" she said "Jesus I thought you were really a female, kind of a flake to get you hair colored like that, but I thought you were a woman". The woman patron was shaking her head and saying "incredible but you are too far gone now, but it must be fun to get even, Jesus you even act like a woman!"
I wiggle back to Amy and Marie and they are laughing out loud. "Cool color, Josie" Amy said. Marie piped in "I guess you will get used to it,"
"Is it really a permanent color?" Holly calls over "yep, permanent as can be."
"Wow," Marie said "I can't wait to tell my husband what was done to you today, he'd never believe it."
I tell Marie that I have to bring a camera along and take pictures because Sarina will be showing people my new color. She laughs and says "when you get the pics developed bring in a copy so I can take it home and show my friends, they will first laugh at this woman that dyed her hair like this and put it in such a femmy style, then when I tell them you are a male dressed up like this all the time, they will go crazy!!"
The client getting her nails done by Marie, laughed and repeated the comment about getting a nice lavender outfit. she added "Get a cute purple top with some stirrups, purple heels, you will be a real eyecatcher."
I hand Holly the camera and she starts to take pictures of my hair. I pay Holly and she says as I leave the shop "see ya on Friday".
Now I have to do all my errands with my new hair color, the reality hasn't sunk in that this is my new color probably for months, god I hope not years. It will be looking like this until Sarina gets tired of it. I have to drive first to the dry cleaners and pick up clothes and the Asian girl that works there just glances up at me from her desk and smiles as she sees my hair color. I am standing behind 2 men who nudge one another as I give the girl the ticket to pick up the clothes. Here I am standing next to these men dressed in suits and ties ( I remember when I used to look like that) wearing teal blue pumps, white skirt, teal blue top, carrying a little matching teal purse. with a teased mass of ringlets on top of my head dyed lavender, surrounded by jet black hair underneath. Oh my god, this can't be happening. When they leave I try not to look in their direction but I can see out of the corner of my eye each one looking me up and down. When I pick up the clothes and head out the door, they are parked right next to me and are sitting in their car waiting for me to walk out, so that they can gawk some more. I have to sit in my little car and sit my behind down first, then swing my high-heeled legs into the car. The guy sitting in the passenger seat in the other car, just looked and looked at my legs as I put them into the car.
Next stop Sarina's doctor office to pick up a referral, the nurse just glanced at my hair and then a little smile came over her face. I knew she was giggling inside. I had to stand at the desk waiting for the paper work. the office was filled with patients and here I am dressed like the bimbo for all to see. You can't help but see my Lavender and Black hair. Wiggling out to the parked car, I have to walk right pass the window of the doctor's office, then as I look over there is the nurse and 2 other women watching me through the window. I know they must be going hysterical.
Then to the food store for groceries and everywhere the looks are one of surprise, or astonishment. I stop for gas, and the attendant calls me ma'am and washes my window but he sees my new do, he smiles and when he gives me my change he says "thanks miss, have a nice day" and I can feel sooooo self consciousness everywhere I go.
I have to go to a Kid's 'r' Us store because I need to buy a new car seat for a baby shower that Sarina and I are going to go to and I mince in and ask the sales person to come and help me. I'm dying looking like this. It's bad enough being dressed as a female, but now with permanent lavender hair, coiffed in this style its very attention getting, I have to be extra-girly and extra aware of how I walk, speak and act in front of these people. I can't have them think anything but here is a real girly-girl. So I walk up and down the aisles with this woman dressed in pants and flats and a neutral top and here I am looking like this dressed more girly than anyone thought possible asking her prices and such concerning a car seat. God I wonder what she had to be thinking when I asked to get someone to carry the car seat up to the front for me. At the register the girl there just looked and smiles at me the whole time. I had to ask for someone to carry it out to my car, because it was too heavy and I didn't want to break a nail. ( This is the behaviour I have been ordered to follow) A young man comes up from the back and grabs the car seat and asks "where are you parked ma'am?" I mince in front of him and take him to my car I wonder if he is looking at my legs and shoes as I walk in front of him. I wonder if he is staring at this lavender hair? And after he puts it in the trunk. I tell him "Please wait let me give you a tip". I reach in my purse and hand him a dollar bill with my long acrylic nails. "Thanks lady" he says as he walks away.
The worst part of my errands is the trip to the Garden Store. I have several lists of different flowers and plants that I have to ask a salesperson about and I have to park and walk through the store to the garden centre. Carrying my little teal purse, one arm swinging along as I walk. The other arm bent at the elbow and my wrist bent just in front of my breasts, so my long nails can be seen glistening in their pinky polish. Then in my heels clicking along the rows as I speak with this young man dressed in jeans and sneakers. Here I am dressed in this skirt and heels walking next to him and showing him the names of the flowers and plants. he can see my polished nails and of course my lavender "do" and I feel so mortified wiggling next to him as he takes me from one place to the next and tells me all about the different plants and he treats me so much like a tart, its pathetic. But look at the way I look, I have to speak very girly, use my hands and wave them around all the time, wearing a miniskirt and teal pumps, with all the matching accessories, and the HAIR, GOD MY HAIR, IS PERMANENT COLORED A BRIGHT LAVENDER, with these little curling cloud teased on my head, with little purple tendrils in front of each ear. Oh no, this can't be my reality!!!
I finally venture home and start to prepare dinner, throw in the laundry and straighten up the house. I'm permitted to get out of my skirt and pumps but only to don my little maid's outfit. A little satin dress, round peasant top, ruffled with lace. I have a little petticoat that peeks out of the short skirt. It just barely covers my padlocked belt. Then black stockings and my 4 inch pointed patent leather pumps are on my feet. I have little lacy cuffs with bows that go around my wrists to had to the "charm" and a ribboned lace choker is tied around my neck to add another girly submissive touch. I perch the little cap on my new hairdo and look in the mirror and I start to shake. I can't believe that this is anything but a female looking back at me. Everything I see is to the extreme feminine and this is my fate.
Sarina comes in the door and I wiggle to meet her, take her coat, she starts to look at me, from head to toe. "spin around girlie" "let me see all the new colors that Holly gave you!!" Sarina is laughing and giggling. "Oh Josie you really are nothing but a little tart now" "hahaha, there is nothing but a sissy girl left. I love the hair, its perfect to show you off." "you see I noticed that because you have been kept as a woman all these years that you were getting a little confidence and frankly making it very easy for you to blend in and pass as a middle-aged female."
She went on to say "But now you look like a female that is a total bimbette, a women that is trying to be young and looking very inappropriate for her age. Its perfect!!! NOW YOU WILL HAVE SOME NEW EMBARRASSMENTS TO DEAL WITH!"
Sarina kept on talking. "you will not be sure if people are giggling at you because you are a woman that did this to her hair, or whether the hair now gives you away as a femininzed sissy because what woman in her right mind would permanent dye her hair two colors and have a coiff like that!!!!"
"Oh it's a dilemma, Josie and one you will have to deal with for quite some time."
It starts to sink in what a humiliating punishment this is. Oh I can't believe I will have to go EVERYWHERE looking like this. Then Sarina really makes me start to tear up with fright when she said "Just wait until you go into work tomorrow!!"
"All the other women are going to be astonished when they see what you have done to yourself." she went on to say "Be sure to get out that new lavender dress suit, with the gold buttons, and the cute lavender heels with the bows on the toes, some taupe pantyhose, purple earrings, and necklace! Oh you are going to be turning heads when you wiggle into work tomorrow girl!!"
I bow my head, in submission and say "Yes Mistress."
Pictures were taken and there will be available soon, so you can see this new humiliation really did happen.
Maid Josie

Josie's humiliation 3
I hear the door bell ring and I start to get so nervous. I know who it will be. "Josie, who is at the door?" I hear Sarina call out. It is a day at home and so I'm dressed accordingly. I hear my 4 inch heels click as I scurry across the tile floor and I feel very nervous. I pass the hall mirror and give myself the once over look again. I shudder and heave, I can't believe what has been done to me. Pumps on my feet and black seamed stockings held up by a garter belt. I'm wearing a very short (it barely covers my chastity belted penis) black satin skirt. Under it as I said is my permanent chastity belt. Locked on with 2 padlocks. Sarina has the keys. It is made of leather and chrome steel. It holds my balls in a tight cinch so that any erection is extremely painful. It is padlocked there. Then another leather strap which holds the stainless steel rings that my penis is inserted into also has another padlock.I is impossible to have an erection or to have any orgasm. I've wore it night and day for almost 5 years.
It is my period also so I have a tampon in my ass and a butt plug which has pushed it so far up my rear that if there wasn't a string I don't think I could ever get it out. But every time I go to the bathroom I must take out the butt plug and change my tampon.
A panty girdle holds everything close to my body and gives me a smooth look under my maid's uniform.3 petticoats are holding my skirt out almost straight from my waist and with frilly cuffs and a matching lacy headband. I look like a french maid.
Sarina has gone to great lengths to complete my entire appearance. Of course every inch of my body from the neck down has been shaved and I must keep it free of all hair. My hands now have acrylic 3 inch nails which I get refilled every 2 weeks and polished or air-brushed in a very girly design. My ears have 3 holes in each ear and on one set Sarina has used a metal glue which she has placed on the metal backings of the earrings. So removal is impossible. I have a permanent pair of large hoops in a very pretty twisted design that are forever! But the worst is my hair and eyebrows. I have thin, arched pencil lines that are a perpetual "surprise" look on my face. The have been waxed so many times that the hair will not grow back. My hair presently is a bright orange-red. My hair gets a new color every few months and as long as it is a "dyed" look Sarina doesn't care. It is cut in a female style and permed.
As I finish my look in the mirror and see the pink outline on my lips I start to tear a little. The pink lipliner is another permanent addition Sarina has made to her "barbie doll". I answer the door and smile at the man standing outside. He looks me up and down, head to toe and I can see him start to smirk.
"Can I help You" I say in my trained bimbo voice. "Yes someone made an appointment to get their piano tuned?" He was a young 30 ish tall handsome male and I knew at one time I was like him. Sarina came around the corner and smiled. She said "Josie show the man where my piano is." "Wake up girl I swear it is so hard keeping domestic help these days."
"Please follow me" and I minced over to the living room and showed him the piano. I was dying inside having to appear looking like this. Sarina had me dust the living room, of course offer him a drink and generally stay in his presence the entire hour and a half it took for him to perform his job.
Sarina gave him a check and I had to escort him out. He smiled and said goodbye. I was mortified. Well you were such a good girl Josie that I will reward you for your behavior today. I need you to go to the drugstore, grocery store and also go to the mall to pick up a few things. Instead of your Maid's outfit I will let you wear something a little more manly. She was giggling as she said this.
Here I am pushing a shopping cart in the grocery store. And I can see my outfit in the mirror above the meat counter. Pink and black checked leggings, matching long pink sweatshirt. On my feet pantyhose pokes through my strappy black sandaled heels. The straps intertwine around my feet but you can clearly see my bright red toenails. I'm carrying my black purse and a pink and black scrunchie is in my hair. I look like "Pebbles" from the Flintstones. This is my reward for behaving and being a "good girl" In an outfit that anyone would agree is feminine and girly and humilating for a male to wear. I'm grateful! I feel so trapped yet I have gratitude towards Sarina in letting me wear this masculine outfit. I go every where and every one of course thinks I just another girl on her day errands. After all I'm no longer a male but a sissy "barbie doll" for Sarina's amusement.
Maid Josie

complete table of contents listing all dolls

some of the sources on the web:

transvestite sites

premium sites

specialty sites

discount sites

general sites

Shopping through these links may result in a small percentage of your purchase helping keep this site on the web.
(Some of the sites have tricky rules, so we don't always get a percentage, but it can't hurt to try.).
[home] [toyinfo] [sortedbycolor] [sortedbymaterial] [rabbits] [butterflies] [remotecontrol] [strap-onharnesses] [dildoes] [doubledildoes] [glassdildoes] [handsandfists] [vibrators] [massagers] [sleeves] [eggsandbullets] [clitoralstimulators] [waterproofvibrators] [analprobesandbuttplugs] [beads] [breastpumpsandnippleexciters] [balls] [eroticjewelry] [cockrings] [bondage] [lubricants,oils,andcreams] [barriers] [hygiene] [eroticclothing] [transvestiteitems] [kits] [artificialvaginas] [malemasturbators] [dolls] [penispumps] [novelties] [DVDs] [videos] [books] [words]

other
Copyright © 2005 RealSissySchool.com
Last Updated: April 12, 2005
Created: April 12, 2005
Based on material previously at AdultToyReviews.com
Author of this sissy lesson page: SissyMaidJosie@RealSissySchool.com
If you write, please label your message as "Sissy" to help separate it from SPAM (which gets tossed unread).