Cuckold
Cuckolding is when a married woman has sex with a man other than her husband. This is often combined with a sissy maid or sissy slut fantasy.
A variation of cuckolding is interracial (or inter-racial) cuckolding, where the sissy's wife (or girlfriend) has sex with a man (or men) of a different race. This fantasy (or practice) usually is black man with white woman and sissy.
The word "cuckold" comes from the practice of the female cockoo bird depositing her eggs in the nest of smaller birds and leaving the eggs to be hatched by a bird of another species.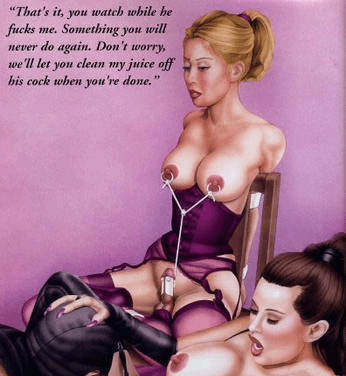 picture courtesy of femminilizzazioneforzata

cuckolded and submissive men
Courtesy of Doug Adams' Cuckolded and Submissive Men:
When you are strong willed and like to take control yourself, it's surprising to find that not all men are the same. I know that it's entirely normal and that there is no reason why men shouldn't be submissive any more than women should be but I guess I was just a bit slow on the uptake and it's normal for us all to think that the rest of the world is cast in our own shape. Why on earth the whole world of female domination, the Miss-Whiplash-Dominatrix scene hadn't sunk in to me earlier, I just don't know. It was rammed firmly home the first time I visited one of the London S/M clubs though and I found it very entertaining to watch sissy boys being treated with contempt by the Dommes there.
There's a huge range of forms of submissive behaviour in men. This [Doug's] site isn't focused on female domination of men and you will have to look for that elsewhere if that's your predominant interest. What has interested me more is submissive couples or couples where the woman is dominant and the man is a wimpy sissy slut. I've known a number socially and played with some as well as myself having a Dominant relationship with a submissive couple.
There is a strong tradition of strong, dominant women holding their husbands in submission and forcing them to serve in much the same way as I would use a female slave: being dressed in humiliating outfits (French Maid seems to be very common), making them behave subserviently in public, name-calling, use as a toilet, and the whole range of typical dominant/submissive training and humiliation plays.
Though I'm not an expert on it I have watched with considerable interest as the pro Dommes have used cock and ball torture, orgasm control and pain as tool to control submissive men. There are, I'm sure, websites by the hundred that deal with this in detail. What I'll do is go on to describe my experience with a couple who were both submissive.
J and D were a submissive couple in their late twenties or early thirties who contacted me via a friend. Both wanted to learn to serve and both wanted a Master who would teach them how they should behave and dress in public as well as in private. They were attractive, professional and well-groomed but both yearned to have control and direction introduced to their lives. He in particular was very submissive and had begged her to dominate him in their relationship but it was obvious to an outside observer that that was what she wanted from him too. It was starting to cause friction between them and, being intelligent, they concluded that the best way was to introduce an external source of management.
I met them both for a drink in a bar, first of all together, then I sent first one and then the other to a separate table whilst I asked each in turn if that was really what they felt they desired. Since both agreed, I agreed to take them on.
Training the girl was according to my usual principles. Since she was attractive and slightly haughty the most suitable measures included dressing her as a tart in public and making her crawl and grovel in private. She was never able to move on to use as a toilet, she had a bad physical reaction to being pissed on which I felt was rather a shame, but seeing her dressed in pvc fetish wear and forced to eat her meals from a dog bowl in front of me was a reasonable substitute. The ways she was trained are well covered in the other pages of this site, she was trained in display in private, forced to exhibit herself and she dressed to my taste once she had learned what I required. typically meeting me at the door to their flat in my favourite outfit. After six months I had her nipples pierced too, with a tag of ownership hanging from each ring (the pet shop gave us odd looks as we had the tags engraved).
Dealing with the boy was a very interesting learning experience for me. We started by obliging him to dress as a woman whilst she came out with me dressed as a tart and it was a treat to see his face as I fondled and kissed her in public, making sure that other men could see her breasts and pussy as I moved her clothing around. She was very embarrassed by those kinds of things and this discomforted him even more. She never took terribly well to being made to fuck his ass with a strapon while I fucked her from behind, but I made her do it all the same.
In private he was forced to wear a cock-and-ball cage as well as the French Maid outfit and serve us drink whilst I put her through her paces. If he stiffened at all when he saw her on display in front of us, his cock received a whipping from my riding-crop. As I grew to know what worked with him we graduated up the scale of humiliation. He was never comfortable watching me fucking his wife so of course I made sure that he saw plenty of that.
He got used to seeing me using his wife as my plaything and being dressed and treated as a sissy. It was soon time to move him on to greater humiliation, so next I trained him how to suck my cock and rim my ass while I made his wife kiss me and have her tits played with. Gradually I trained him to take deep throat and to get on his hands and knees and ask politely if he could taste my cum.
One day he was in that position and instead of putting my cock in his mouth I peed into it instead. He gagged and I slapped him, telling him that he must learn to serve properly. Reluctantly he opened his mouth and took the hot stream. Out of the corner of my eye I could see his wife starting to masturbate as I did that, it was obvious to anyone that she got a huge charge out of seeing him doing it. Because she didn't have permission I had to punish her for it, breaking off from the peeing and telling him to keep his mouth full whilst I did so. I left her with her pussy glowing bright red from the punishment and her hands tied to the bedstead so she couldn't masturbate any more. I went back and finished the pissing, then told him to hold his mouth open full of pee while I gave myself a handjob and eventually came into his piss-filled mouth, then told him to swallow. By the end of that she was gagging to be fucked so I gave her the job of sucking me until I stiffened and I used her in front of him, then sat back and admired my handywork.I could tell that they had both found the situation that they needed.
We eventually got into a routine where we regularly used him (both of us) for peeplay because it aroused her so much. I trained her as my fucktoy and after we'd know each other for a while, went through the necessary tests to be able to dispense with condoms. He loved the humiliation of having to watch me fuck his wife, cum inside her pussy, then have her squat over his face while he sucked and licked the semen out of her before she was allowed to piss into his mouth.
I was surprised to find that I enjoyed dominating men as well as women, but then I went on to try male-on-male domination and it just didn't work for me. It seems that with a couple it works for me, but not without some female involvement. The human libido is a funny thing.
There is, so it seems, a long tradition of male fantasy that involves having their wives used as toys by other men, though not all of those who want it are submissive themselves. I've met several at swinging parties: not all of the guys who go want to get involved in the fun themselves, they are just as happy to watch others using their wives. I've also met numerous women who get off on keeping their husbands celibate whilst obliged to watch the woman with her lover. If you know of good meeting places for people who enjoy that kind of thing, let me know and I'll post links here.
Courtesy of Doug Adams' Cuckolded and Submissive Men

first cuckold experiences
"After petticoat training my hubby of 10 years (ruffle panties etc.) I had him dress up for me one day. Pink satin panties, bra, garter belt, and stockings. I had never cheated on him before but in order to humiliate a bit more my girlfriend suggested I try this . He/she presented herself to me and I tied his hands behind her. I then pushed her to her knees and tied her legs at the ankles with a strap connected to her hands . He/she was smiling thinking we were going to have sex. HA HA! At this point I produced a brand new penis gag and forced it into his mouth. Since she/he is not gay it was quite a surprise to her, but nothing compared to what came next. My lover rang the door bell and I brought him into the bedroom. He laughed almost as hard as me and we began to make passionate love right in front of my poor crying sissy hubby. The sight of seeing my sissy crying drove me wild and I orgasmed 6 times. Afterwards I took video of her and we both taunted her to tears again. I don't want my sissy to get used to this so I'll only do it on special occasions. Wedding anniversary, Christmas, and her birthday. Fun, huh?"—JMT; e-mail; 4 December 2005
"Hi. I am a 30 years old man and Iike your site. I would like you to teach me how I could get my wife to cuckold me. I would like to be a Sissy clean up boy for her and her lover. I know she works with a guy who would make love to her, she says. But she is shy. So I really hope you could help me. Thanks."—J.P.; e-mail; 15 August 2005
"I came home from work one day and found a black man and my white wife sitting on my couch naked. My wife was facing him and bouncing up and down on his hard black cock. All I could do was go over, kneel, and lick his cock and balls and her ass as he fucked her."—so cal sissy; e-mail

cuckolding experiences

Giant Double Dildo: "The first time I used it was with a girlfriend of mine … we both took half of it one night when we were wasted. She forgot to take it home with her the next day so I hid it before my boyfriend came over. We fucked for awhile and it was good and everything but as I was fucking my boyfriends six inch dick, I couldn't help but wonder what it would be like to fuck a much bigger dick. After he left that night, I pulled out this big toy and started working it over … it hurt at first b/c it's so long and it would hit my stomach but after a half hour or so I was able to take all of it but about an inch to inch and a half… and god it felt so good. I've become such a slut now though b/c I'm now always screwing around on my boyfriend trying to find guys with really huge dicks… I fucked my first black guy a couple weeks ago and it was awesome… he was so hung… at least a foot long!!!! Any guys with dicks over 10 inches… PLEASE CALL ME !! LOL " —paige; November 9, 2003; see details at Giant Double Dildo
"I make my girlfriend's sissy husband get on his knees and lick my balls with his nose up my ass while I fuck his wife. Then I have her sit on my cock while he licks us both. Mmmmmm."—from New Hampshire; e-mail
"My place is to suck my wife's cream pie pussy clean after she has sex with her lover. I have to lick his balls as he kisses and fondles her."—cuckolded in va; e-mail
"I love to suck the cock of a guy who has just finished fucking my wife."—cuckolded in va; e-mail
"I like to lick a guy's balls as he force fucks my wife.
"He bends her over and makes her scream as he slides his massive cock into her pussy.
"He fucks her so hard and furious that she begs him to stop.
"He pulls out of her pussy, only to jam his huge cock into her virgin ass.
"She cries out for help, but he tells her that her wimp hubby is kissing his ass.
"He shoots his load into her butthole.
"He pulls out, shaking his still-hard cock in my face and ordering me to clean it off.
"My wife cries in disgust when she sees her hubby get excited by licking a man's cock clean as his cum leaks from her sore asshole."—subhub; e-mail
"I like for my wife to get gangbanged and I have to lick all the guy's cocks clean."—petite sissymaid; e-mail
"I love to lick and suck my wife's freshly fucked pussy clean after she's drained some stud's heavy balls."—NJ sissy; e-mail
"My wife's black boyfriend fucks her mouth and ass while I watch. Afterwards I have to clean out her cum-filled pussy and ass holes and lick his cock clean. Then I get to furiously jerk off with an inflatable doll, remembering my wife going wild over black cock.
"He fucks her in public places.
"He took her to a party, where I had to serve a dozen black men while dressed in a sissy maid's costume. While I fucked a cheap blow-up doll, the black men jerked off on my wife's face and tits.
"Her black lover even showed up at her office party. He bent her over a desk, lifted her dress up and tore her pantyhose. He rammed his cock up her hole while I just stood there.
"He spanked her ass and told her to take it like a good bitch.
"She cried and he told one of the guys she works with to keep her quiet by stuffing her mouth with his cock.
"Her black lover then ordered me to beg him to cum on my face.
"I knelt before him to the laughter of all of her coworkers, jacking him off onto her face in front of all her coworkers.
"He ordered me to pull down my pants, revealing the lacy girl's panties I was wearing.
"Everyone knew I was a girlie boy and that my wife had a black lover."—subhub; e-mail
"My wife and I were on vacation in Florida. At night, in the hotel, I showed her a white miniskirt and top that I'd bought for her to wear out to the hotel bar. She wouldn't wear it and we had a fight about it. I got pissed and went to the bar by myself. After a strong drink, what do I see? Her! She comes in wearing the outfit, smokin hot, walks right past me and sits by a group of guys at the end of the bar, just to get back at me! When I came over sheepishly to apologize, she made a show of pulling off her panties and handing them to me. I had to stand there wearing her panties and watch while she fucked four strangers right there in the hotel bar."—on vacation; e-mail
"Cuckold Cavity Search with Bitch Abigail!
"Abi's Role Plays will leave you weak!
"Prison Abigail is the hottest prison guard you've ever seen! She'll cuff you and cavity search you with her fingers and a dildo, cause you're in jail for having the SMALLEST COCK EVER. When you're done, she'll fuck the big black prisoners in front of you, then let them gang rape you in the shower. The nightmare of your dreams, little man!"—Hot Girl; e-mail
Share cuckolding suggestions at contact00@RealSissySchool.com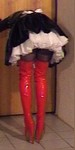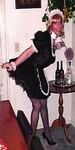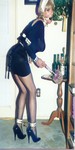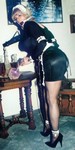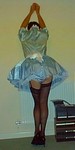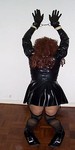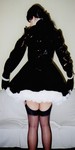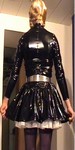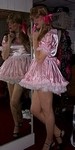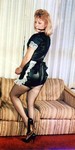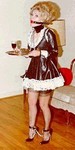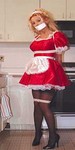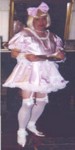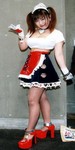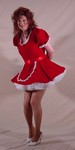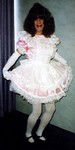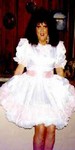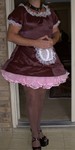 Pictures courtesy of Shemade Shemale: Access strictly forbidden to minors — © Carpe Diem — All rights reserved — All images presented on this are conform to French legislation : no images of anyone under the age of 18 are present on this access. Proof of age and majority as well as the running rights for the videos and photos are available at Carpe Diem's head office.

message to wealthy business person
You have an interest in sissies. You are wealthy. You are good at business.
I am creative (very creative). I am good at generating web traffic. You have found this website because with literally no money, I have made this one of the top sissy websites in the world. Entirely legally. No stolen material.
Anything sex or fetish related is a highly competitive field. Businesses spend millions of dollars a year in this field without achieving the results I have.
I need to team up with a competent business person (male or female) who has an interest in sissies and can fund good work and can run a business so that it makes plenty of money. Not looking for a boyfriend or girlfriend, but someone who sees the potential here and has a plan and the funds to make a profit ethically. No pop-up ads. None of the things that are annoying. Good, decent, ethical business.
If you think you can help achieve these goals, send a real letter to Candy, PO Box 5237, Balboa Island, California 92662, USA.


complete table of contents listing all dolls

some of the sources on the web:

transvestite sites

premium sites

specialty sites

discount sites

general sites

Shopping through these links may result in a small percentage of your purchase helping keep this site on the web.
(Some of the sites have tricky rules, so we don't always get a percentage, but it can't hurt to try.).
[ home ] [ toy info ] [ sorted by color ] [ sorted by material ] [ rabbits ] [ butterflies ] [ remote control ] [ strap-on harnesses ] [ dildoes ] [ double dildoes ] [ glass dildoes ] [ hands and fists ] [ vibrators ] [ massagers ] [ sleeves ] [ eggs and bullets ] [ clitoral stimulators ] [ waterproof vibrators ] [ anal probes and butt plugs ] [ beads ] [ breast pumps and nipple exciters ] [ balls ] [ erotic jewelry ] [ cock rings ] [ bondage ] [ lubricants, oils, and creams ] [ barriers ] [ hygiene ] [ erotic clothing ] [ transvestite items ] [ kits ] [ artificial vaginas ] [ male masturbators ] [ dolls ] [ penis pumps ] [ novelties ] [ DVDs ] [ videos ] [ books ] [ words ]

other
Copyright © 1999, 2000, 2001, 2002, 2003, 2004, 2005, 2006, 2007 RealSissySchool.com
Last Updated: November 15, 2007
Created: April 25, 2004
Based on material previously at AdultToyReviews.com
Author of this sissy lesson page: contact00@RealSissySchool.com
If you write, please label your message as "Sissy" to help separate it from SPAM (which gets tossed unread).