Birthday Surprise
Click on any doll box cover or product illustration for more details on that item.
My wife planned a very special surprise for my birthday. She promised to make my sissy dreams cum true.
While my cross dressing turns her on, she merely tolerates some of my fetishes. She'll go ahead and put me into bondage, she'll fuck my ass and mouth with a strap-on, she'll even sometimes masturbate with various toys while I fuck inflatable sex dolls.
But she draws the line at multiple partners.
I was thrilled by the great additions to my female fetish attire. I modelled every item she gave me, and continued to change clothes in sissy excitement all afternoon long.
As the sun set, she had me start getting dressed to go out clubbing.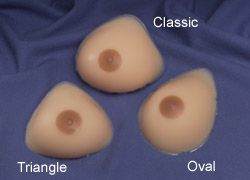 Transform Super Soft Breast Form
I put on my sexiest streetwalking prostitute clothes. Black leather shoes with six inch spike heels strapped and locked to my ankles, with a short hobble chain forcing short mincing sissy steps. Black rear-seam fishnet stockings held up by black lace garter belt and black lace and ribbon garters. A micro-miniskirt so short that my black lace panties flashed under the him as I walked. Tightly laced black satin corset. See through black lace bra showing off my very realistic custom molded DDD silicon breast forms. Over-the-top whorish make-up. My longest blonde wig, with blonde curly hair flowing to my butt.

My wife added to my fetish costume with a locking black leather collar that had a leather strap down my back to a pair of locked black leather wrist cuffs. It held my arms up near the small of my back in a more comfortable position than the traditional handcuffs, letting me know that I'd be locked up for many, many hours.

My wife put a modified ball gag into my mouth. She had custom modified a regular red ball gag by glueing the head of a realistic black dildo on the inside, forcing me to suck cock all night long.

To my surprise, she pulled down mp panties and pulled up the back of my skirt. With my hands up near the small of my back, there was nothing I could do to stop her. She squirted lube up my ass and then jammed in a big black realistic dildo butt plug. She patted my ass as she pulled my panties and skirt back into place.

I was double-fucked by black dildoes.And we hadn't even left home yet.

She helped me into the car and drive to a popular fetish club. Stuck in the long waiting line, she erotically rubbed herself against the front of my skirt, causing an obvious bulge from my erection. The doormen waved us to the front of the line and into the club.

My wife had me kneel beside her table, licking her pussy when she sat down to drink between dancing with many different guys. She flirted up a storm, and everytime she returned to the table her pussy was dripping wet with excitement.

And I was pretty turned on watching her flirt and dance with so many guys while I knelt in bondage at her table. But as much fun as that was, it wasn't nearly as exciting as closing time.

Over the course of the evening, my wife picked out two large macho black guys in studded black leather.

To my surprise, she invited them home. Seeing my shock, she told me that it was a special birthday gift for me.

When we got home, she led all three of us to the bedroom, where she put on an incredibly erotic strip-tease.
She put on her favorite strap-on and wagged the bright purple cock in front of my face. I was very embarassed and even more embarassed when she pulled the ball gag out of my to reveal that I'd been sucking on dildo cock all night long. She immediately replaced the gag with her strap-on dildo, urging me to suck like a sissy and show the men how much I enjoyed giving blow jobs, promising them they'd be next. She pulled my head to deep throat the dildo while she came.

She lifted me from my knees and grabbed my hips while forcing me to bend over. She pulled down my panties and lifted my miniskirt and pulled the black dildo out of my ass, commenting on how much I loved black cock.
My wife fucked my ass with her giant purple strap-on while each of the two black men took turns jamming their large black cocks into my virgin sissy mouth, shooting their loads down my sissy throat.
My wife jammed the butt plug back up my ass, pushed the ball gag with its dildo head into my mouth, adjusted my clothing, and had me kneel where I could see everything that happened next, as the two big black men double fucked her in every combination of all three holes, as well as titty fucking. The three of them went on for hours, as I knelt in a continual state of sexual arousal, unable to relieve myself by masturbating.
My wife scooted the edge of our bed and ordered me to crawl over and suck all of the men's cum from her full, cum-dripping pussy.
While I licked and kissed and sucked, one of the black men started running his hands over my ass and breasts, feeling me up. His attention eventually settled on my ass, which he slowly revealed, pulling down my sheer black lace panties. He shoved his huge erection into my virgin ass and pumped fast and furiously, ramming my head and mouth deeper into my wife's cunt.
He came with a roar, and was almost immediately replaced by the other man. They each took a second turn before my wife's wave of multiple orgasms signalled the end of the evening.
The men dressed, thanking both me and my wife for the sex, and left.
My wife released me from bondage, but turned down my request for sex, saying she was already fully satiated.
And then she revealed my birthday surprise -- a brand new Hustler Virtual Girl Living Foam Doll, the first American "foamy". She let me masturbate with the doll until sunrise. I came several times in all three Cyberskin holes and even tittie fucked her foam breasts a couple of times.
A sissy dream cum true.
To be continued…
if you like this site:
Please support this web site by:
Share your erotic stories (submit to contact00@RealSissySchool.com).
Bookmark this site and use our links if you purchase from one of the stores listed below.
Add a link to this site on your web page <a href="http://www.RealSissySchool.com/">RealSissySchool.com</a> .
Table of contents of toys
Complete table of contents of dolls
Complete list of bondage gear

[ complete table of contents ] [ feature by feature comparison ]
[ home ] [ the inflatable doll experience ] [ price comparison ]


other
Gay and Lesbian Marriages in California

some of the sources on the web:

transvestite sites

premium sites

specialty sites

discount sites

general sites

Shopping through these links may result in a small percentage of your purchase helping keep this site on the web.
(Some of the sites have tricky rules, so we don't always get a percentage, but it can't hurt to try.).

code word xzqj79
Copyright © 2002 contact00@RealSissySchool.com
Last Updated: December 1, 2002
Created: December 1, 2002
Author of Birthday Surprise page: contact00@RealSissySchool.com
If you write, please label your message as "Sissy Fiction" to help separate it from SPAM (which gets tossed unread).

[ main toy home page ] [ rabbits ] [ butterflies ] [ remote control ] [ strap-on harnesses ] [ dildoes ] [ double dildoes ] [ glass dildoes ] [ hands and fists ] [ vibrators ] [ massagers ] [ sleeves ] [ eggs and bullets ] [ clitoral stimulators ] [ waterproof vibrators ] [ anal probes and butt plugs ] [ beads ] [ breast pumps and nipple exciters ] [ balls ] [ erotic jewelry ] [ cock rings ] [ bondage ] [ lubricants, oils, and creams ] [ barriers ] [ hygiene ] [ erotic clothing ] [ transvestite items ] [ kits ] [ artificial vaginas ] [ male masturbators ] [ dolls ] [ penis pumps ] [ novelties ] [ DVDs ] [ videos ] [ books ] [ words ]
[ complete table of contents ] [ feature by feature comparison ]
[ home ] [ the inflatable doll experience ] [ price comparison ]