Sissy Ball
Click on any doll box cover or product illustration for more details on that item.
I so enjoyed the Fall Sissy Ball.
A sissy ball is a dance where all attendees must wear some kind of skirt (a dress or gown is acceptable), panties, brassière, stockings (not pantyhose), and high heels (shoes or boots) and bring an inflate-a-date (any kind of latex or vinyl inflatable doll). Additional feminine finery and lingerie is common. Bondage gear is optional. Mostly transvestite guys, but there are also genuine girl sissies.
During the course of the evening, each sissy dances with, entertains, and makes out with her inflate-a-date. And there is a lot of swapping, where sissies exchange dolls for a dance and grope session. Of course, you have to treat the dolls of others with respect. You can't damage someone else's doll or do something that shortens the useful life of the doll. And no ripping or tearing or breaking parts. And, of course, no deposit of body fluids.
At the end of the evening, when all of the sissies are at a sexual fever pitch from hours of sissy foreplay, everyone fucks their own doll. Multiple times. Using any and all available holes.

Anyway, I attended to the Fall Sissy Ball dressed as a French maid in bondage, a common theme. At least one third of the sissies in attendance came as a French maid in bondage. It's a popular costume because it is just so damned sexy.

The doll I brought was the Spread Eagle Doll. Not a really fancy doll, but she's got the slut in heat image going all out. Her legs are spread wide open. She isn't just be peacefully sleeping like the traditional love doll. She is clearly positioned for sex.
Her bright pink vinyl pussy is laid wide open and surrounded by a bright patch of printed pubic hair, calling attention to her naked hot and ready twat.
Her huge jumbo plastic tits are so much sexier than the small little titties typical of inexpensive dolls. These are soft enough to be squeezable, big and round, with always erect bright pink suckable nipples.
Her face is the classic open mouthed Bavarian school girl, with bright red lipstick, blue eyeshadow, thick black eyeliner, bright blue eyes, rosy rouged cheeks, and bright yellow hair in pigtails tied off with little lavender ribbon bows.
She also has printed sexy lingerie: black fishnet stockings, black lace crotchless panties, and black leather open breasted bra.
The Spread Eagle Doll is clearly the sluttiest inflatable doll available (well, also Nadia, the Russian Love Doll, which is the same doll in a different box).
And she snuggles up nicely against her sissy, her spread eagle legs wrapping around your waist or hips, her arms hugging you, her big breasts rubbing erotically against your body.
You can dance with her, snuggle and kiss, feel her up, sit down with her — she's a lot more convenient for handling at a sissy ball than a traditional inflatable doll.
I wore a dozen pairs of panties (I'm a sissy — I really like panties), the outermost pair being black satin sissy panties, brief style with white lace around the leg openings and rows of white lace on the ass and internal hip and bun pads to give a womanly hip shape. My huge D-cup silicon breasts were held into place by a frilly black lace brassière. My waist was slimmed into a womanly hourglass figure with a tightly laced black satin corset. My black rear seam fishnet stockings were held up by a lacy black feminine garter belt and lacy white garters with cute little white bows. My black high heel shoes had extreme six inch spike heels.
My French maid dress was a cute little black satin number, with very low cut collar to show off my cleavage and very short skirt trimmed in white lace that showed off glimpses of my pretty sissy panties with every move. I wore a blonde wig with long, curly tresses and lots of feminine make-up.
The sissy ball was held in an elegant room with mirrorred walls and silver chandeliers with real candles burning. All of us sissies could admire ourselves and each other in an elegant, feminine setting.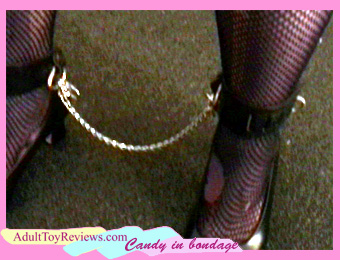 My leather-cuffed ankles were locked together on a short bright silver metal chain, forcing me to mince step around.
I held my spread eagle slut doll snuggled up against my left hip as I mince stepped across the hard wood floor, swaying my big padded sissy ass and bouncing my jumbo silicone titties, my inflatable fuck doll rubbing against my padded hip with every sissy step.
I swayed my frilly panty covered ass like a sissy in heat.
I sashayed to the servant's table and a grand silver tray. A sissy maid was already on duty to freshly fill the champagne glasses. With my free hand, I held out a glass, into which the sissy maid poured a small amount of bubbly champagne.
My fellow sissy maid giggled, "oh, thank you, just a sip for me, don't want to get tipsy."
I held the glass to her bright red lipsticked lips and she gratefully drunk her two sips.
Because a sissy maid has no free hands (one arm occupied by holding an inflatable fuck doll and the other holding something to serve), a sissy maid relies on others to partake of the goodies. A sissy maid had best serve well to get the privilege of sipping champagne or being fed little imported chocolates.
I picked up the silver serving tray with my free hand. A tray of fresh fruit and champagne glasses balannced on my right hand.
A sissy princess in a <royal purple sissy dress signalled from across the room.
The sissy princess carried a Hustler Virtual Girl Living Foam Doll. Her deluxe doll was against the rules, but she was a princess, so as royalty she was above the rules.
I sashayed all the way across the room as fast as I could mince step with my legs in ankle bondage on a short metal chain, my lacy panty covered ass peaking out from under my ultra short sissy maid lace trimmed skirt and my fleshy fake tits bouncing and jiggling out the top of my low cut lace trimmed black satin French maid dress.
I curtsied and presented my tray.
"What took you so long?" she demanded. "If you want to serve my highness, then you need to do a better job than that."
You know how picky a sissy princess is — they can feel a single pea through 20 mattresses.
I curtsied again, deeper, and apologized., "yes, princess."
I was honored that a sissy princess would select me to serve her. I held out the silver tray and she picked up a champagne glass, then gestured to her friends.
"Serve my court champagne, but then hurry and fetch us chocolates."
Our dolls rubbed against each others as I mince stepped from guest to guest, offering each sissy a glass of bubbly champagne.
To be continued…
if you like this site:
Please support this web site by:
Share your erotic stories (submit to contact00@RealSissySchool.com).
Bookmark this site and use our links if you purchase from one of the stores listed below.
Add a link to this site on your web page <a href="http://www.RealSissySchool.com/">RealSissySchool.com</a> .
Table of contents of toys
Complete table of contents of dolls
Complete list of bondage gear

[ complete table of contents ] [ feature by feature comparison ]
[ home ] [ the inflatable doll experience ] [ price comparison ]


other
Gay and Lesbian Marriages in California

some of the sources on the web:

transvestite sites

premium sites

specialty sites

discount sites

general sites

Shopping through these links may result in a small percentage of your purchase helping keep this site on the web.
(Some of the sites have tricky rules, so we don't always get a percentage, but it can't hurt to try.).

code word xzqj71
Copyright © 2002 contact00@RealSissySchool.com
Last Updated: October 5, 2002
Created: October 5, 2002
Author of Sissy Ball page: contact00@RealSissySchool.com
If you write, please label your message as "Sissy Fiction" to help separate it from SPAM (which gets tossed unread).

[ main toy home page ] [ rabbits ] [ butterflies ] [ remote control ] [ strap-on harnesses ] [ dildoes ] [ double dildoes ] [ glass dildoes ] [ hands and fists ] [ vibrators ] [ massagers ] [ sleeves ] [ eggs and bullets ] [ clitoral stimulators ] [ waterproof vibrators ] [ anal probes and butt plugs ] [ beads ] [ breast pumps and nipple exciters ] [ balls ] [ erotic jewelry ] [ cock rings ] [ bondage ] [ lubricants, oils, and creams ] [ barriers ] [ hygiene ] [ erotic clothing ] [ transvestite items ] [ kits ] [ artificial vaginas ] [ male masturbators ] [ dolls ] [ penis pumps ] [ novelties ] [ DVDs ] [ videos ] [ books ] [ words ]
[ complete table of contents ] [ feature by feature comparison ]
[ home ] [ the inflatable doll experience ] [ price comparison ]