Transformed Into a Sissy Cockwhore Cumslut
By Sissy Slut Crystal
It is strange where one's desires can lead one. Take me as an example. Always entirely enamored of, infatuated with and completely submissive to all things feminine, a true devotee of Female Supremacy, my lifelong fantasy has always, since before I can remember, been to find a position as the submissive sissy maid and sex slave of a commandingly beautiful, dominant Goddess, spending virtually all of my time that was not devoted to domestic duties with my sissy face, mouth and tongue smothered by and buried in the delicate, sweet, pungent pussy and ass of my Owner/Mistress and/or any of Her dominant lady friends.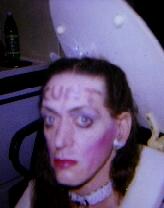 Well, I have found the Owner/Mistress of my dreams, but things from there on did not turn out exactly as I had fantasized they might.
I have now become transformed into the stereotype of the sleaziest, trashiest, sluttiest female slut one could even fantasize, and I am being aggressively pimped out for free by my Mistress to any who want to use, abuse, humiliate and degrade me.
So far all of the takers have been men, predictably enough, and the only sex I have had for months going on into years has been with men, all of them total strangers who, by arrangement with Mistress, drop by my house to have their way with me — fuck me in the face and in the ass, cum and piss all over my face and in my mouth, slap me around, verbally humiliate and degrade me, then leave, dropping me wet, sore and sobbing on the floor in a disgusting, wet, sticky pool of spit, cum and urine.
cock sucking toilet slave anal sex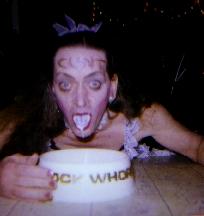 On occasion Mistress has allowed me to organize and host for Her amusement bukkake-style gangbangs, in which as many men as possible are invited to come over and fuck me and make me suck them off, cumming all over me and in my mouth, and having me collect all their cum in a bowl, which I must then, when they are all done, eat the entire contents of with a spoon, in front of any who care to stay to watch. Often these sessions are captured on video, too, which Mistress then sells on the internet to augment my tribute to Her and to enhance my total, abject, public humiliation and debasement.
Mistress and I live rather far apart, and I am not able to serve Her in person very often (She has slaves from all over the world who come to serve and worship Her), but She says that She gets almost as much pleasure from just whoring me out from afar as from me serving Her in person, and She definitely seems to get great pleasure from listening on the phone while some total stranger rams his big, hot manly cock repeatedly down my throat, choking and gagging me with his strong, throbbing dick, or roughly rams it up my tender ass, making me moan and whine to the rhythm of his insistent fucking, then dumps his hot, sticky load all over my pathetic, worthless sissy face and in my lowly, humble cumsucking whore's mouth, and leaves me to wallow in a messy mixture of my own tears of shame, humiliation and embarrassment and his salty, gooey sexual effluent, as he waltzes off on his merry way.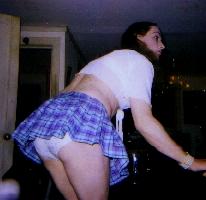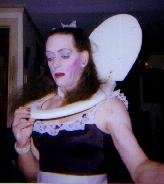 Lately, Mistress has been threatening to make me get all done up in my sluttiest french maid or slutty schoolgirl outfit on garbage day, and go out and seduce the garbagemen, inviting them in to fuck me in the face and ass and cum all over my face and in my mouth. She even talks about making this a standing invitation, whenever they stop by on their route, to pop inside for a quick, nasty fuck and suck. I am afraid that I will start getting garbage pickup every day of the week.
This story just goes to demonstrate the truth of the old adage, "Be careful what you wish for, you just might get it!" I have gone from wishing with all my heart and with all my soul to become the total, obedient, sissy slave of a beautiful, dominant Goddess, and I have gotten that wish, for which I am eternally greatful, but the ironic twist is that, in becoming Her slave, I have become what I never thought I would have, or would have wanted to become, a sissy faggot cocksucking cumslut whore.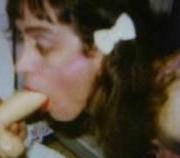 Mistress is so clever, subtle and adept at psychological manipulation that She never even had to ask, muck less command me to start whoring myself out as a sissy cumslut, but rather She directed the entire flow of the years of my servitude to Her to the point where I willingly, imagining it to be on my own initiative and of my own volition, started whoring myself out to total strangers for Her pleasure and amusement.
A simple but effective technique that She used to gradually influence me willingly to offer myself to Her as a sissy, cocksucking fag whore was to strictly control my orgasms, absolutely forbidding me ever to cum except when there was a dildo or a real cock in either my mouth and/or my ass, or else by jerking off into my own mouth. Surprisingly quickly (demonstrsating what a nasty, sissy fag slut I really am) I became habituated to this, and learned to associate sexual pleasure with servicing a hot, hard, throbbing cock, and I may now have become one of the nastiest, sleaziest, horniest whores on the planet.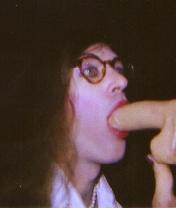 As a further extension of Her turning me into a remorselessly insatiable cockwhore, Mistress sees to it that I virtually always have a dick both in my mouth and up my ass. I have a huge eight inch dildo which I am required to stick up my ass, strap in as a butt plug and wear all day every day, at work and play, and I am required to spend at least an hour a day fucking it wildly while sucking deeply and madly on another dildo of equal size, to ensure that I am always in practice as a fuck and suck toy in case Mistress wants anyone to come by and use me.
Additionally, whenever I am at home I must wear a cock gag, and She has even made me devise an entirely internal cock gag from the end of a dildo which I must keep in my mouth whenever possible, even out in public, even at work, so that often when I encounter people from my straight life, I am confronted with the humiliation of looking them right in the face knowing that my sissy ass is plugged with a huge artificial cock and my mouth is stuffed with a little toy penis to remind me of who and what I am; a filthy, nasty, dirty-minded little sissy faggot cockwhore and cumslut.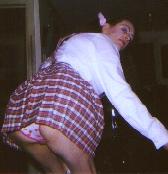 As an added favor, Mistress is always teasing me about how much money She could be making off of me if She were to whore me out for money, but She says that since She knows how much I love being humiliated and dominated by Her, She does me the kindness of pimping me out for free, to remind me of my utter chapness and worthlessness, and underscoring Her total domination and merciless humiliation of me.
With hormone therapy, my breasts are developing nicely, and I am pretty sure that several of the men who have used me, especially recently, have left totally unaware that it was not a genetic girl that they had just ravaged.
Most frightening of all, I have recently heard murmerings from Mistress about having my sissy clitty removed and an artificial pussy installed, so that I can be fucked by one more guy at a time!
Yes indeed, it all comes back to the same old hackneyed line; "Be careful what you wish for, you just might get it!"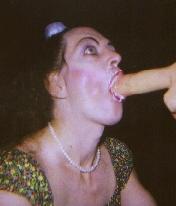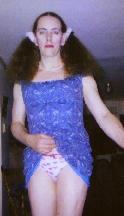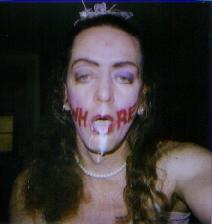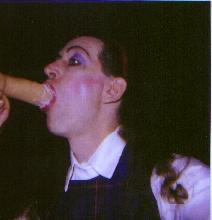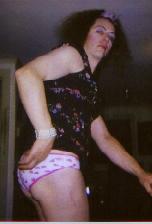 http://community.webtv.net/cockadoodledoer/Crystal
if you like this site:
Please support this web site by:
Share your erotic stories (submit to contact00@RealSissySchool.com).
Bookmark this site and use our links if you purchase from one of the stores listed below.
Add a link to this site on your web page <a href="http://www.RealSissySchool.com/">RealSissySchool.com</a> .
Table of contents of toys
Complete table of contents of dolls
Complete list of bondage gear

[ complete table of contents ] [ feature by feature comparison ]
[ home ] [ the inflatable doll experience ] [ price comparison ]


other
Gay and Lesbian Marriages in California

some of the sources on the web:

transvestite sites

premium sites

specialty sites

discount sites

general sites

Shopping through these links may result in a small percentage of your purchase helping keep this site on the web.
(Some of the sites have tricky rules, so we don't always get a percentage, but it can't hurt to try.).

code word xzqj98
Web Page Copyright © 2005 contact00@RealSissySchool.com; story and pictures courtesy Sissy Slut Crystal
Last Updated: January 27, 2005
Created: January 27, 2005
Author of Transformed Into a Sissy Cockwhore Cumslut story: Sissy Slut Crystal; reprinted with permission.
If you write, please label your message as "Sissy Fiction" to help separate it from SPAM (which gets tossed unread).

[ main toy home page ] [ rabbits ] [ butterflies ] [ remote control ] [ strap-on harnesses ] [ dildoes ] [ double dildoes ] [ glass dildoes ] [ hands and fists ] [ vibrators ] [ massagers ] [ sleeves ] [ eggs and bullets ] [ clitoral stimulators ] [ waterproof vibrators ] [ anal probes and butt plugs ] [ beads ] [ breast pumps and nipple exciters ] [ balls ] [ erotic jewelry ] [ cock rings ] [ bondage ] [ lubricants, oils, and creams ] [ barriers ] [ hygiene ] [ erotic clothing ] [ transvestite items ] [ kits ] [ artificial vaginas ] [ male masturbators ] [ dolls ] [ penis pumps ] [ novelties ] [ DVDs ] [ videos ] [ books ] [ words ]
[ complete table of contents ] [ feature by feature comparison ]
[ home ] [ the inflatable doll experience ] [ price comparison ]