Friday Night Sissy Maid
Click on any doll box cover for more details on that doll.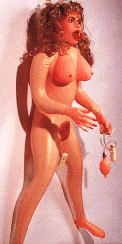 I am a Friday night sissy maid. After a week of hard work, I relax by dressing up in a sissy maid costume and pleasuring my wife. While she is out dancing with her friends, I am dressed up as a sissy and playing with inflatable dolls. My wife isn't thrilled by my sissy play, but this arrangement for a once a week indulgence works for us. But this last Friday was different.

It started out like any other Friday night sissy maid session. I got home from work and took a quick shower and a short nap. I was tired from a hard week at work and slept longer than usual. My wife had already dressed and left with her friends for a night od dancing on the town.

I started by closely shaving my face. Getting rid of beard lines requires much closer shaving than the usual morning shave. And the skin of the face needs at least an hour to heal before makeup is applied. So, I always start with a very close shave of my face.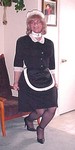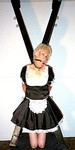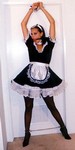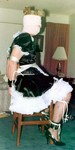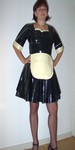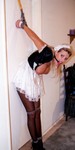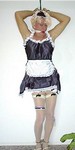 I follow this by shaving my legs. This takes a while, but I get high on marijuana and the time passes pleasantly.

Once my legs are shaved, I have a couple of enemas to completely evacuate my colon. An important part of the sissy experience is having a large thick realistically molded balck dildo butt plug up my ass. In addition to plenty of lubrication, it is important that the colon be clean for the experience to be pleasant.

Once I am cleaned out internally, I take an herbal bubble bath. This not only fills out the hour required between shaving and makeup, but also is a very pleasant experience in itself. And it leaves me smelling sissy floral fresh.
I carefully apply makeup to create the classic sissy slut look: a good solid foundation with bright red blush on my cheeks and long fake eyelashes and gaudy colorful eye powder with eye glitter and plenty of thick black mascara and bright red glossy lipstick for full pouty sissy lips.


Once I have the sissy slut makeup applied, I start working an eight inch realistically molded black dildo buttplug in and out of my sissy ass until it is comfortably seated deep in my ass.
I then put on 18 pairs of panties. All colors and designs of panties. Beautiful panties are an important part of the sissy maid experience.

I add half a dozen bras of different colors and designs, both front and rear clasp models. And in the last brassière I insert a couple of silicon breast forms, giving me an exciting 44 DDD bust line.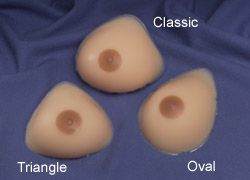 Transform Super Soft Breast Form
I then put on two pairs of stockings. The inner pair is sheer black stockings, while the outer pair is black feshnet stockings with rear seam and pretty black bow. These stockings are held up by a pair of black lace garter belts and a pair of black and white lace garters.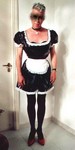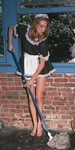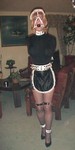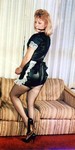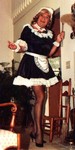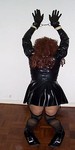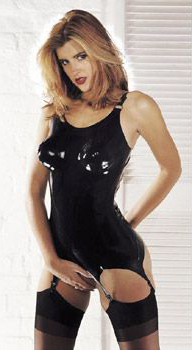 Next comes a custom made black lace corset that tightens my waist down to a girlish 24 inches. I then add six more pairs of panties, bringing the panty total to an even two dozen (so sissy!). The outermost pair of panties is a custom made pair of black satin sissy panties. These are black satin sissy briefs with white lace around the leg openings and seven rows of white lace on the ass and both hip and bun pads to fill me out to a womanly 38 inch hips with womanly shaped ass.

I then put on a beautiful custom made sissy maid dress. It is black satin with extremely low cut bust line and very short skirt (so that my stocking tops show and my sissy maid panties get flashed every time I walk or bend over). The sleeves are short, with puffy shoulders, and white lace around the arm openings, neck opening, and hem of the skirt.
Next comes a white satin maid's apron trimmed with white lace, black high heels with six inch spike heels and locking ankles, and black fishnet fingerless arm-length gloves. I place a blonde wig with cascades of long blonde curls on the top of my head and top things off with a white satin and lace maid's hat.

Now that I am dressed, I start the sissy bondage. I lock on a thick black leather posture collar to my neck, two inch black leather wrist cuffs, three inch black leather ankle cuffs, and black leather waist belt. Bright metal chains run between the ankle cuffs and between the wrist cuffs, with another bright metal chain running from the collar, through the waist belt, and down to the chain between the ankle cuffs. And of course a bright red ball gag with a black realistically molded cock head glued on the inside, leaving me locked into double dildo bondage, a black rubber cock buried in my sissy ass and another one filling my sissy mouth. All topped off with a generous dose of flowery sissy perfume.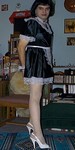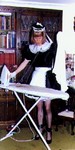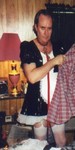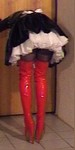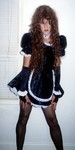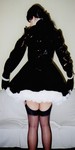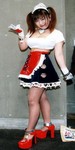 As usual, I smoke pot through the whole process, but once I am dressed I can really relax into the high of premium quality California marijuana.
And I light candles and burn incense and play hot dance music to set the mood.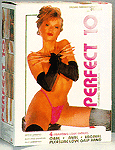 Because I got to such a late start this particular Friday night and was expecting my wife home soon, I decided to lock myself into frottage with an inflatable doll and wait for my wife to come home and rescue me to finish up my sissy play and pleasure her after she has gotten all hot and wet from a night of dancing with her friends.

I picked out the Perfect 10 Deluxe Fantasy Love Doll, a very realistic doll with molded feet and toes, molded hands and fingers, full mannequin head with tongue and deep throat mouth and long red hair, jumbo sized molded tits with erect nipples, vibrating molded anus and vagina with realistic lips and clitoris. In addition to being a deluxe doll with all the important parts, the Perfect 10 Deluxe Fantasy Love Doll also has extra thick plastic skin and can support the weight of a sissy.

I put the Perfect 10 Deluxe Fantasy Love Doll on her back in the living room and kneeled in front of her. I locked my wrists together behind my back to a chain that ran to a metal ring on the back of my collar, and then slowly laid down on top of the inflatable doll.

I was in strict bondage and couldn't get back up without my wife's help. I could only dry hump the doll through the black satin sissy maid dress and the two dozen pairs of panties, while the thick eight inch realistically molded black dildo churned in my sissy ass and I sucked on the black dildo cock head in my sissy mouth.

I was really getting into the bondage, being quite turned on, my sissy erection rubbing against the molded pussy of my Perfect 10 Deluxe Fantasy Love Doll, but unable to get enough stimulation to bring myself to orgasm. I was particularly turned on by the idea of my wife returning home from dancing and finding me all dressed up in a sissy maid costume and dry humping an inflatable doll.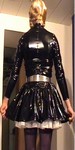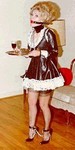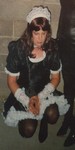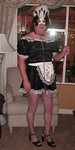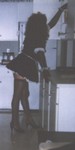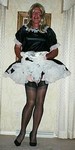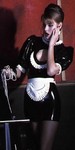 My reverie was broken by a loud knock at the front door. I froze in place, not wanting to make a sound, hoping that whoever it was would turn around and go away. I didn't know who it was, but I wasn't expecting any visitors and sure didn't want a neighbor to find me in full sissy fetish.
The knock repeated, louder and was accompanied by a deep black male voice calling out. My heart was racing and I was as still as I could be.

My fear rose when I heard another male arrive at the door and enter into a conversation with the first visitor. A different male voice called out my name in a thick Spanish accent and claimed that my wife had said to let them in. I was very frightened of impending discovery. Only my wife had ever seen me in sissy maid's costume playing with inflatable dolls and surely she wouldn't reveal my secret to strangers.

The knocking at the door continued and I could make out the two male voices speculating on whether or not anyone was home. Then I heard someone in the bushes and looked up to see two men staring in the window through the crack in the living room curtains. They broke into hysterical laughter upon seeing a sissy maid on top of an inflatable doll.

About this time, my wife arrived and unlocked the door. She entered the living room and joined into the laughter, pointing at me, and explaining to the men that this was why she needed macho men to give her what she really needed.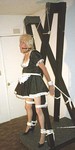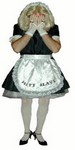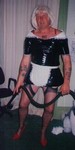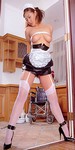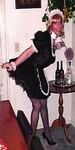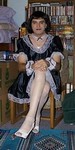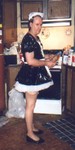 My wife helped me to my feet. I wanted to run from the room, but she told me to pick up my inflatable doll and place her in a chair, then sent me to the kitchen to fetch her guests a couple of beers. When I returned, she was making out with both of them on the living room couch.

As I served the two men their beers, there was another knock at the door. My wife laughed and said that should be the final man for her three-way and I should be a good little sissy maid and let him in. I went to the door and let in a Chinese man. He laughed at my sissy maid costume and pinched my ass as I went to the kitchen to get him a beer.

My wife told me to make out with the new arrival so that he wouldn't feel left out while she was kissed and fondled by the other two men. The Chinese man fondled me like I was a little girl.

My wife announced that I should learn something about kissing from her "hot Latin lover". She pointed out the key to my gag and he unlocked the gag from my head, revealing the realistic black dildo cock head that had been inside my mouth. Again, the men laughed at me and my sissyhood.
The Hispanic man started kissing me, his hands roaming over my sissy ass and silicon breasts, his tongue probing my sissy mouth.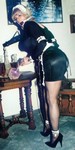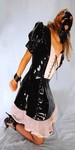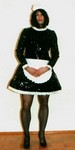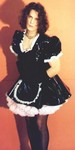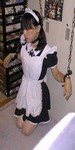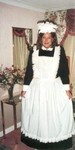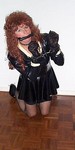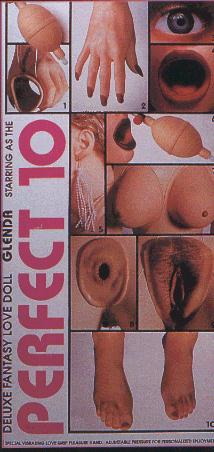 Soon the Hispanic man grew tired of kissing and fondling a sissy and I was ordered to fondle and kiss my Perfect 10 Deluxe Fantasy Love Doll, imitating the example of the three men making out with my wife. As they fondled and kissed my wife's breasts, I fondled and kissed my Perfect 10 Deluxe Fantasy Love Doll's breasts. As they fondled and kissed my wife's thighs and pussy lips, I fondled and kissed my Perfect 10 Deluxe Fantasy Love Doll's thighs and pussy lips.

The Black man came over and stuck his huge black penis in my face and demanded that I service him orally because my gag proved that I wanted his black cock. I'd never sucked an actual cock before and didn't want to, but when he slapped me a couple of times I realized that I had no choice. He shoved his huge cock into my sissy mouth and then grabbed the back of my head and started pumping my mouth up and down on his cock until he exploded, filling my mouth with cum. He kept cumming and cumming, and as much as I tried to swallow, cum spilled out of my sissy lips and down my sissy chin.

As soon as he finished, the Chinese man stuck his cock into my face. He took his time, instructing me on how I should lick and suck and training me to be a better cocksucker. By the time he came, the Hispanic man had cum in my wife's mouth and the Black man was repeatedly bringing off my wife by eating out her pussy. The Hispanic man came over and made me give him a blow job.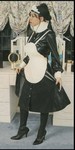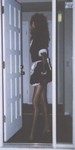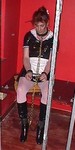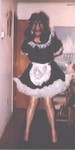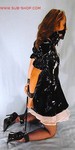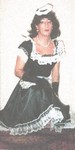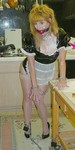 Now that I had brought off all three men orally, my wife came over and dug my sissy cock out of my sissy panties. She and the three men laughed at how much smaller my sissy cock was than their manly cocks. My wife locked the ball gag back into my sissy mouth.

My wife told me that I could get off with my Perfect 10 Deluxe Fantasy Love Doll while she had a three way with real macho men. Once they got started, they ignored me and left me to my doll.

The Black man slipped his huge cock into my wife's pussy while she sucked off the Chinese man. The Hispanic man lined up at her rear and the three way was on. As the men came, they changed positions.

At first I just watched the three men with my wife, ashamed to be dressed up in a sissy maid's costume holding an inflatable doll. But I got nice and hard watching and started fucking my Perfect 10 Deluxe Fantasy Love Doll's soft molded pussy. I came several times with my inflatable doll, a realistic dildo in my ass and in my mouth, while my wife had sex in many different positions with various combiantions of two and three men. The three men came in her ass, mouth, and pussy, as well as on her breasts.

Once my wife was thoroughly satisfied, the men turned their attention back to me. The gag was unlocked from my mouth and all two dozen pairs of panties were pulled down and the huge black dildo yanked from my ass. I was forced to service the three men two at a time, orally and anally until they were fully satiated.
They finally left, laughing at me and promising my wife to go dancing again with them next Friday.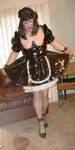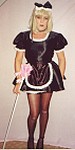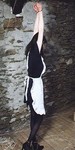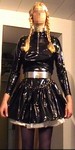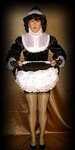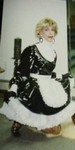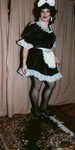 if you like this site:
Please support this web site by:
Share your erotic stories (submit to contact00@RealSissySchool.com).
Bookmark this site and use our links if you purchase from one of the stores listed below.
Add a link to this site on your web page <a href="http://www.RealSissySchool.com/">RealSissySchool.com</a> .
Complete table of contents of dolls
Complete list of bondage gear

[ complete table of contents ] [ feature by feature comparison ]
[ home ] [ the inflatable doll experience ] [ price comparison ]


other
Gay and Lesbian Marriages in California

some of the sources on the web:

transvestite sites

premium sites

specialty sites

discount sites

general sites

Shopping through these links may result in a small percentage of your purchase helping keep this site on the web.
(Some of the sites have tricky rules, so we don't always get a percentage, but it can't hurt to try.).

code word xzqj48
Copyright © 2001, 2002 contact00@RealSissySchool.com
Last Updated: July 31, 2002
Created: April 28, 2001
Author of Friday Night Sissy Maid page: contact00@RealSissySchool.com
If you write, please label your message as "Sissy Fiction" to help separate it from SPAM (which gets tossed unread).