Transvestite Whore
Click on any doll box cover or product illustration for more details on that item.
create personalized copy of this story
A year ago I was a straight guy with an ordinary sex life. This year I am a crossdressing hooker working the streets of West Hollywood. If there is a lesson to my story, it is to be careful what you experiment with, because you might end up being transformed into a tranvestite prostitute like me.
It all started with a brief experimentation in cross dressing. One Friday night I dressed up in slutty women's clothing.
It took a few hours to get transformed, but I did look hot. Very hot.
I started by shaving the hair off most of my body. Shaved my legs. Shaved my chest. Shaved my underarms. Shaved my face (very closely so that there would be no hint of a beard). I pretty much shaved everywhere except for the hair on the top of my head and my eyebrows (although I did shape my eyebrows to make them look more feminine).
I shaped my body into a feminine form with a tightly-laced corset and strategic padding.
Deluxe silicon breast forms affixed with surgical glue filled out my chest to a busty 44 DDD. Latex transvestite panties with hip and bun pads expanded my hips and ass to a womanly 38 inches — and they featured a hole over my anus and a pussy hole complete with molded vaginal lips and clitoris, covering up my cock and balls and leaving a realistic outline of a girl's cunt pressed against my panties.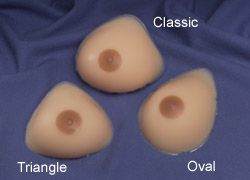 Transform Super Soft Breast Form
A black leather corset tightened my waist down to a waspish 24 inches. This was not just any black leather corset. This was a frilly sissy corset. Between the heavy boning sewed into the corset and the strength of the supple black leather, tight lacing tamed any waist into an exaggerated hourglass form. The corset was trimmed in feminine black lace with a sexy rose themed design. Four black leather garter straps (also trimmed in black lace) hung down. After I'd put on my panties, I imagined a beautiful, sexy woman with a strap-on yanking down my panties to fuck me in the ass. Little did I realize that it'd guys — lots of guys — who'd be fucking me in the ass.
The next step in my transformation was overdone whorish makeup: a foundation of liquid makeup to give a tanned complexion and soft powder compact to set it in place, long fake eyelashes, thick black mascara, thick black eyeliner, three shades of blue eyeshadow, bright pink rouge, and shiny red lipstick. The make-up was topped off with a long blonde wig with cascades of wavy blonde slut curls. The classic street-walker look.
I couldn't get over how sexy I looked. I watched myself in a full length mirror while preparing myself and kept stopping to see how hot and sexy I looked as an exaggerated slut bimbo with huge tits, big bubble butt, narrow waist, and even fat juicy pussy lips. I was so turned on by what I saw, I'd have gladly jumped my own bones if it was possible.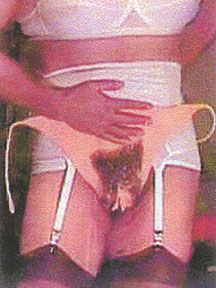 Vee-String Female Vagina Prosthesis
I discovered that if I dug my fingers into my vinyl cunt like a crazed bitch in heat, I could jerk myself off to climax. It was so hot, because when I looked in the mirror, I didn't see a guy. I saw a hot sexy slut fingering herself without any visible traces of a cock. I danced and strutted before the mirror like the hottest sexiest biggest titted exotic dancer at a strip joint. I wished I had a stripper's pole to grind and hump against. Little did I realize that soon I'd be working as a cocksucking stripper whore in one of the worst dives in all of south central L.A. — not to mention working long weekends as a hooker in Tijuana.
Next I dressed up in my most shocking hooker's outfit: tight black leather miniskirt with bright pink lace panties showing underneath the too short skirt, bright pink fluorescent tube top, black fishnet stockings, bright purple lace garters, and black leather six inch spke high heels, all topped with "big hair" blonde wig. And a dousing of cheap, flowery perfume.
I looked hot. Very hot. Very, very hot.
I swished around in front of a full length mirror, admiring how hot I looked. Not only did I look like a woman (even I couldn't see any signs that I was actually a guy), but I looked like an amazingly hot trashy tramp.
I looked so hot that I wanted to try out my look in public and see what kind of reaction I got. I know, foolish mistake, but I was naive.
It was fairly late at night and there wasn't much activity, so I figured I could slip out the back door and onto the street without being noticed by my neighbors.
It was nerve-wracking sneaking out. One neighbor taking out the trash at the wrong moment and I'd be exposed. But I got out safely without being spotted.
Once out on the street, it was invigorating. I sashayed my way toward the local convenience store. I became sassier and sassier as I walked. I put the wiggle in my walk.
The feel of the cool night air swirling around my bright pink lace panties and short tight black miniskirt. My hips swinging and swaying, working my panty covered ass. The whorish click-clack of my six inch spike high heels. My huge 44 triple-D titties bouncing and straining against the flimsy pink lace of my tight hooker's fluorescent pink tube top. The silky smoothness of my black fish-net stockings. Walking down a concrete sidewalk beside a public street. I thrilled and excited by the street-walker experience.
My reverie was broken my the sweep of headlights. I froze in place, glanced over my shoulder, and spotted a car approaching from behind. I frantically looked around for some place to hide, but there were no convenient hiding places and I didn't want to get caught lurking around in drag on someone else's front lawn.
I realized my only choice was to play it through. I resumed my sexiest streetwalking strutting. The car slowed down a short distance behind me, sending my heart into my throat.
Four college guys rolled down their windows and started whistling and cat-calling and I glowed with the combination of embarassment at my predicament and excitement of feeling the real street-walker experience. I stuck out my tits and ass and gave them the sluttiest show I could. As they drove away, I lifted my tube top and flashed them my huge buxom breasts to a last round of shouts and horn honking.
I was pumped with adrenalin. What a rush! I'd be masturbating like a she-banshee in heat when I got home.
A I saw headlights ahead and emboldened by my first experience, I slutted it up to the max, primping my long blonde hair, shaking my tits and ass, and striking the most outlandish hooker poses. The anonymous driver slowed down, rolled down his window, and whistled appreciation. I bent over and waved my ass in his face, making sure he could see the outlines of my vinyl pussy against the tightly stretched fabric of my pink lace panties. I luridly fingered my fake twat, then sensually sucked my finger with my bright red pouty lips.
To my horror, the big black man screeched to a halt and motioned me over, asking "whad up white bitch?" I shook my head "no", afraid my voice would reveal me as a guy, but he was persistent and I finally had to say "no" outloud.
The black stranger was persistent, urging me to his car.
I stood transfixed on the sidewalk, afraid to run, afraid to stay, wanting to melt and disappear into the sidewalk. I meekly said "no" outloud.
The large black man realized that I was a guy in drag and reacted with hot anger, hurling a series of abusive comments at me. But he was already way turned on and that overrode his anger at having been fooled and he started propositioning me again, his offers turning into begging.
The comment that finally intrigued me was "I've never been with a white boy before." I don't know why that particular comment intrigued me, but it did.
I hesitantly stepped off the curb and into the street and the movement was so essentially whorish that I slipped back into the street-walker fantasy. By the time I reached his car, I was back into full slut strutting.I leaned into his window like the girls do in the movies, making sure he could see deep down into my ample cleavage, swaying my big bubble butt teasingly in the air.
It so turned me on that this big black man was turned on by my show. His manhood obviously bulged in his trousers. His eyes gleamed with lust. He licked hungrily at his lips.
"I'll give you a ride, honey. I'll buy. We'll party down. It will be fucking fun, you honky slut."
The whole experience of standing in the street like a common streetwalker in the most outrageous hooker clothes leaning in the window of a handsome black man with Nelly blaring on the radio was like a dream come alive.
"Are you wearing panties under that skirt?"
I turned around, leaned over, the back of my ultra-mini black leather skirt hking up to reveal my pink lace covered tranny ass, the outline of my vinyl pussy lips clearly visible, and I churned and shook my panty covered sissy ass. I fingered my pussy like a hot bitch in heat.
"Damn! That's a lot of ass for a white chick. That's more bubble butt than most sistahs. I gotta nail me some of that."
I blushed. Not that you could see under all the whorish makeup. But I did blush.
"Come on, let's party!"
I don't know why I found his ways so enticing. If he'd just offered me money straight up for sex, I'd have turned him away. I was straight, despite my fantasy dress. Something about his urban banter lulled me into thinking he was just playing a game like me.
I gave in and climbed into his car. Foolish mistake. I learned that when you dress like a 'ho, guys treat you like a 'ho. Black men don't take shit from ho's.
He leered at my humongous tits, peppering me with promises of a good time.
He pushed open the door and patted the seat.
I nervously stepped in, lifting up one leg and flashing a wide open beaver, the vinyl cunt lips clearly outlined in my pink lace panties. My slight unsteadiness at balancing on one foot while in six inch spike heels caused my panty-covered pussy to shake and jiggle before the big black man's hungry eyes.
His name was Eric. I was both exhilerated and frightened riding with him.
He drove to the closest convenience store and parked right smack in the front. He reached across me to open the door, his arm brushing against my silicon jugs. "I'm buying."
His big black hand engulfed my breast, his long fingers squeezed and teased the silicon flesh. "Let's go."
I stumbled out of the car, having a little trrouble getting up on my six inch spike heels, giving a sissy ho show of panty-covered ass and twat juxtaposed with huge jiggling titties.
He swept me to his side, his big black hand gripping my swaying sissy ass, guiding me into the store and to the alcohol section. He handed me a couple of Malt 45s, slapped my ass, and marched me to the counter.
"White bitch needs some of this black sugar."
I was embarassed and wanted to slink away, but there was no place to go, so I had to play the part of the slutty White slut ho to her powerful Black pimp.
I squirmed and wiggled like a bitch slut in heat while his powerful black hand roamed over my sissy butt.
I was embarassed and wanted to slink away, but there was no place to go, so I had to play the part of the white slut ho to his powerful pimp.
He drove me back to his place in Compton. I was both excited and scared by riding with him, but he assured me that he'd give me a ride home early in the morning before sunrise and before my neighbors woke up.
As he drove off into the night he asked my what my name was. I honestly told him "John".
"Ya need a ho name, bitch!"
After amoments hesitation he pronounced my name Tiffany. Which he slurred into Tits and Fanny.
"Well, suck my cock, Tits and Fanny."
I hesitated. Bad idea.
Eric grabbed my wig-covered haed and yanked my lipsticked mouth to his crotch. "Unzip me you sissy cocksuckin' ho.."
He slapped my made-up face. Hard. Repeated his command. Slapped me again. Twice. Harder.
I unzipped his pants.
"Watcha waitin' for? Suck my cock you cocksucking sissy ho."
I hesitantly pulled his engorged black cock from his underwear. I'd never touched another man's dick before.
Eric pushed my sissy head down onto his huge black cock. His cock head pushed through my lips and a cock was in my mouth for the first time ever.
He pushed my head up and down on his cock a few times, then let go and ordered me to keep blowing. My wig-covered head bobbed up and down in the front seat of a black man's car.
He spurt into my mouth. I reacted by pulling away. He jammed my head back down onto his cock, forcing me to swallow his huge load of cum.
After he came, I sat up, white jism dripping from my lips. i was in shock.
"That sucked, ho. That was the worst blow job I've ever experienced in my life. You are going to do that again and this time you are going to do better than that. I want you to suck my cock like you mean it. I want some genuine enthusiasm. I want some tongue action. I want your lips working my shaft. I expect you to blow me like you mean it."
At this point I just wanted to get out of the car. I was willing to walk home. I was so ashamed.
The back of his hand bloodied my lips.
I leaned down and gave him a long slow passionate blow job. The best I could muster. I was still sucking when he pulled up to his apartment. He sat in the parked car for at least fifteen minutes of heavy passionate sissy sucking until finally he exploded into my mouth again.
Eric walked me to his place, grabbing my ample behind with his strong black hands. Once we were in his run-down apartment, he offered me a Budweiser and turned on his stereo. Hip hop. I'm not a rap fan, but there was something exhilerating about being with a big black man in the ghetto with urban rap music playing on a cheap stereo. We danced. And drank. And smoked pot.
He switched to some funky R&B and close danced with me, pressing my silicon breasts against his bare chest and rubbing his hands all over my ass. He interrupted the dancing with a deep tongue kiss, while he stroked my latex vaginal lips and squeezed my silicon titties. He was way turned on and pulled me down on the couch.
I started to get nervous about where things were going — and I was straight — so I protested and told him he was going too far.
Bad mistake.
All that did was bring out Eric's violent temper. He slapped me hard and called me a teasing bitch.
He then threw me down hard against the couch and turned me over on my stomach.
I tried screaming for help and he wrapped his strong black hands around my lily white throat and warned me that he would kill me right there if I didn't shut up immediately.
As I trembled in fear, he pulled down my pink lace panties and unzipped his jeans. He pulled out the biggest, blackest monster cock I'd ever seen in my entire life. This time I could see it clearly in the light. It had to be at least 12 inches long. Maybe longer. And thick. Thick black man meat.
I screamed in pain as he rammed his giant black cock into my virgin ass. He bitch slapped me and warned me again not to scream. It hurt, I sobbed.
He pulled out and walked over to a cabinet. He reached in and grabbed a bright red ball gag, which he placed into my mouth and then locked onto my head.
As I whimpered and cried into the ball gag, Eric pile drove his huge ebony dick deep into my sore virgin ass. He came after a minute or two of fast and furious butt fucking. After about a half a minute of laying still buried deep inside me, he started fucking again, this time in long slow, strokes.
Eric took his time, thoroughly enjoying my sissy ass. He called me whore and slut and bitch and stroked my long blonde hair and squeezed my silicon titties and pumped in and out of my sore ass for at least half an hour before cumming again.
Eric pulled out and turned me over. He unlocked the ball gag and presented his massive cock in my face. He demanded that I suck it clean.
I tried to resist. He slapped me around, even more violently than before. When I tried to fend off my blows with my hands, he grabbed them and quickly handcuffed them behind my back.
While I lay on his couch, trembling in fear, he stepped into his bedroom for a moment and returned with bondage gear.
He had a black locking leather collar that had a long leather strap in the back that ended in two locking leather wrist cuffs. As soon as my hands were locked into the cuffs, he cinched up the leather strap, pulling my arms high up on my back and preventing me from using my hands.
Eric locked an iron spreader bar onto my legs with Fleece Lined Ankle Restraintsleather ankle cuffs. My legs were spread about three feet apart, making walking or running away impossible, and leaving my ass vulnerable to more fucking.

He jammed a four and a half inch vibrating black butt plug deep into my ass. I shivered as each of the five round balls pulsed through my anal opening and into my ass. The anal invader butt plug included a latex cock cage. Eric pulled my sissy cock through the latex lips of my latex vagina, and fastened the cock cage my dick, preventing me from having an erection.
Eric then locked the butt plug and cock cage into place with a black leather male chastity belt. A thick leather strap wrapped under my crotch, trapping the butt plug in my ass, and the black leather belt locked around my waist. Eric squeezed my dick back into my latex vagina, restoring the illusion of femininity. He strapped a blindfold over my eyes, plunging me into helpless darkness. The large black man pulled up my pink lace panties and straightened up my miniskirt.
Eric then lifted me off the couch and placed me on the carpet on my knees. With my ankles spread wide and my arms pulled tightly up my back, I was completely at his mercy.
Once again he presented his huge black cock at my lips and slid it over my glossy red lipsticked mouth.
Eric face fucked me. I had no choice but to take his musky black cock into my mouth. He slapped me and demanded that I get into it. I had to lick and suck like a sissy cocksucker. "Moan, bitch, moan!" I had to moan and suck and pretend that I was into having a thick black cock in my mouth and a vibrating black butt plug in my panty covered ass.
Eric spewed his cum into my mouth faster than I could swallow, the white goo overflowing my lips and running down my face and chin.
Sexually satisfied, Eric wandered into his bedroom and fell into a drunken slumber. I was stuck kneeling alone on his living room floor, his cum drying onto my face, unable to even wipe it off. Eric locked the ball gag back into my mouth to prevent me from calling for help.
While Eric snored in the next room, I fell over onto my side and tried to sleep. I couldn't. Not only was the severe bondage uncomfortable and the butt plug still vibrating away, but I couldn't even scratch when it itched.
As the night progressed, I found myself humping against the floor, even though I couldn't get hard with my penis trapped in the cock cage.
Eric stumbled out of his bedroom, on the way to piss, and broke into laughter at my struggles.

After relieving himself, asked me if I wanted sexual relief. I nodded. Eric released my cock from the latex cage and pulled my penis free. The big black man blew up a Spread Eagle Love Doll and casually tossed it on the floor next to me.
At first I was appalled by the idea of masturbating with an inflatable doll. But I couldn't rub my cock against the rough carpet and with my hands locked behind my back, I couldn't take things into my own hands.
So, I scooted across the floor and positioned myself over the inflatable doll, which wasn't easy while wearing a blindfold and being locked into severe bondage. It took almost an hour to get my dick positioned correctly to insert into the doll's vinyl pussy.
Once in, I fucked furiously, cumming in seconds. Not having anything else to do, I stayed inside the doll after cumming. And through the rest of the night, I fucked the doll several times, my cum filling up her plastic pussy.

It was late morning before Eric woke and found me inside the Spread Eagle Inflatable Love Doll. The big black man laughed at me, calling me a "doll fucking sissy slut".
Even though I was ashamed and embarassed, I found my sissy cock getting hard and I started humping the Spread Eagle Inflatable Love Doll's slick wet blonde pussy, my fake silicon tits rubbing up against her jumbo soft plastic. Eric's mocking laughter made the whole scene that much more surreal, as I fucked a cheap plastic doll while dressed and made-up as a slutty street walking whore, my hands firmly bound behind my back, my ankles hobbled, my mouth gagged, and my eyes blindfolded. The extremely short black leather micro-miniskirt had ridden up my ass, the bright pink lace of my pantie-covered ass shaking in the air.

"Who could resist a temptation like that?" Eric asked as he pulled out his long hard black cock, while yanking down my panties. The huge black man spit into his hands, quickly stroked his penis, and then plunged his monstrous ram rod up my tender sissy ass.
If it hadn't been for the gag, I would have screamed. Instead I moaned into the red rubber ball gag like a slutty girl in heat. Eric drove his hard black cock fast and furious. He pounded my tender sissy ass. I moaned and moaned into the ball gag.
After a few furious minutes, Eric slowed down, saying he wanted to take the time to really enjoy my sissy ass.

I found myself fucking my doll in rhythm with the black man, pushing back against his hard black cock when Eric pushed in and plunging into the doll pussy when Eric stroked out.
Eric shouted out, "I'm cumming, you fucking whore, I'm cumming in your tight ass!"
Eric pulled out, wiping his cum on my ass. His cumming broke my fucking rhythm. I was left unsatisfied, his cum dripping out of my overflowing butthole.
With each stroke in and out of my Spread Eagle Inflatable Love Doll's cheap vinyl cunt, more of Eric's cum flowed out of my sissy ass.
My captor picked a big neon yellow butt plug out of a drawer. The "Artllery Shell" was scary thick, two inches in diameter (more than six inches around), and five inches long from the flared base. When he rammed the Artillery Shell butt plug up my cum-filled butt I was grateful that it was made of soft "jelly" material.

Once the entire length and breadth of the Artillery Shell butt plug was buried inside my ass, my sphincter slammed shut on the thin part at the base between the butt plug and the flared end, locking the huge butt plug deep inside.
On the end of a thin electrical cord was a small black battery powered controller. Eric slowly cranked the speed up, driving my ass wild with vibrating sensations.
Laughing, the powerful black man pulled up my panties and slapped my pantie-covered sissy ass.
I humped furiously at the doll's cheap plastic cooze, the giant yellow butt plug buzzing my ass.
Eric laughed and commented, "I've got to invite the guys over to see this!"

I was terribly embarassed, but continued to fuck the big breasted Spread Eagle Inflatable Love Doll in an anal vibration induced frenzy while Eric casually called up his friends on the phone.
Even after I came twice, the anal vibrations kept me in a doll fucking frenzy.
A few minutes later, Eric's friends started to arrive. Big, dangerous looking Blacks and Hispanics.
They all laughed at my sissy doll fucking and then Ramone, one of Eric's friends, yanked the Spread Eagle Inflatable Love Doll away from, leaving me dryhumping wildly at the air.

Julio pulled me up on my knees and pushed my face down into his crotch. Eric unlocked the ball gag, leaving my lipstick covered mouth ready for sissy cock sucking. Julio demanded that I pull down his zipper with my teeth, and then forced me to fish his cock out of his underwear with just my lips and tongue, my hands still firmly bound behind my back.
Eric slapped my pink lace panty-covered ass and said, "You have to try this tight butt. Never been fucked before last night. Still nice and tight."

Ramone stepped behind me, pulled down my pink lace panties, yanked out the Artillery Shell butt plug, and jammed his ten inch cock into my sissy ass.
Seven different men took turns gang banging me in both holes, over and over for hours, taking an occassional break during which they'd laugh while I humped my Spread Eagle Inflatable Love Doll in all three of her inviting love holes.
I hoped that he would set me free and I could go home. No such luck. I didn't yet realize the severity of the situation. I didn't know that my near future was being turned into a prostitute, working for Eric, working the streets of West Hollywood and strung out on heroin and crack cocaine.
To be continued…
create personalized copy of this story
if you like this site:
Please support this web site by:
Share your erotic stories (submit to contact00@RealSissySchool.com).
Bookmark this site and use our links if you purchase from one of the stores listed below.
Add a link to this site on your web page <a href="http://www.RealSissySchool.com/">RealSissySchool.com</a> .
Table of contents of toys
Complete table of contents of dolls
Complete list of bondage gear

[ complete table of contents ] [ feature by feature comparison ]
[ home ] [ the inflatable doll experience ] [ price comparison ]


other
Gay and Lesbian Marriages in California

some of the sources on the web:

transvestite sites

premium sites

specialty sites

discount sites

general sites

Shopping through these links may result in a small percentage of your purchase helping keep this site on the web.
(Some of the sites have tricky rules, so we don't always get a percentage, but it can't hurt to try.).
code word xzqj67
Copyright © 2002, 2003 contact00@RealSissySchool.com
Last Updated: June 16, 2003
Created: July 27, 2002
Author of Transvestite Whore page: contact00@RealSissySchool.com
If you write, please label your message as "Sissy Fiction" to help separate it from SPAM (which gets tossed unread).

[ main toy home page ] [ rabbits ] [ butterflies ] [ remote control ] [ strap-on harnesses ] [ dildoes ] [ double dildoes ] [ glass dildoes ] [ hands and fists ] [ vibrators ] [ massagers ] [ sleeves ] [ eggs and bullets ] [ clitoral stimulators ] [ waterproof vibrators ] [ anal probes and butt plugs ] [ beads ] [ breast pumps and nipple exciters ] [ balls ] [ erotic jewelry ] [ cock rings ] [ bondage ] [ lubricants, oils, and creams ] [ barriers ] [ hygiene ] [ erotic clothing ] [ transvestite items ] [ kits ] [ artificial vaginas ] [ male masturbators ] [ dolls ] [ penis pumps ] [ novelties ] [ DVDs ] [ videos ] [ books ] [ words ]
[ complete table of contents ] [ feature by feature comparison ]
[ home ] [ the inflatable doll experience ] [ price comparison ]