Monday Night Football
Click on any doll box cover for more details on that doll.
Click on any bondage gear for more details on that gear.

I was overjoyed when my wife said to invite my friends, neighbors, and co-workers to a huge Monday Night Football party. After all the months of sports being banned from the television, I thought my wife was finally thawing from her anger. Little did I realize as I extended invitations to just about every guy I knew that this would mark an even deeper step into my being pussy-whipped.

My friends and co-workers saw changes after my wife caught me with that other woman. I even got kidded about being "pussy-whipped" and being a "sissy", but they didn't realize the depth of my sissification.

My wife was furious and had insisted on a divorce. You can't imagine how much I begged for another chance, promising to do anything to win her trust back. Love will cause you to make silly promises.

When she suggested that I wear women's panties to work to make sure that I wouldn't cheat, I agreed. When she added stockings and a garter belt, I agreed. When she added a bra, I agreed.

It wasn't easy to hide that I was wearing women's underwear underneath my men's clothing. I had innumerable close calls. I got into the habit of using the toilets rather than the urinals in public men's rooms to cut down on chance of discovery. I stopped going to the gym. And still I had the occassional close call where I thought somebody spotted a glimpse of women's lingerie, but nobody ever commented.

I became paranoid about pantie lines and bra bulges, certain that my women's underwear was visible to everyone. I would turn bright red in embarrassment at every transvestite joke. I took every comment about being "pussy-whipped" and "turning into a sissy" as a sign of discovery. Even through the summer, I'd never take off my suit coat, no matter how hot the day, to help cover up visible bra lines. I'd always be self-conscious when standing or walking, trying to keep my ass (and the pantie lines) hidden from sight. I never went swimming or wore shorts, so as not to reveal my cleanly shaved legs. I never wore short shirts so as not to reveal my shaved armpits.

Everyone noticed that I stopped hanging out with the guys and always rushed straight home. Some women admired my new-found devotion to my wife, while most of my guy friends continually ribbed me about being pussy whipped, complete with snapping their hands in the air in the motion of a cracking whip while making a condescending snapping sound with their mouths.

Little did they know that I had also taken over all the household duties. I cleaned the house, cooked the meals, washed and ironed the clothes, did all the domestic duties traditionally done by women.

Imagine the jokes I'd hear if they knew that I had to wear full women's clothing every weekend and wear a feminine nightie to bed every night.

Imagine the humor at my expense if they knew that my wife had denied me sex for months and that my only sexual relief was with inflatable dolls.

Imagine the ridicule if they knew that my penis was now kept in a locked metal chastity except for once a week at the end of the weekend when I'd be set free to masturbate with an inflatable sex doll.

All of my hobbies and interests where replaced by my wife's interests. I meekly went to "chick" movies. We watched soap operas and the television shows of her choice. We went out shopping for hours on end.

So, I was very pleased to hear my wife announce that we were going to have a party to celebrate the opening game of the Monday Night Football season. I thought that maybe she was starting to forgive me.

It wasn't until the start of the Labor Day Weekend that I first realized just how embarrassing this weekend was going to be. My wife casually mentioned that Labor Day Monday was part of the three-day weekend and that I'd have to be in full women's attire that day as well. After nodding in agreement, I suddenly remembered the party and quickly sought confirmation that I'd be back into regular guy's clothing for Monday Night Football.
My wife laughed and said, "maybe". I spent the entire weekend begging for a nighttime reprieve. Her response was that if I didn't please her sufficiently, she'd pull a train with all my guests.


I occupied myself that Monday cleaning the house up for guests, putting up party decorations, and making platefuls of dainty snacks, all the while wearing a feminine skirt and blouse and high heels and worrying about wearing women's clothing to the party in front of all my friends, neighbors, and co-workers.

Late afternoon, my wife inspected the party preparations. I was relieved when she announced her approval and said I could change clothes.

I was horrified as she showed me the frilly French maid's costume she had purchased just for the party. Again, she reminded me that if I didn't serve adequately as a hostess, she'd fuck all of the men invited the party right in front of me.

This was going to be worse than I'd imagined.
My wife had me undress and completely shave my body. I'd been shaving my body hair for months, but my hand was shaking as I shaved my legs, chest, and underarms that Monday afternoon. All that was left was a cute little pubic triangle in the shape of a woman's delta.

This was followed by a bubble bath with thick flowery perfume. I was going to smell like a frilly sissy.
My wife used the Champagne Bubble Bath, liberally poured from a 42 ounce bottle of "extra fun vintage" available for $8 from Convergence Inc.

After drying off, I put on my make-up. I started with thick black mascara. I put on liquid foundation, then powder and blush, followed by a little light blue eyeshadow, and a subdued maroon lipstick. My wife took a look and rejected this subtle look, saying I needed something more for a party.
She had my add long, thick false eyelashes, lots of bright red blush (to affirm a look of being permanently flushed with embarrassment), thick black eyeliner and lots of blue and purple eyeshadow for a very whorish look. My lipstick was changed to a combination of wine red lipliner, bright pink lipstick on my lower lip, bright red lipstick on my upper lip, and an overcoating of matching pink and red lip glosses.

Next I painted my fingernails and toenails complimentary shades. My toenails were painted a shiny high gloss pink and my findernails a shiny high gloss bright red with pink sparkles.

My wife handed me a brand new dildo. This was an eight-inch long, very thick, realistically molded black cock butt-plug. Having previously become accustomed to butt-plugs, I knew that it was important for comfort to remove all fecal matter from my colon. I meekly took an enema and waited until my ass was cleaned out.

The other important part of butt plug comfort is lots of lubricant. I felt very sissyish standing there naked with shaved legs and chest and full slut make-up rubbing lots of sex lubricant up and down the entire length of a realistically molded dildo butt-plug. I felt even more sissified slowly working the butt plug up my ass. Getting a long, thick butt plug up your ass takes several attempts. You have to slowly pump it in and out, going deeper a little bit at a time, adding more lubricant continually until after several minutes you finally work the butt plug all the way up your ass.

Once the eight inch long realistically molded black dildo butt plug was firmly planted in my ass, I had to keep shaking my booty. If you stop working your ass, dry spots will form and then when you do move, the dildo butt plug will pull and tear painfully. This is why my wife so likes watching me dance around with a butt plug up my ass — if I don't keep on shaking my ass like a sissy slut in heat, then the butt plug will rip delicate anal tissues and hurt. And continually working my ass and hips means that I am constantly reminded of the huge size and the realistic shape of the dildo butt plug as it slides and pumps in my rear end.

Further intensifying my feelings of sissihood was the bright silvery cock chastity locked onto my sissy cock. If I started to get turned on, the clamping of the top three inches of my cock would become painful and an erection was simply impossible. Of course, the feel of sexy feminine clothing against my shaved and perfumed skin and a butt plug sliding around deep inside my ass rubbing my prostrate from the inside kept me in a state of semi-arousal that was mildly painful. My wife would always flash her tits and ass and pussy and continually flirt with me to try to bring about a really painful semi-erection.

With the butt plug up my ass, I put on the panties my wife had chosen. She had two dozen pairs of feminine bikini panties laid out for me to wear. Multiple pairs of panties helps keep the butt plug deeply pushed up my ass, creates a very obvious pantie line bulge, and creates pressure so that I am always very consciously aware of the seams of the leg and waist openings and the feel of wearing women's panties.

My wife handed me a pair of fake silicone bobbies, which I glued onto my chest with a special transvestite glue. These fake boobs bounced and felt just like real breasts, right down to the obviously erect nipples. With the fake boobs, I had a size 40 triple D bust that strained against the tight clothing my wife picked out for me, making me look like an over-excited stripper.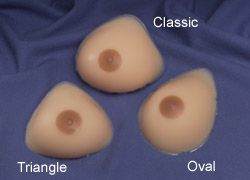 Transform Super Soft Breast Form

I wrapped these huge hooters in a very frilly black push-up underwire bra my wife had purchased just for this occassion. The bra pushed my boobs up and out while leaving a thin gauzy see-through layer of feminine black lace barely covering my nipples, leaving my cleavage in plain view.

My wife handed my two pairs of stockings. One was a sheer pair of black stockings, topped with a pair of rear seamed black fishnet stockings, a combination that made me look sexy and feminine.

I stepped into a new pair of high heels that my wife had purchased just for this occassion. These shiny black patent leather high heels had a six inch stilletto heel, sexy pointed toe opening that showed off my polished toenails through the sheer stockings. The top of the high heels had a double band of metal studded straps that wrapped twice around my ankle and locked my feet into the sexy "fuck me" high heels. These were the exact same high heels worn by the model on the cover of the Spread Eagle Doll.

Next came a sexy black corset. I learned from months of dressing up on the weekends to put on my stockings and high heels first, because after the corset has been tightened up, trying to bend over to put on stockings and high heels is near impossible. This was a new corset, with metal stays, an exaggerated 24 inch hour glass waist, and half cups under my artificial tits. The corset was made of shiny black satin and had frilly white lace across the tops of the half cups, all the way around the bottom hem, and in vertical columns on the waist. It took me nearly a half an hour to struggle into the corset and get it tightly laced up in the back.

With my new corset on, I could add a couple of black lace garter belts (one for each pair of stockings) and then a pair of lacy white garters with a white satin bow in front.

Then I put on another half dozen pairs of panties, this time women's hip huggers. This served to round out my waist and tightly compress my chastized penis.

The last pair of panties was a special pair of sissy maid panties. These were black satin panty briefs with rows of frilly white lace covering the entire rear end and frilly white lace around both leg openings and all the way around the waist opening. These special sissy maid panties also had hip and bun pads, which combined with my silicone titties and tightly laced corset gave me a stunningly sexy 40DDD-24-38 figure.

The centerpiece of the sissy maid outfit was the French maid's dress. Extremely low cut in the front, it showed off my bosom and cleavage, flashing even my black lace covered nipples when I bent over even slightly. The hem of the black satin dress was cut so short that the white lace of my sissy panties' leg openings flashed whenever I moved (and I had to keep moving a lot because of the eight inch realistically molded black dildo butt plug stuck up my ass) and if I bent over my entire white lace covered ass would show. The dress also had white lace trim around the hem, around the entire neck opening, and at the ends of both short sleeve arm openings. And in classic French maid style, the shoulders were puffed up in a formal manner.

On top of this dress I added a white satin waist apron (also trimmed with white lace), tied in a big bow in the back.

My wife handed me a new blonde wig. This was a classic "big hair" transvestite style wig, with lots of curls cascading all the way down my back and curls framing my whorishly made up face. My wife caught up much of my hair in a white scrungie, giving me a sexy pony tail, while leaving plenty of free strands of hair to frame either side of my face. A white lace maid's hairpiece completed the slutty French maid look.
The rustle of lace and satin with every move, the feel of the bounce of my huge titties, the feel of the tightly laced corset, the many layers of panties, the short hem of my dress, the stockings and high heels, the lace brassière, all made me feel incredibly sissified and self-conscious.


My wife then added her favorite bondage gear. She locked two inch black leather ankle cuffs around my legs, two inch black leather wrist cuffs around my forearms, a three inch black leather waist belt around my waist, and a five inch black leather "posture" collar around my neck.
The posture collar, with a little dip in front for safe breathing, forced me to only look straight ahead, never to the side or down.
She locked a 12 inch length of metal chain to my ankle cuffs, limiting me to short dainty steps.
She locked a two foot length of metal chain to my wrist cuffs, allowing me to hold a serving tray in front of my body or to put my arms down to my sides. A pair of shorter lengths of metal chain locked my wrist cuffs to my waist belt, preventing me from reaching down past the hem of my short French maid dress or higher than my tits in front.
A final long piece of chain was locked to the front of my collar, the middle of the length of chain between my wrist cuffs and down to the middle of length of chain between my ankle cuffs, further restricting my movement.


The final piece was a specially modified rubber ball gag. The red rubber ball was mounted on a metal chain that was locked to the back of my leather collar. Inside the ball gag was a large black leather dick head that filled my mouth. The result was that from the outside, I had the classic ball gag look, complete with the drooling problem, but on the inside I was sucking on a huge black dildo head while another big black dildo pumped and slid inside my ass, effectively double-fucking me continually.

Once I was dressed, I became even more nervous about the impending arrival of my guests, no longer having the distraction of getting dressed.

By the time the doorbell rang, I was visibly shaking and had already dropped to a kneeling position because I was too nervous to stand.
As I stood, the doorbell rang again. My wife chided me for keeping my guests waiting, asking what kind of hostess I was. I scurried to the door as fast as I could while wobbling on six inch heels and my ankles hobbled together on a twelve inch piece of chain.

I timidly opened the door, half closing my eyes in embarassment. Standing there was my boss from work. My wife called out for me to curtsey for my guest, which I hastily did. My face burned as red as the blush in my make-up.

My wife called out, "Candy, invite the man in," using the nickname she had given me when I was dressed in women's clothing, short for "Candy-Ass Sissy Slut".

I mumbled as best I could with the gag in my mouth, inviting my boss in. His shock at seeing such a sexy French maid slut answering the door was compounded by the recognition of my voice. A series of emotions crossed his face in rapid fire succession, ending with peals of laughter at my expense.
I was embarassed by his series of questions about how I ended up in this state, most of which my wife had to answer because of my difficulty speaking through the gag. My wife saved only the most embarassing answers for me to try to stumble through.

Guests started arriving, slowly at first, then more and more as kickoff time approached. My wife had me answer the door and curtsey like a little girl for each arriving guest, to the laughter and amusement of those who had already arrived. My self-esteem drained away as each of my friends, co-workers, and neighbors arrived and saw my sissification.

My wife egged on the guests to demand that I be a good hostess, keeping me scurrying around carrying trays of snacks and drinks, and then hurrying to the door to invite in arriving guests. Taking a cue from my wife, the guests started calling me "Sissy" and "Candy" rather than by my masculine name and started ordering me around as a lowly wench servant, often dropping items "accidently" so that I would have to bend over to pick them up, revealing my broad satin and lace covered ass and enormous bare breasts.

Taking a cue from my sexy dress and the continual shaking of my ass and hips to keep the dildo butt plug from sticking, my guests started treating me like a serving wench slut, taking liberties with my body, grabbing at my waist and ass and tits, pulling me close for hugs and even kisses. I couldn't believe how mortifying and embarassing the whole experience was.

As the Monday Night Football party heated up, guests started complaining about the fancy snacks and fruit punches I was serving, and started demanding chips and beer. Even though my wife had chosen the party menu for me to cook, she strongly chided me for having made such "sissy" foods. Attempting to protest her disparaging remarks while so obviously sissified ad with a gag filling up my mouth only led to laughter and derision at my protests.

My wife stuck some money into a dainty black satin purse and wrapped it over my shoulder and then handed me a child's toy wagon and told me to go to the corner convenience store and get plenty of beer and pretzels and potatoe chips for the "real men". As bad as it was being completely sissified in front of my friends indoors, marching down the street in a French maid costume was even more embarassing.

Worse, when I got to the store, the teenage clerk refused to sell me beer without an ID, so I had to walk back empty handed and ask for assistance. Several of my friends volunteered to join me to show ID, making fun of me the whole way to and from the store.

When the game started, I sighed a premature relief. I thought that at least I'd get to enjoy the game, the revenge game between the Tennessee Titans and the Buffalo Bills.

My guests took perverse pleasure in ordering me to the kitchen for more beer or snacks, choosing times that would force me to miss the action. And when I did see the football action and tried to join in the flow of the banter and conversation, I'd be shushed as if I no longer knew anything about football. I heard comments such as "shut up, sissy", "nobody wants a sissy's opinion", "put a gag in it", and other abusive comments. I quickly stopped commenting on the flow of the game, falling into the role of subservient slutty sissy maid.

When the Tennessee Titans put the game out of reach with an early one-sided score, the free flow of beer made the crowd even more into abusing me by grabbing me and feeling me up and making comments and demanding service. That I was continually shaking my ass like a sissy in heat combined with my shyness about my breasts and beautiful figure and severe bondage restricting my ability to escape and the incredible sexiness of my French maid costume and overall feminine look only drove them on to new heights of abuse and sexual advances.

My wife started actively flirting with my guests. My attempts at protest were met by her scathing comments about my own outrageous flirting behavior. She took every opportunity to contrast my sissyness with the masculinity of "real men".

At half time break, my wife sent me to my room, making a loud point about our separate living arrangements, and told me to pick out the love doll I wanted to use that night for my end of weekend reward. I hesitated and tried to whisper my embarrassment about this new revelation.

She ridiculed me loudly, telling me that if I didn't pick out an inflatable doll right then and bring it out, that she'd assume I didn't want to have any sexual relief this week. I started crying as I headed to my separate sissy-decorated bedroom to pick out a love doll.

I closed the bedroom door behind me, but my wife yanked it open and invited the guests to see the sissy bedroom I slept in. I hesitated in selecting a doll, while the crowd gathered at the door laughed and commented on the sissified decorations, the collection of love dolls, and the separate sleeping arrangements. My wife stepped forward and announced that if I couldn't hurry up and pick, she'd pick a doll for me. As she reached for the Black Stud doll, I quickly pointed to the Smart Ass Love Doll.

My wife handed me both the Black Stud male doll and the Smart Ass Love Doll and told me to carry my plastic "lovers" into the living room.

My wife decided to further embarrass me in front of my friends by having me pleasure the Black Stud male doll in front of my friends, coworkers, and neighbors. She removed my gag, revealing the dildo cock head that had been inside my mouth. When my guests gasped at this revelation, she added that I also had an eight inch long realistically molded dildo butt plug buried deep in my ass.

She unlocked the chain holding my wrist cuffs in front of my body and handcuffed them behind my back, opened up a condom and pushed the brightly colored latex tip between my lips, ordering me to put it on the huge ten inch realistically molded dildo cock of my Black Stud male love doll. To the cheers and derision of my guests, I kneeled down and used my tongue and lips to unroll the condom onto the doll's erect dildo. This took much effort, with ending repeated deep throating to unroll the condom a little at a time until it covered the entire ten inches of the length of my Black Stud male love doll's didlo. My guests broke into applause.

But my wife then ordered me to give my Black Stud male love doll a real blow job. I started licking and sucking and pleasuring the upright dildo as best I could with my hands cuffed behind my back and in a short black satin dress and tight black satin corset. When the second half resumed, I stopped sucking and started to stand, but my wife ordered me to get back down and continue, while she flirted with my guests.

After the game was underway, my wife got me up and restored my serving chains and had me scurrying back and forth to the kitchen, keeping everyone served with beer and snacks. As the alcohol flowed, the outrageousness of their comments and the boldness with which they made sexual advances increased. My tits were half out of my dress and bra and the chains kept me from being able to get my hands high enough to put my tits back into my dress.

My wife started rubbing up against various men and kissing them. She had me kiss the guys, and several of my now-drunk friends and coworkers and neighbors started feeling me up and slipping me tongue and treating me like a complete whore slut. My wife started feeling the guys' dicks through their pants and ordered me to feel their growing cocks, pressing my sissy hands against the front of their trousers.

By the end of the game, the party was completely out of hand.
My wife then announced that if I hadn't done a good enough job as a serving wench, that she'd fuck every guy in the room. She put it to a vote. The vote was unanimous that I hadn't done a good enough job.

My wife had me get down on my knees and handcuffed my wrists behind my back again. She then had me pull down each guest's zipper with my teeth, fish his cock out of his pants with my lips, and then put a condom in my mouth for me to put onto his dick with just my tongue and lips, which required repeatedly deep throating several dozen men one after the other.

Once all the men had condoms on, my wife locked the rubber ball gag and dildo head back into my mouth and did a strip tease. Once she was undressed, she spread her legs right there on the living room couch and invited one man to fuck her pussy while she sucked the cock of another, being double-fucked right there in front of my eyes. She moaned and purred loudly, telling me how great it was to have a real man after all the past months of sexual frustration living with a sissy like me.

After both of those men blew their tops, she pulled down the front of my panties, revealing my metal penis chastity. She unlocked the chastity, freeing my very limp prick. She laughed at my limpness and called out for another real man. My best friend stepped forward and volunteered.

One after another, sometimes two at a time, she pleasured each of the men at the party, my friends, my coworkers, my neighbors.

Between each man, she'd check my cock to see if I was hard yet, cruelly laughing at my lack of a hard-on in this embarrassing situation.

When she'd worked her way through half the party, she told me that once she was finished with all the guests, she'd lock up my penis for the week and I'd miss my chance to masturbate this weekend.
I scurried over to the Smart Ass Love Doll as best I could on my knees and in bondage with my hands cuffed behind my back. Once there, I laid down next to my inflatable doll and shimmied my way up on top of her. Then I started dry humping against my doll, trying to get a hard on while my wife continued to fuck through my friends and coworkers.

Between each guy, my wife would come over and feel my cock and announce that I wasn't hard yet, to the laughter of everyone gathered. One time, she pulled my skirt up a bit so that all of the white lace trim covering my black satin sissy panties was visible while I humped and pumped, desperately trying to get an erection despite all my embarrassment.

When there were only two men left I finally had a hard-on, and my wife slipped my cock into the vinyl molded pussy of my Smart Ass Love Doll.
Despite all the embarrassment of the evening, I pumped and stroked into my doll's pussy, desperate to get off before my wife finished getting off. I came just as the last guy at the party came inside my wife's pussy.

My wife stood me up, with my cum-dripping sissy cock swinging in the air in front and had me curtsey for the party. As everyone left, she invited them back for the next Monday Night Football game, while I stood with tears running my mascara down my cheeks.
if you like this site:
Please support this web site by:
Share your erotic stories (submit to contact00@RealSissySchool.com).
Bookmark this site and use our links if you purchase from one of the stores listed below.
Add a link to this site on your web page <a href="http://www.RealSissySchool.com/">RealSissySchool.com</a> .
Complete table of contents of dolls
Complete list of bondage gear
[ complete table of contents ] [ feature by feature comparison ]
[ home ] [ the inflatable doll experience ] [ price comparison ]

other
Gay and Lesbian Marriages in California

some of the sources on the web:

transvestite sites

premium sites

specialty sites

discount sites

general sites

Shopping through these links may result in a small percentage of your purchase helping keep this site on the web.
(Some of the sites have tricky rules, so we don't always get a percentage, but it can't hurt to try.).

code word xzqj30
Copyright © 1999, 2001 contact00@RealSissySchool.com
Last Updated: July 17, 2001
Created: January 31, 1999
Author of Monday Night Football page: contact00@RealSissySchool.com
If you write, please label your message as "Sissy Fiction" to help separate it from SPAM (which gets tossed unread).
[ main toy home page ] [ rabbits ] [ butterflies ] [ remote control ] [ strap-on harnesses ] [ dildoes ] [ double dildoes ] [ glass dildoes ] [ hands and fists ] [ vibrators ] [ massagers ] [ sleeves ] [ eggs and bullets ] [ clitoral stimulators ] [ waterproof vibrators ] [ anal probes and butt plugs ] [ beads ] [ breast pumps and nipple exciters ] [ balls ] [ erotic jewelry ] [ cock rings ] [ bondage ] [ lubricants, oils, and creams ] [ barriers ] [ hygiene ] [ erotic clothing ] [ transvestite items ] [ kits ] [ artificial vaginas ] [ male masturbators ] [ dolls ] [ penis pumps ] [ novelties ] [ DVDs ] [ videos ] [ books ] [ words ]
[ complete table of contents ] [ feature by feature comparison ]
[ home ] [ the inflatable doll experience ] [ price comparison ]