Bachelor's Bride Wife Swapping
Click on any doll box cover for more details on that doll.
Click on any bondage gear for more details on that gear.

As I approached my front door I heard the frisky laughter of my wife and a strange man. Well, by the sound of the laughter, he wasn't any stranger to her.
My hands shook with shame and embarassment as I fumbled the key at the lock. After several attempts, I unlocked and opened the door to a wave of marijuana smoke and mocking laughter.
"Speak of the sissy, here's the wimp now."
My wife is an incredibly foxy woman. Huge tits. Long blonde hair. Big round hips and ass. Long long legs. Beautiful face. Great person. And she loved sex.

How could I have cheated on her?
Now I was paying for it. She was on the couch intimately embraced with a large black man.
"Honey, this is Samual," introducing me casually as she remained draped over his body and wrapped in his arms.

"Sam. I can't believe you would cheat on a woman like this? What's up with that, dude?"
"Wanna see his panties?" my wife giggled.
"This I gotta see."
"Strip down, sweetie, show the man your panties."
My face turned deep red as I untied my shoe laces and removed my shoes, revealing my bright red painted toe nails under sheer black lace stay-up stockings.

Sam just pointed, laughing so hard that his arm was swinging wildly around.
I unbuckled my belt, unzipped and pulled down my trousers to reveal my ultrafeminine pink lace bikini panties. I cringed in embarassment.
"Does he wear women's panties and stockings all the time?"
"Anytime he leaves the house. He cheated on me once. Once a cheat, always a cheat. I told him that the only way I'd stay with him was if he became my personal sissy. Take your shirt off too, would you please, sweatheart? He can't leave the house without wearing stockings, panties, and a bra."

"You're wearing…"
I unbuttoned my shirt, revealing a matching pink lace brassière with a feminine rose floral design. They both laughed, rubbing and entangling their bodies together.
I stood there in bra, panties, and stockings, while my wife cuddled with a large black man I'd never met before.

"Well, honey, don't just stand there. Go get dressed. I require him to be fully dressed when at home. Sweatheart, why don't you put on your bridal gown? Hurry along. Don't keep us waiting."
I rushed off to my separate bedroom. Yes, we slept in separate bedrooms now.
I already knew how she expected me to dress. She had rehearsed me into the wedding outfit many times.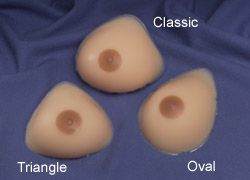 Transform Super Soft Breast Form
I took off my office lingerie and pasted two large D-cup silicon breast forms to my shaved chest. I quickly put on thick sissy makeup (eye shadow, eye liner, blush, lipstick, etc.). I bobby-pinned a long curly bonde wig to my hair.
I squirted lube up my ass and gently pushed the Chasey's Razzle Dazzle Vibrator butt plug up my butt. I was glad it was soft jel-lee material, because it was long and thick and filling.
As quickly as I could, I dressed up in white lace stockings, white leather high heels, white lace panties, white lace brassière, white lace garter belt, white satin corset, white lace veil, and white lace wedding gown.

The tightly laced corset was a bondage corset and had three sturdy leather straps that I individually locked, trapping me bound in the corset until my mistress wife used her key to unlock me.
My wedding gown was also a bondage sissy dress. The waist had a built-in locking six inch white leather belt with four bright shiny metal D rings. The long sleeves ended in locking three inch white leaather wrist cuffs. And my wedding gown's collar was a locking white leather posture collar.
My panties were white satin sissy panties, brief style, with hip and bun pads to give me a womanly shaped hips and ass. Rows and rows of white lace ran all around the sides, back, and front of my panties, as well as white lace trim around the leg openings.

My shoes were white leather with six inch spike heels and white leather buckled straps and white leather locking ankle cuffs.
I hurried back into the front room to find Sam completely naked, casually stroking at his cock, while my wife performed the slow exotic belly dancing strip tease I used to so enjoy. Dressed in just sheer see-through black lace panties, black fishnet stockings, and black high heel boots, my wife danced for Sam, rubbing her sheer black lace brassière over her gorgeous tits.

"So, good of you to join us, baby."
She pranced over and lifted up my skirt, pointing out my hard sissy cock.
"See, the sissy gets turned on by it."
She lightly swept her soft hand along the shaft of my sissy cock, sending a shiver through my body, and gestured toward's Sam's massive cock.

"See why I need a macho cock? This is all my sissy has."
Sam's cock completely dwarfed my small erect penis.
Sam laughed. My wife laughed.
"We're wife swapping tonight, dear. You'll share me with Sam here, while you'll enjoy the company of Sam's bride."

Sam stood. My wife gestured for him to sit down and she sauntered over to a shopping bag on the table and pulled out a Doc Johnson Bachelor's Bride Doll.
"Thank Sam for the gift, sweetie."
I thanked Sam and walked to take it from my wife, but she waved for me to stop and pointed back toward Sam.
"No, honey, thank the man. I think he deserves a blow job for his kind gift."

I trudged to Sam in shame and embarassment and knelt before him, and gently sucked the head of his cock into my lipsticked mouth.
"See what a sissy slut my husband is? Honey, because you're having sex with Sam, you can't complain if I have sex with him too."
My head only bobbed up and down a few times before Sam spurted gobs of cum into my mouth. I swallowed another man's cum in shame on my knees in a wedding costume.

"My turn, my turn," my wife gleefully proclaimed.
She locked a double penis gag in my mouth. One cock head of the flexible black molded jelly dildo was locked inside my mouth, while the other black cock head and an eight inch shaft extended away from the white leather strap across my sissy lips, another white leather strap locked under my chin, a strap locked behind the back of my head, and a strap going over the top of my head.
"The sissy needs a black cock in her sissy mouth."

My wife laid me out on the carpet and locked my wrist and ankle cuffs to long leather straps, stretching me in an 'X' on my back. She danced over my spread eagle bound body, making sure that I got a close up view of her beautiful ass and her wonderous pussy as she slowly stripped off her black lace panties, letting her underwear drape my tiny sissy erection.
She danced down, twisting and rubbing her wet cooze against the head of the black jelly double dildo, pushing the other end deeper into my mouth. Soon she was riding the shiny black dildo shaft glistening in her pussy juices.

"And I love black cock in me, too," she promised Sam as she wildly rode to orgasm, separated from my mouth only by a white leather strap.
She unlocked me, urging me to go ahead and open up the box with the doll.
While she cuddled into Sam's strong black arms and started stroking his cock back to erection, I took the doll out of the box, out of the plastic bag, and blew her up.

The Bachelor's Bride Doll was a standard doll from the waist down, but with jumbo tits and a full mannequin head with molded ears, crystal blue eyes that opened and closed, and a full head of blonde doll hair.
I lifted up the front of my wedding gown's skirt and pushed my sissy cock into the doll's waiting mouth, while my wife went down on Sam, sucking his cock while he mocked me for being a sissy.
I fucked my new doll's pussy while Sam fucked my wife doggie style.

I flipped my new doll around and fucked her vinyl ass while Sam fucked my wife's ass doggies style.
My wife bound my arms behind my back in a full length white leather arm binder, locked my ankles to a three foot iron spreader bar, knelt me, and pushed my head into her crotch, making me lick and suck all of Sam's cum out of her pussy.
She suggested to Sam that he fuck me in the ass while I ate her out. She pointed out that I already had a thick butt plug vibrating up my butt getting me ready for an ass fucking. He pulled the butt plug out and replaced it with his twelve inch black cock while I licked and sucked and kissed her clit to orgasm.
After she came, my wife and Sam carried me to my feminine bedroom and placed me on my four poster bed on top of my Letha Weapons latex doll and locking me to the four posts with white leather straps. A latex doll can support the weight of a sissy laying and rubbing on top.
Because the door had been removed from my room, I could clearly hear Sam and my wife as they resumed fucking all night long. I humped my latex doll, cumming repeatedly to the sound of my wife's moans and shrieks in the next room.
if you like this site:
Please support this web site by:
Share your erotic stories (submit to contact00@RealSissySchool.com).
Bookmark this site and use our links if you purchase from one of the stores listed below.
Add a link to this site on your web page <a href="http://www.RealSissySchool.com/">RealSissySchool.com</a> .
Complete table of contents of dolls
Complete list of bondage gear
[ complete table of contents ] [ feature by feature comparison ]
[ home ] [ the inflatable doll experience ] [ price comparison ]

other
Gay and Lesbian Marriages in California

some of the sources on the web:

transvestite sites

premium sites

specialty sites

discount sites

general sites

Shopping through these links may result in a small percentage of your purchase helping keep this site on the web.
(Some of the sites have tricky rules, so we don't always get a percentage, but it can't hurt to try.).

code word xzqj79
Copyright © 2002 contact00@RealSissySchool.com
Last Updated: November 25, 2002
Created: November 25, 2002
Author of Bachelor's Bride Wife Swapping page: contact00@RealSissySchool.com
If you write, please label your message as "Sissy Fiction" to help separate it from SPAM (which gets tossed unread).
[ main toy home page ] [ rabbits ] [ butterflies ] [ remote control ] [ strap-on harnesses ] [ dildoes ] [ double dildoes ] [ glass dildoes ] [ hands and fists ] [ vibrators ] [ massagers ] [ sleeves ] [ eggs and bullets ] [ clitoral stimulators ] [ waterproof vibrators ] [ anal probes and butt plugs ] [ beads ] [ breast pumps and nipple exciters ] [ balls ] [ erotic jewelry ] [ cock rings ] [ bondage ] [ lubricants, oils, and creams ] [ barriers ] [ hygiene ] [ erotic clothing ] [ transvestite items ] [ kits ] [ artificial vaginas ] [ male masturbators ] [ dolls ] [ penis pumps ] [ novelties ] [ DVDs ] [ videos ] [ books ] [ words ]
[ complete table of contents ] [ feature by feature comparison ]
[ home ] [ the inflatable doll experience ] [ price comparison ]