Sissy Doll Collection
Click on any doll box cover or product illustration for more details on that item.
I am a sissy cuckold. I love to dress up in girl's clothes and fuck a life size doll while my beautiful Asian wife fucks a Black man.
Yesterday morning I woke up next to my beautiful Japanese wife, Keiko. I was wrapped in her arms and wearing a matching pair of lacy white panties and bra covered by a short sheer white lace nighty.
Keiko's hands groped my little sissy cock, stroking my small morning wood.
"Damn, girl, you sissies wake with a hair trigger."
Her beautiful Asia mouth was on my cock in a heart beat. Keiko sucked in my tiny thing in a flash. Her tongue swirled around the head of my small sissy cock and I was shooting my load into her mouth.
My wife hungrily swallowed it all, looking up at me with loving eyes.
A few seconds later, Keiko lifted her mouth off my cock and lipped her licks while slipping a male chastity over my limp little thing.
"Now, you can pay attention to me with any distractions." She playfully slapped my panty covered ass.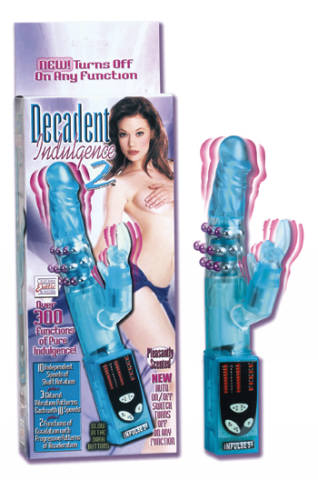 I jumped out of bed and hurried back with her Decadent Indulgence 2 Vibrator, quickly slipping in four fresh batteries.
Keiko wet the tip of the fat eight inch light blue cockhead of the toy with her lip and tongue.
"Now this is more the size I need to really satisfy me. I love you, but sucking on your tiny little thing always seems like sucking on a sissy boy."
Keiko flicked the switches and the Decadent Indulgence 2 Vibrator sprang to life, the cock head vibrating, the little rabbit vibrating, and the beads noisily chugging round and round.
Eight inches of jelly cock shaped vibrating toy slid into her juicy wet Oriental pussy.
She moaned with pleasure. "Ahh, this is more like it."
I lit candles and cinnamon incense to make her experience more emotional. Us sissies pay attention to romantic details like that.
My wife moaned in deepening pleasure as the vibrating rabbit buzzed against her engorged clit, the pearls swirled against her pussy lips, and the vibrating cockhead tingled her g-spot deep inside.
"Ohhh, I think I'm going to get my brains fucked out by a real man tonight."
My cock tried to jump to attention, only to be painfully restrained by the male chastity locking it tight.
I bent over a bit in discomfort as I finished packing a bowl of the finest marijuana.
"I knew that would excite you."
Keiko held the bowl to her puffy red lips and toked as I held the lighter, her other hand lazily rubbing the noisy, light flashing, vibrating toy against her clit and pussy, her thighs squeezing as she started to move and squirm.
"You'd better hurry to your morning duties."

I took a quick toke, left the pipe on the nightstand near Keiko, who continued to play with her Decadent Indulgence 2 Vibrator, and I hurried on to the kitchen, where I prepared a breakfast of eggs, English muffins, and hot green tea. Erotic thoughts of a strong Black man fucking Keiko while I watched with a doll filled my head. My cock kept painfully trying to jump to life only to be stopped by the cold metal cage of my locked on male chastity. It was fristrating, but if I'd been able to attain an erection, I would have been furiously masturbating rather than fixing Keiko's breakfast.
By the time I returned to her bedroom, Keiko had already cum and was toking on the pipe. I laid the tray of food on a small stand near the bed.
Keiko reached over and lovingly guided my head and mouth to her hot and juicy cunt. I eagerly gulped up the sweet honey flowing over her inner thighs Soon juices flowing into my hungry mouth. Her legs wrapped tightly around my head and she came and came.
I followed her into the bathroom and patiently waited while she pissed, then licked her cunt clean.
We stepped into the large shower and I washed her body from head to toe and shampooed and conditioned her hair.
Stepping out, I dried her off with a big fluffy towel, then helped her into pretty black lace panties, bra, stockings and garter belt before helping her into the finely tailored business suit I'd laid out for her the night before. I lovingly placed her heels onto her beautiful smooth feet.
She sat down and ate her breakfast, while I blow dried and then brushed her beautiful long shiny black hair. I was in love. Sissy love. And she was going to bring back a Black man to fuck tonight. My sissy prick kept trying to spring to attention only to be continually held back by the unforgiving harsh metalic confines of my male chastity.
I followed Keiko to the door, hoping that she'd release my cock from its confines now that she was ready for work.
She turned, kissed me on the cheek, then, thankfully, reached into her purse, pulled out the key to the chastity and set my sissy cock free.
"Don't play too long," Keiko admonished. "This place needs to be nice for our guest."
And she hurried out the door to her high paying job. High enough paying that she could afford to keep her own personal sissy.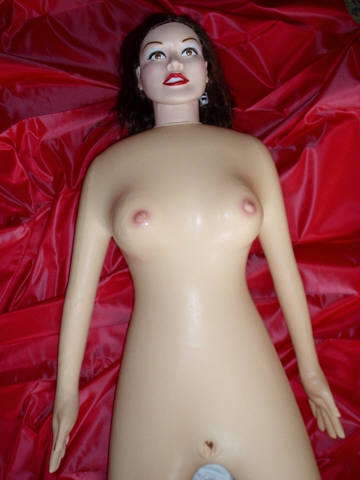 As soon as she was out the door, I was in my separate sissy room with all my sissy toys, excitedly grabbing my Tera Patrick's Ultimate Erotic Love Doll and pulling down the panties on my Tera Patrick's Ultimate Erotic Love Doll, a premium inflatable latex doll with mannquin head, fingers and toes, bluging tits, and molded doll pussy.
I squirted sex lubricant into my doll's pussy and jammed the multispeed vibrating egg up her doll ass. My little sissy cock slipped into the tight wet doll pussy as the vibrations echoed through the latex and air.
I was on top of my Tera Patrick's Ultimate Erotic Love Doll, my hands roaming over her doll tits and doll ass, my sissy lips kissing the soft Futurotic doll lips, my panty covered ass bouncing up and down as my sissy cock rubbed in and out of the tight molded latex doll hole, my bra covered nipples rubbing against the bright red doll nipples.
Because she was a latex doll, my Tera Patrick's Ultimate Erotic Love Doll could easily support my weight through heavy sissy sex.
Soon I pulsed my hot sissy cum into my doll, my cock squeezed by a latex hole too tight for a large man, but perfect for a small cocked sissy, and breathed a sigh of relief.
I pulled out before lifting my Tera Patrick's Ultimate Erotic Love Doll into position so that I could swallow all of the cum flowing out of her doll pussy. I slipped out of my lurious nightie.
Still in panties and bra, I swished into the walk-in closet filled with sissy girl's clothes and quickly dressed myself in school girl's clothes: way too short pleated skirt, skimpy white see-through blouse, bright pink brassiere, cute ruffled white panties, white knee high stockings, and high heeled Mary Janes.
Once dressed, I started dressing up my collection of dolls, starting with the Letha Weapons Doll, another preium latex inflatable with the biggest jumbo tits.
I put my Letha Weapons Doll over my knees and spanked her ample latex ass. Her jumbo jugs jiggled with every swat. I pulled down her panties and alternated between spanking her big round doll ass and fingering her latex molded doll pussy.
It didn't take long for Letha Weapon Doll's bouncing titties to get me so excited that I through my doll down on my sissy bed and straddled her chest. I squirted sex lubricant between her latex breasts and jabbed my tiny sissy cock between the oversized molded latex melons. My hands squeezed and rubbed the doll titties against my urgent sissy cock sliding and pumping and tittie fucking my Letha Weapons Doll.
Because she was a latex doll, my Letha Weapon Doll could easily support my weight through the bouncing of frantic sissy sex.
I sprayed sissy cum all over her beautiful mannequin face. I leaned down and kissed Letha Weapons Doll's plastic lips and licked the sissy cum off her plastic face. I cleaned up her titties and dressed her in a cheerleader's outfit.
Of course that meant I had to change into a sexy cheerleader's outfit too.
Once dressed up as a sexy sissy cheerleader I dressed my favorite doll, my Virtual Girl Living Foam Doll, an American made foamie doll with a premium Cyberskin pussy, in a hot little matching cheerleader's skirt and panties.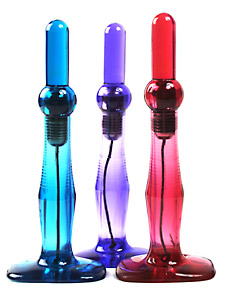 I stuck a brightly colored iPlug up my ass and pulled up my cheerleader panties. The brightly colored flexible shaft of the iPlug filled my sissy butt.
I threw my Virtual Girl Living Foam Doll face down onto my sissy bed, lifted her cheerleader skirt, pulled down her cheerleader panties, and drilled her tight Cyberskin pussy doggie style. Her legs were spread wide open for easy sissy access to her Cyberskin pussy from front or behind.
Because she was a foamie doll, my Virtual Girl Living Foam Doll could easily support my weight through the pounding of frenzied sissy fucking. Deep anal sensations hummed at the touch of the iPlug's control, the quivering egg vibrating, pulsating, surging, escalating, and roller coastering me to sissy orgasm in soft wet Cyberskin doll pussy..
After cumming in her optional vibrating cunt, I licked her clean of sissy cum.
I gently removed my Virtual Girl Living Foam Doll's clothes and brushed her luxurious shoulder length blonde hair. I touched up her fingernnail and toenail polish with bright red nail polish. I placed a ball gag into her wide open doll mouth.
While the nail polish dried, I changed into streetwalker slut sissy clothes: tight black leather boned corset, very short black leather micro mini skirt, flimsy black lace bra and panties, garter belt, black fishnet stockings, and six inch spike heel fuck-me pumps.
I laid flat on my back on my sissy bed and slid my Virtual Girl Living Foam Doll into seated sex position. I watched as my tiny sissy cock slid into the tight Cyberskin confines of my Virtual Girl Living Foam Doll's soft wet pussy. I fondled her big round foam hips and ample round foam breasts. I was turned on by the sight of my luxurious foam doll pumping up and down in my hands, her mouth gagged and her pussy plugged with sissy cock.
My mind wandered to thoughts of my beautiful Asian wife Kieko bouncing on my sissy cock while I was chained spread eagle in sissy bondage. Kieko gladly gave me hand jobs and blow jobs and let me fuck her ass doggie style, but she'd only let me into her pussy when I was bound and she was in woman on top position, in complete control of my sissy erection.
Soon I came once again in my Virtual Girl Living Foam Doll.
I spent all morning and the better part of the afternoon dressing, undressing, and fucking my dolls, pumping their pussies, mouthes, and asses, sometimes with a big black didlo butt plug jammed up my sissy ass. Between repeated bouts of sissy sex, I smoked some of British Columbia's finest.
WIth the afternoon fading away, I realized I had housework to do and reluctantly slipped the male chastity over my cock.
Unable to masturbate like a sissy with all my dolls, I was free to clean the house and prepare for the night's guest.
To my horror, shortly before five I got a call from my beautiful Asian wife Keiko. She had to work late. She'd be home as soon as she could.
I was trapped in the male chastity, unable to fuck my dolls, the house cleaned. With nothing else to do, I went around on another pass of house cleaning and neatly dressed and arranged all my dolls in my separate sissy room. My wife accepted that a sissy needs to fuck dolls, but she preferred I do it somewhere other than her bed.
I anxiously awaited her return home so I could help her prepare for a night on the town, a night that would cumilate with a Black stud coming back and fucking my wife while I masturbated with sissy dolls.
if you like this site:
Please support this web site by:
Share your erotic stories (submit to contact00@RealSissySchool.com).
Bookmark this site and use our links if you purchase from one of the stores listed below.
Add a link to this site on your web page <a href="http://www.RealSissySchool.com/">RealSissySchool.com</a> .
Complete table of contents of dolls
Complete list of bondage gear

[ complete table of contents ] [ feature by feature comparison ]
[ home ] [ the inflatable doll experience ] [ price comparison ]


other
Gay and Lesbian Marriages in California

some of the sources on the web:

transvestite sites

premium sites

specialty sites

discount sites

general sites

Shopping through these links may result in a small percentage of your purchase helping keep this site on the web.
(Some of the sites have tricky rules, so we don't always get a percentage, but it can't hurt to try.).

code word xzqj97
Copyright © 2004 contact00@RealSissySchool.com
Last Updated: November 28, 2004
Created: November 28, 2004
Author of SIssy Doll Collection page: contact00@RealSissySchool.com
If you write, please label your message as "Sissy Fiction" to help separate it from SPAM (which gets tossed unread).

[ main toy home page ] [ rabbits ] [ butterflies ] [ remote control ] [ strap-on harnesses ] [ dildoes ] [ double dildoes ] [ glass dildoes ] [ hands and fists ] [ vibrators ] [ massagers ] [ sleeves ] [ eggs and bullets ] [ clitoral stimulators ] [ waterproof vibrators ] [ anal probes and butt plugs ] [ beads ] [ breast pumps and nipple exciters ] [ balls ] [ erotic jewelry ] [ cock rings ] [ bondage ] [ lubricants, oils, and creams ] [ barriers ] [ hygiene ] [ erotic clothing ] [ transvestite items ] [ kits ] [ artificial vaginas ] [ male masturbators ] [ dolls ] [ penis pumps ] [ novelties ] [ DVDs ] [ videos ] [ books ] [ words ]
[ complete table of contents ] [ feature by feature comparison ]
[ home ] [ the inflatable doll experience ] [ price comparison ]