Sissy Pants
Training Your Cuckold!
by TJ Ryder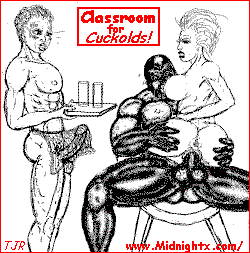 I call my hubby "sissypants" and I just thought I'd mention the use of pussywhipping. It was a little after our open marriage resulted in my going out with a big black stud pretty regular when a girlfriend who had also gone black urged me to take more charge of him. Rhonda wanted me to doubledate and join her and her lover on a weekend in Reno. Her husband Harold was a much more experienced cuckold than my Lloyd and I mentioned several times he should be more like Rhonda's sissy.
For example, While I told him honestly I enjoyed his helping me primp for my dates and his gentle tongue cleaning afterwards, I told him Rhonda's hubby, she called him "pantyboy" when it was time for his act, not only wore her panties, but also over a chastity belt, and at home a little lace maid cap and lace apron and sometimes acted like the Lady's maid when she brought her lover home. He looked shocked when I told him I even chose a code name, "sissypants".
After a week of arguing and we still hadn't booked the trip, I slowly shut him off. I didn't allow him to help me get ready, and I either showered before I came home from a date or immediately when I got home, and of course not even a handjob. He took it for a week and I missed my maid service too but of course I got my main sex outside anyway. I was wondering about divorce as he picked me up from a motel one late night and drove me home, as I ignored his longing looks at my slutty low cut dress, knowing he could detect the fragrance of negroe sperm all over and in me, and finally out of the blue he begged to please me. I had him pull over to a parking area, I was feeling tired and sore but also so good and used and he knew it.
We talked, and he agreed to everything, on his knees,and promised to be my "sissypants". I had him repeat the expression several times plus other things and only when I was quite satisfied he was sincere I allowed him to orally worship me and it felt so nice! But I still didn't let him get off because I could tell he was totally broken.
Afterwards when we got home, he was even more docile and obedient, so after he waited on me for a bit, I made him crawl on his knees into the bathroom where I waited just wearing my heels and had him give them a spitshine! And when "sissypants" finished his maid service I didn't even have to give him a reluctant handjob.
I rewarded him by having him kneel before the open toilet and masturbate and then flush it away. Even Rhonda thinks he's improved tremendously and I'm so proud of my little sissy when we entertain our lovers with our sissymaids in attendance.
TJ Ryder at www.midnightx.com
Blackowned Wife Cartoons, pics, stories, movies
if you like this site:
Please support this web site by:
Share your erotic stories (submit to contact00@RealSissySchool.com).
Bookmark this site and use our links if you purchase from one of the stores listed below.
Add a link to this site on your web page <a href="http://www.RealSissySchool.com/">RealSissySchool.com</a> .
Table of contents of toys
Complete table of contents of dolls
Complete list of bondage gear

[ complete table of contents ] [ feature by feature comparison ]
[ home ] [ the inflatable doll experience ] [ price comparison ]


other
Gay and Lesbian Marriages in California

some of the sources on the web:

transvestite sites

premium sites

specialty sites

discount sites

general sites

Shopping through these links may result in a small percentage of your purchase helping keep this site on the web.
(Some of the sites have tricky rules, so we don't always get a percentage, but it can't hurt to try.).

code word xzqj77
Web Page Copyright © 2002 contact00@RealSissySchool.com; story courtesy ladycynthiak
Last Updated: July 10, 2005
Created: June 23, 2005
Author of Sissy Pants story: TJ Ryder at www.midnightx.com; reprinted with permission.
If you write, please label your message as "Sissy Fiction" to help separate it from SPAM (which gets tossed unread).

[ main toy home page ] [ rabbits ] [ butterflies ] [ remote control ] [ strap-on harnesses ] [ dildoes ] [ double dildoes ] [ glass dildoes ] [ hands and fists ] [ vibrators ] [ massagers ] [ sleeves ] [ eggs and bullets ] [ clitoral stimulators ] [ waterproof vibrators ] [ anal probes and butt plugs ] [ beads ] [ breast pumps and nipple exciters ] [ balls ] [ erotic jewelry ] [ cock rings ] [ bondage ] [ lubricants, oils, and creams ] [ barriers ] [ hygiene ] [ erotic clothing ] [ transvestite items ] [ kits ] [ artificial vaginas ] [ male masturbators ] [ dolls ] [ penis pumps ] [ novelties ] [ DVDs ] [ videos ] [ books ] [ words ]
[ complete table of contents ] [ feature by feature comparison ]
[ home ] [ the inflatable doll experience ] [ price comparison ]